In order to expand in the information technology business, Blackstone announced that private equity funds managed by Blackstone have entered into a definitive agreement with Hewlett-Packard Enterprise to buy a majority stake in Mphasis Limited, a leading Information Technology services provider offering Applications, Business Process Outsourcing and Infrastructure Services.
This deal represents the largest acquisition by Blackstone in India till date.
About Mphasis
Mphasis was formed in 1998 in California as high-end technology and consulting firm by ex-Citi bankers. It has deep vertical expertise in Banking, Financial Services and Insurance (BFSI) sector and strong portfolio focus on New Generation Services including Digital solutions. Mphasis serves marquee customers across the globe including six top global banks, 11 out of 15 top mortgage lenders, and three top global insurance companies.
In 2006, Mphasis was acquired by EDS and in 2007 Hewlett-Packard acquired EDS and becomes the ultimate holding company for Mphasis.
About Hewlett Packard Enterprises
Hewlett Packard Enterprise (HPE) is an industry leading Technology Company that enables customers to go further, faster. With the industry's most comprehensive portfolio, spanning the cloud to the data center to workplace applications, our technology and services help customers around the world make IT more efficient, more productive and more secure.
About Blackstone
Blackstone is one of the leading investment firms in the world. The Group is an American multinational private equity, Investment banking, alternative asset management and financial services corporation based in New York. The company specializes not only in private equity, credit, real estate, innovation and infrastructure and hedge fund solutions but also in financial advisory services.
The Structure: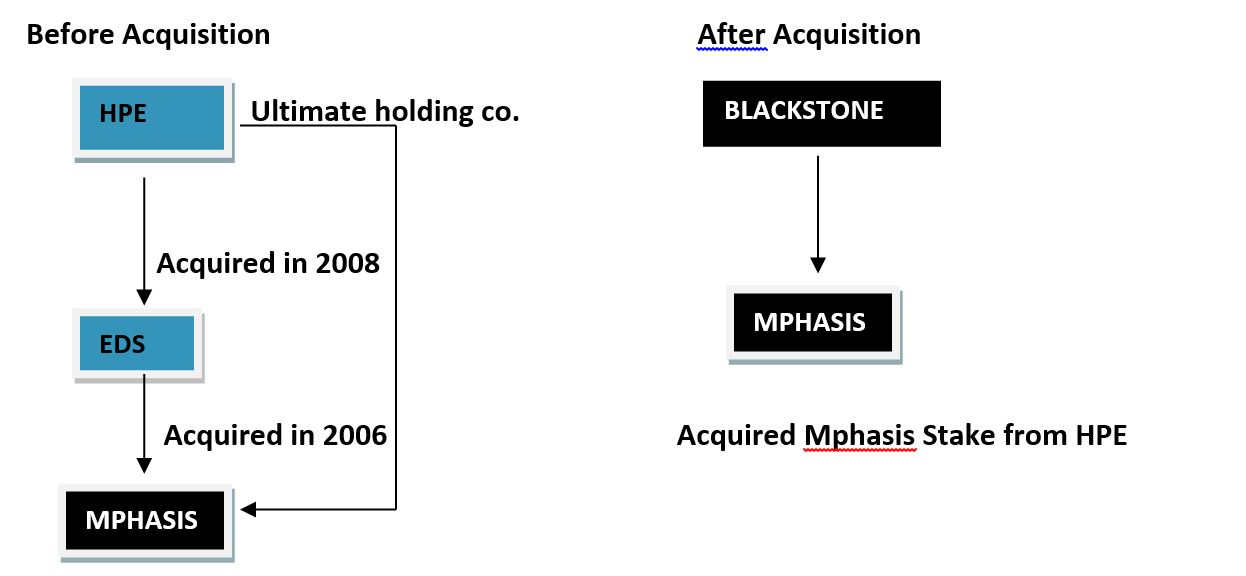 Consideration:
Based on the terms and conditions mentioned in the open offer, the purchase consideration will vary between Rs 5,466 crore and Rs7,071 crore (or, approximately $825 million – $1.1 billion). The consideration payable is all cash and the transaction is expected to close in the second half of the Calendar year 2016, subject to agreed closing conditions.
Terms & Conditions:
As per SPA, Terms of Open offer:
If the open offer is fully subscribed, then Blackstone will acquire 50.27% stake at the price of Rs 430 per share from HP Enterprises and public shareholding of 26%. Consequently, the shareholding of Blackstone in Target Company will exceed the maximum permissible non-public shareholding, and Blackstone Shall as per SEBI (SAST) Regulations shall bring down it's holding to 75%.
In case no equity shares are validly tendered and accepted in the open offer, Blackstone will acquire 60.17% of the emerging share capital from the HP Enterprises.
After taking into account the acquisitions made by the Acquirer under the Offer, the Acquirer will acquire such additional Equity Shares as would result in it holding 75.00% of the equity share capital of the Target Company, but not more than 60.17% stake from the Sellers. In addition, the Acquirer shall, if relevant, acquire such number of Equity Shares from the Sellers so as to bring the Sellers' ownership in the Target Company to 9.90% of the paid-up equity share capital of the Target Company. Notwithstanding the above, the Acquirer has, at its sole discretion, the right to acquire the entire shareholding of the Sellers, even if such additional acquisition results in the Acquirer's shareholding in the Target Company exceeding 75.00% of the equity share capital. In the event the Acquirer's stake in the Target Company after the completion of the Offer and acquisition under the SPA exceeds 75.00% of the equity share capital, the Acquirer will be under a statutory obligation to sell down its stake such that the Acquirer's shareholding in the Target Company does not exceed 75.00% of the equity share capital of the Target Company in such manner and time permitted under SCRR.
After completion of open offer:
The company proposes to declare a special dividend, or
The company proposes for a buyback.
So considering surplus cash of Rs 1840 crore with the company after excluding 250 crores for working capital, the company can declare a special dividend of Rs. 88 per share. If it decides to buy back the shares at a present price of Rs 508 it can acquire maximum 3.57 crore shares amounting to 17% of the present paid up capital.
Why Blackstone acquired Mphasis?
Mphasis has deep vertical expertise in Banking, Financial Services and Insurance (BFSI) sector and experts see ample room to turn around operations given that revenue from operations of BFSI segment contributes 65% of revenue, along with the company's digital focus. Acquiring Mphasis will help Blackstone augment the capabilities of other portfolio companies and leverage on scale. The advantage is that it will provide access to around 80 portfolio companies of Blackstone to Mphasis.
What Blackstone as new owners of Mphasis gets?
Commitment from HPE for outsourcing contracts for five years' worth $990million and extension of another six years subject to certain achievements.
Mphasis will is included in HPE's Preferred Provider Program opening up significant additional revenue opportunities.
Synergy benefits between Blackstone's IT portfolio and Mphasis.
Probable reason for Exit by HPE:
2008:
HP announced its acquisition of Electronic Data Systems Corporation (EDS), creating a leading force in technology services and valued at an enterprise value of approximately $13.9 billion, becomes the ultimate holding company for Mphasis.
2012:
After four years of acquisition, HP is a company in turmoil. When it acquired EDS in 2008, its success seemed guaranteed. But the combination of external factors, allegations of bad integration practices, technology transformations, and economic turmoil have made EDS a thorn in HP's side. HPE had written off $8 billion after the business it acquired in 2008 for $13.9bn, was devalued. It might have resulted in just a paper loss, but it provides an insight into how a decade of mismanagement has left HP in a bad situation.
HPE Strategy:
HP Enterprises revenue has been declining for several quarters. In this scenario, HPE's Strategy to divest its stake in Mphasis would allow the company to focus on its core operations and is not expected to have any adverse impact on HPE's ongoing commercial relationship with the company. In fact, HPE plans to renew the current master services agreement with Mphasis for another five years in connection with this transaction.
The Struggle faced by TIER II IT Companies:
Mid-sized IT services companies have faced challenges in scaling up their business, amidst tough market conditions and also have failed to operationalise their growth strategies. In the past, significant investments in operations carried out by many mid-sized companies have failed to translate into higher earnings and as such to facilitate growth in their business, Indian mid-size companies were heavily dependent on one or two large clients. Now, to create a sustainable business model, mid-size IT companies need to have a strategic vision for Growth & will need to bring in a lot more innovation & creative business ideas in expanding their services.
Conclusion
The acquisition is a win-win for both Mphasis & Blackstone, as finally Mphasis gets access not only to HP but even Blackstone's portfolio & can enter into untapped markets & exploit synergy benefits.