When two big giants form a conglomerate it can change the dynamics of an industry; precisely what will happen in the chemicals and agricultural industries globally. Dow Chemical and DuPont, the two largest US chemicals companies, have agreed to a $130 billion merger of equals in an all-stock deal. The deal is the largest in the chemicals industry. After the merger, the combined entity will break-up into three separate businesses – agriculture, material science and specialty products – through tax-free spin-offs. Each of the businesses will have a clear focus, an appropriate capital structure, a distinct and compelling investment thesis, scale advantages, and focused investments in innovation to better deliver superior solutions and choices for customers.
The logic behind the merger and the spin-off into three companies are to achieve a leadership position in each product segment. The new company will be called DowDuPont and the combined market capitalization will be approximate $130 billion based on Dow and DuPont share prices on December 11, the day of the announcement of the merger. The deal is expected to close in the next 18-24 months, subject to regulatory and board approval. The total revenue of the combined entity would be over $90 billion and the products would range from corn seeds to Kevlar fibre. After combining their operations, the merged entity will have total debt of $18.2 billion, with a net debt-to-EBITDA ratio of 1.2x. The merits of the deal for Dow would depend on the execution of the deal which looks complex for integration.
The deal is the biggest in 2015, a year which also saw a record number of deals taking place. So far, companies have struck some $4.4 trillion of takeovers eclipsing 2007 as the top year on record for deals. The Dow Chemical-DuPont deal comes less than a month after drug maker Pfizer bought Allergan as a way to cut its taxes. In fact, growing number of such deals clearly indicates the trend of using M&As as a way to slash corporate America's tax bill.
Merger of Equals: The matrix
Under the terms and conditions of the merger, Dow and DuPont shareholders will each own about 50% of the combined group based on an exchange ratio of one DowDuPont share for every Dow share, and 1.282 DowDuPont shares for every DuPont shares. The dividend policy will be consistent with current policies at both companies. The combined entity would maintain two head offices, in Dow's hometown of Midland, Michigan, and in DuPont's Wilmington, Delaware. The pact will lead to $3 billion in cost savings as the combined entity is expected to eliminate 10% of the same kind of R&D activities, optimize the supply chain, use Dow's low-cost feedstock platform and reduce a lot of operational costs. The management of both the companies had stated that with $3 billion of cost savings, the company can unlock value worth $30 billion for shareholders in the future considering the EV/EBITDA multiple of 10x for the combined company.
| | | | |
| --- | --- | --- | --- |
| Parameters | Dow | DuPont | DowDuPont |
| Revenue ($ bn) | 54 | 28 | 82 |
| Operating EBITDA ($ bn) | 9 | 6 | 15 |
| Operating EBTDA margin (%) | 17 | 21 | 18 |
| >Net Debt ($ bn) | 12.2 | 6.3 | 18.5 |
The combined entity will create a stronger and wider geographical presence. With a focused approach, it plans to increase the revenue growth by leveraging its vast client base. It would generate around 40% from the domestic market in North America and 42% from EMEA – Europe, Middle East, and Africa—markets. The rest 18% would come from Asia and Latin America. The two companies have considerable product synergy in the agriculture business. DuPont has the germplasm and breeding product, which are industry leaders and Dow chemical has a strong hold in traits and crop protection. In fact, after the merger, DowDuPont will have the complete portfolio of germplasm and crop protection with almost a 50% contribution from each.
What the merger means?
For the last few years, Dow and DuPont were under immense pressure from their shareholders to divest their low margin business. They were under pressure to increase their focus on higher margins and growing businesses like specialty products. Given the slowdown in global economy, weak commodity prices and lower offtake of agriculture commodities, DuPont has been under pressure because of shrinking revenues. Secondly, both the companies had been focusing cutting costs and the deal will enable them to save $3 billion each year. Moreover, DuPont has announced a 2016 restructuring plan designed to cut $700 million in costs. Dow will also need to rationalise costs, or else the deal could possibly produce a large but inefficiently managed company. The deal has a strong industrial logic and will create distinct financial profiles and clear investment thesis for each business. The deal is a win for customers as it will result in three independent companies, each with a clear focus, scale advantages, and an enhanced ability to deliver superior solutions. The combined company would sell about 41% of US corn seeds and related genetics.
The combined company's cash flow is expected to rise as Dow Chemical had completed the major capex for the US projects and the Sadara joint venture. These projects are expected to add $3 billion per annum to the company's EBITDA from 2018 onwards. The merger will fulfill Dow's long-term vision of becoming a fully integrated pure-play materials company and become a leader in materials with competitive offerings for customers in high-growth, high-value sectors.
Separation into three independent companies
After the merger, Dow DuPont will go for tax-free separation into three independent, publicly traded companies with each targeting an investment grade credit rating. The three businesses that the boards intend to separate are agriculture company, material science company, and specialty products

Agriculture company:

The company will be a pure-play agriculture company that will unite DuPont's and Dow's seed and crop protection businesses. It seeks to have the most comprehensive and diverse portfolio and a robust pipeline for innovative products. The complementary offerings of the two companies will provide growers across geographies with a broad portfolio of solutions and greater choice. The company will drive seed production and go-to-market cost efficiencies and eliminate duplicative research and development programs including breeding, traits, and chemical discovery and enhance supply chain and global site optimization. The agriculture company will contribute 22% to the combined company and will be the world's largest chemical company in agriculture seeds and crop protection products. The company will have 17% market share of the pesticides in the world.
Material Science company: DuPont's Performance materials segment and Dow's Performance Plastics, Performance Materials and Chemicals and Consumer Solutions will come under one umbrella. It will help create a low-cost innovation-driven company in the high-value industry segments like packaging, transportation, and infrastructure solutions. The company will capture feedstock/hydrocarbons synergies and enhance operational excellence in production cost efficiencies.

Specialty Products company: The businesses will include DuPont's Nutrition and Health, Industrial Biosciences, Safety and Protection and will create a new global leader in electronics products. This company will contribute 16% to the combined entity.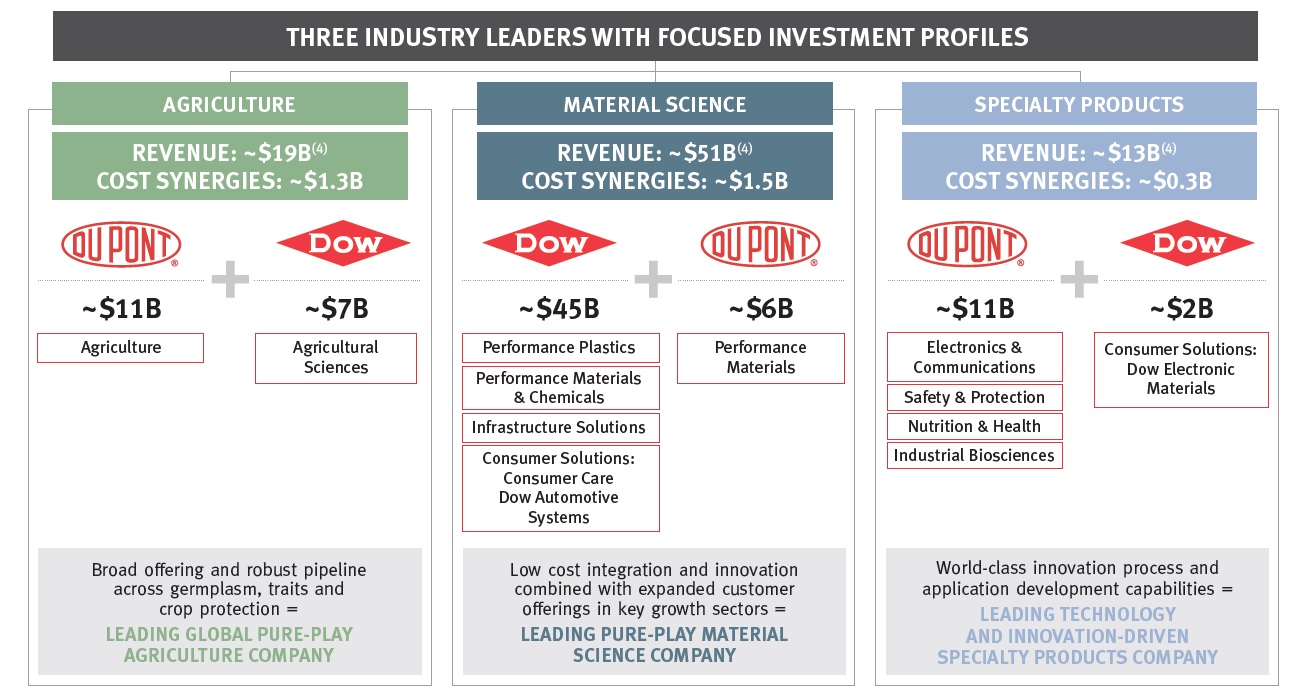 About Dow Chemical
The company, established in 1897, has a product portfolio of agricultural sciences, performance materials and chemicals and performance plastics. The company is driving innovations that extract value from the intersections of chemical, physical and biological sciences to help address many of the world's most challenging problems such as clean water, clean energy generation, and conservation and increasing agricultural productivity. The company's products and solutions are available in 180 countries. In 2014, the company had annual sales of more than $58 billion and employed around 53,000 people worldwide. The company's more than 6,000 products are manufactured at 201 sites in 35 countries across the world.
About DuPont
The company founded in 1802, has a leading product portfolio of agriculture and specialty products and is driven by its strong research and development activities and technology. They always believed that by collaborating with customers, governments and thought leaders, one can find solutions to global challenges.
Impact of the merger in India
The merger will create a Rs 11,600 crore specialty chemicals giant in India. The combined entity will have about 5000 employees in India and will have to compete with BASF, Syngenta, Monsanto and Clariant. Dow India has a presence in technology development and application research in areas such as infrastructure, transportation, energy, consumer, lifestyle, and agriculture. Dow India crossed $1 billion in revenue last year. DuPont India was established as a subsidiary of US-based DuPont in 1994 and offers products r from agriculture, healthcare, construction etc.