Godrej Properties Limited has informed that the Board of Directors of the Company at its meeting held on April 30, 2015, has approved the consolidation of Godrej Industries Limited's interest in Godrej Vikhroli Properties LLP (a joint venture entity of Godrej Properties Limited and Godrej Industries Limited) with the Company.
This would be achieved through a Scheme of Amalgamation of GIL Vikhroli Real Estate Limited (100% subsidiary of Godrej Industries Limited), which holds 40% interest in Godrej Vikhroli Properties LLP, with the Godrej Properties Limited.
Real estate is a critical sector for India's economy due to its large potential for employment generation, capital attraction, asset creation and revenue generation for the Government. The real estate sector witnessed a slowdown in FY15 due to moderate end user demand, rising inventory and high finance costs. However, Godrej Properties remains reasonably unaffected in all the ups and downs because of their sensible business model, huge land bank at significant low rates and low debts- a clear reflection of the foresight of its founding fathers who started acquiring huge land mass in Vikhroli (practically the entire Vikhroli belt from more than 5 decades). Rapid urbanisation rates, a decreasing average household size and easier availability of home loans are the icing on the cake for Godrej Properties.
ABOUT GODREJ PROPERTIES LIMITED
Godrej Properties Limited (GPL) is the real estate development arm of the Godrej Group, which was started in 1897. GPL is the real estate industry. GPL has completed several landmark projects and is currently developing residential, commercial and township projects spread across 10 million square meters (108 million square feet) in 12 cities across India.
GPL is a subsidiary of Godrej Industries Limited. Currently, GPL is listed on both nationwide bourses in India.

ABOUT GODREJ INDUSTRIES LIMITED
Godrej Industries Limited (GIL) is India's leading manufacturer of oleo chemicals and makes more than a hundred chemicals for use in over two dozen industries. It also manufactures edible oils, Vanaspati, and bakery fats. Besides, it also operates in real estate.
GIL is a subsidiary of Godrej & Boyce Mfg. Co. Limited. The company is listed on both BSE & NSE.

Shareholding Pattern of both the companies
*:- Godrej & Boyce hold 57.73% in GIL
**:- GIL holds 56.41% in GPL.
The Godrej's have an institutionalised internal structure to avoid conflict over ownership. One of the country's oldest business families, Godrej's, follow a structure of equal ownership that was put in place to avoid ownership disputes. Chairman of both the companies is Mr. Adi Godrej. However, both the companies GIL & GPL, are being managed by two different persons. GIL is being managed by Mr. Nadir Godrej while GPL is managed by Mr. Pirojsha Godrej.
Mr. Nadir Godrej is a younger brother of Mr. Adi Godrej. A veteran of Indian industry, Nadir has played an important role in developing the animal feed, agricultural input and chemicals businesses owned by Godrej.
Mr. Pirojsha Godrej is son of Mr. Adi Godrej. Nadir is known for his stable governance. Nadir always looks for middle of the road while Mr. Pirojsha is young and dynamic person. He is very aggressive in expanding business. Thus, the two are having different business sense and models. Consumer industry i.e GIL is a kind of defensive sector while in real estate business one needs to be bold enough to stand out of the competition. 

GODREJ & BOYCE MFG. CO. LTD.
Godrej & Boyce Mfg. Co. Ltd., the holding company of the Godrej Group, started its journey with the manufacture of high-quality locks in 1897. Today, the company have 15 diverse business divisions offering consumer, office, and industrial products and services of the highest quality to every corner of India and across the globe.
GIL VIKHROLI REAL ESTATE LIMITED
GIL Vikhroli Real Estate Limited (GVREL) is a newly incorporated company. The company is a wholly owned subsidiary of GIL. GIL holds 15, 20, 00,000 equity shares of INR 10 each in GVP LLP.
GODREJ VIKHROLI PROPERTIES LLP
Godrej Vikhroli Properties LLP (GVP LLP) was incorporated in 2011, a limited liability partnership between GPL and GIL to develop an integrated township project known as 'The Trees' consisting of residential and commercial developments, planned over approximately 34 acres of land in Vikhroli, Mumbai. GPL has 60% share while GIL's share is 40%.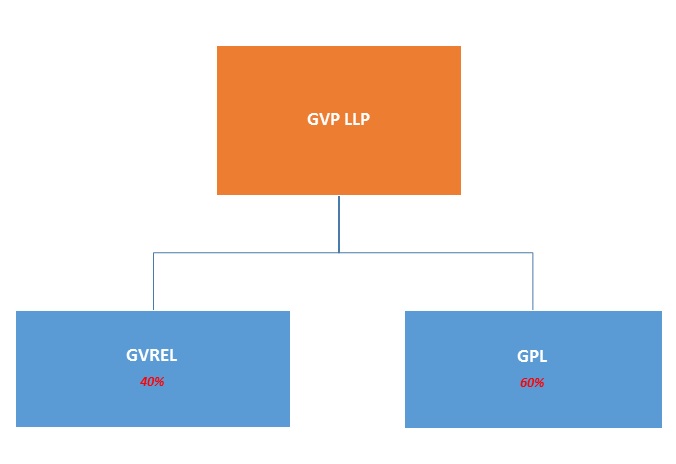 'The Trees" is being built in three phases:-
Phase 1:- Consists of a commercial building called Godrej One which is already sold out.
Phase 2:- Consists of three residential and one commercial development and is in advanced stage of receiving required regulatory approvals and is planned to be launched in the second half of FY16; and
Phase 3:- Comprises of one retail and one hotel development which are currently in planning stage.
Considering all three phases, the area of phase one will be around 25% of the whole project 'The Trees'. Remaining two phases' profit will be booked by GPL alone. From our estimates, discounted present value of profit to be booked by GPL in the next 4-5 years will be around INR 300 crore.
STRUCTURE IMMEDIATELY BEFORE TRANSACTION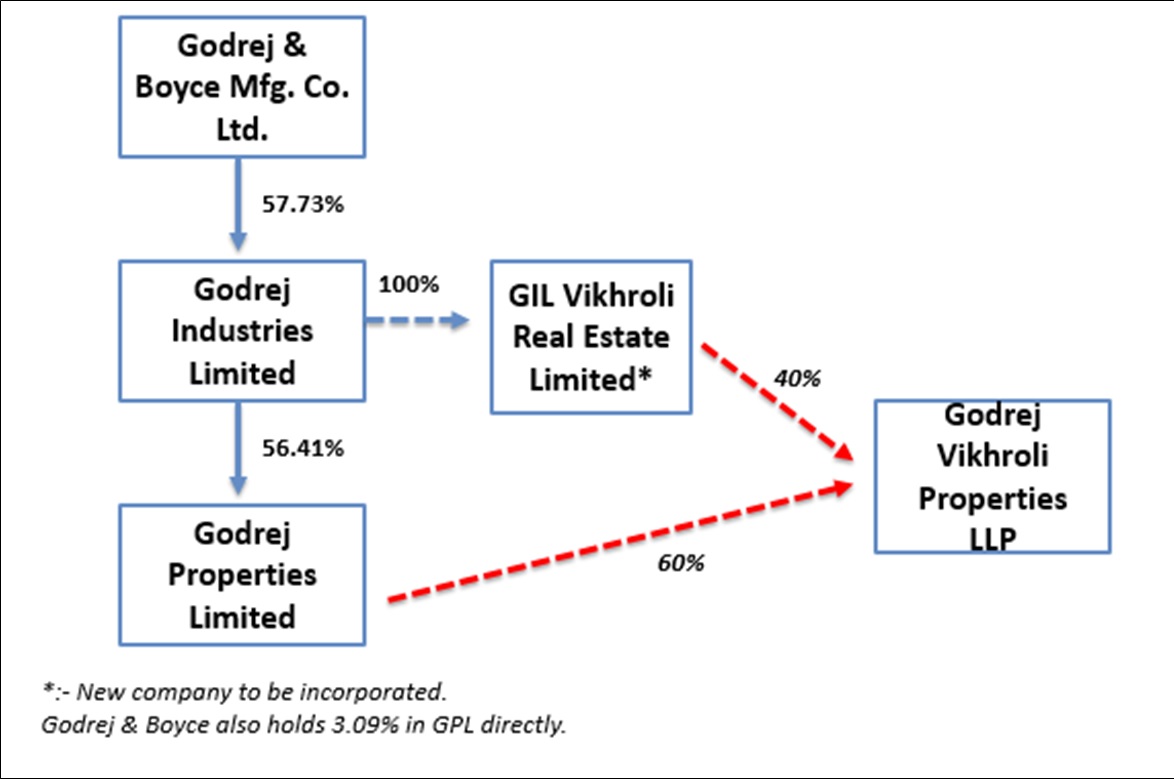 THE TRANSACTION
The proposed transaction is a planning to restructure GIL's partnership interest in GVP-LLP. The restructuring will be done in 3 steps as follows:-
Step 1:– GIL to incorporate a new company GIL Vikhroli Real Estate Limited as a wholly owned subsidiary of GIL.
Step 2:- GVREL will enter as a partner in GVP-LLP with 40% share and simultaneously GIL will retire itself from GVL-LLP.
Step 3:– GVREL will get merged with GPL.
Consideration
13 fully paid up equity shares of face value of INR 5/- each of GPL to the equity shareholders of GVREL for every 118 fully paid up equity shares of INR 10/- each held by them in GVREL.

Post Transaction Shareholding pattern
*:- GIL will hold 59.78%.
Pursuant to the merger, the promoters holding in GPL will increase beyond 75% and hence, it has been proposed that the scheme of Amalgamation would not be made effective unless the promoters holding have been appropriately diluted before the effective date of the merger.
To comply with SEBI listing agreement requirement, GIL/Promoters will have to sell their 1.86% stake in GPL. Considering the market rate of GPL as on 30th July 2015, they are likely to get about INR 105 crore from selling their 1.86% stake. This will be tax neutral in the hands of GIL/Promoters being long-term capital gain.
The appointed date for the scheme has been fixed at August 1, 2015.
VALUATION
GVRPL would have no operations on its own except as partner of GVP LLP.  The probable value of GVREL is based on GIL's 40% partnership interest in GVP- LLP.
| | |
| --- | --- |
| Particulars | |
| No of shares to be issued by GPL to GIL | 1,67,45,762 |
| Avg. last 6-month price of GPL (November 14 to April 15) | 261 |
| 40% value of GVP-LLP | 437,06,43,880 |
| 40% Book value of GVP-LLP | 146,27,83,836 |
| Premium over book value | Approximately 3 times |
Source:- Company Data, hu Research
WHY SUCH STRUCTURE?
GIL formed Special Purpose Vehicle (SPV) – GIL Vikhroli Real Estate Limited and then this to be merged in GPL. There can be 2 main reasons for doing so:-
Transaction should be Tax Neutral for GIL
If GIL would have sold its 40% stake in GVP LLP directly to GPL, it would have resulted in tax implication on GIL's part.
INR in crore
| | |
| --- | --- |
| Particulars | Amount |
| Total Consideration | 437.06 |
| Cost | 146.28 |
| Long term Capital Gain @ 20% | 58.15* |
| Net Cash received by GIL | 379 |
*:-Approximately
Cash outflow from GPL
Direct purchase of 40% stake in GVP LLP, would have led to cash outflow of around 437.06 crores to GPL.
FINANCIALS
INR in Lakh
Particulars
GPL (Standalone)
GVP LLP
FY 2014-2015
Revenue
51,669
10,993
EBIT (Including Other Income)
30,126
5,575
EBIT %
58.30%
50.71%
PAT
12,792
3,671
PAT %
24.75%
33.40%
Capital Employed (Shareholder's Fund+ Long term debt)
1,92,372
36,570
RoCE
15.66%
15.24%
Total Assets
4,57,931
79,894
Source: – Company Data, hu Research
CONCLUSION
INR in lakh
Particulars
GPL (Pre-Merger)
GPL(Post Merger)*
FY 2014-15
Total Assets
4,57,931
5,07,805
Shareholders Fund
1,91,824
2,07,024
Book Value per share
96.22
95.80
EPS
6.41
7.62
Debt- Equity ratio
0.98
0.91
Current Ratio
1.41
1.48
Capital Employed
192,327
2,07,572
RoCE
15.66%
17.19%
*:- Approximately
Overall, after looking at the balance sheets of both GPL & GVP LLP, it seems the transaction will not bring a major change in key ratios of GIL. However, the true impact of the merger will be visible in the financials for the year ended on 31st March 2016. Till that time GIL shareholders can be quite optimistic about the company.