In order to focus on domestic operations and build on that, Havells India Ltd. (Havells) has announced to enter into a definitive agreement through its wholly owned subsidiary Havells Holding Limited with Shanghai Feilo Acoustics Co Ltd (Feilo) to divest 80% stake in Havells Sylvania Malta BV (Sylvania) and in its wholly owned subsidiary, Havells Exim Limited, Hong Kong. The move comes in because of the continuous sluggish performance of Sylvania despite many efforts put by the management to turn the tide.
Will the proposed transaction help?
About Havells India Limited:
Havells India Limited is one of the electrical goods companies in the country with a strong global footprint. It enjoys enviable market dominance across a wide spectrum of products, including industrial & domestic circuit protection devices, cables & wires, motors, fans, modular switches, home appliances, electric water heaters, self-priming monoblock pumps, power capacitors, CFL lamps, luminaires for domestic, commercial and industrial applications.
Today, Havells owns some of the most prestigious global brands like Havells, Crabtree, Sylvania, Concord, Luminance and Standard. Its global network constitutes of 6,500 professionals across 91 branches and representative offices in over 50 countries. It has 14 state-of-the-art manufacturing plants in India and 8 world class manufacturing plants located worldwide.
Havells had a track record of few successful acquisitions. In 1983, it bought the loss-making Delhi-based Towers and Transformers Ltd and turned it around in a year. Between 1997 and 2001, Havells also bought ECS, Duke Arnics Electronics, Standard Electricals and Crabtree India and later in 2007, they acquired Sylvania which after eight years it decided to exit.
About Shanghai Feilo Acoustics Limited (The Acquirer):
Shanghai Feilo Acoustics Co., Ltd, a Chinese company is engaged in manufacturing and distribution of lighting equipment. The company is involved in the manufacture and sale of light source electrical appliances, lighting products, the sale and engineering service of audio products, and installation works of lighting equipment.
The Transaction:
Havells India will disinvest its 80% stake through its subsidiary Havells Holding Limited in Havells Sylvania Malta BV (holding company of Sylvania) and in its subsidiary Havells Exim Limited to Feilo.
The sale of the shares with respect to 80% stake held by both the entities i.e. Havells Sylvania Malta & Havells Exim Limited shall be completed on or before the end of February 2016. However, its subsidiaries in Brazil, Chile, Thailand, and the US will not be the part of this transaction and will be retained by Havells with a possibility of transfer to Feilo after 12 months.
Remaining stake of 20% in case of Havells Malta shall be disposed of during a period of 5 years by Havells Holding Limited commencing from the closing of the sale of 80% shares as above with call/put option enforceable at the behest of either party. The remaining stake of 20% in case of Havells Exim Limited shall be divested in 9 months from the closing of the sale of above mentioned 80% shares.
The intention behind selling 20% stake, later on, might be to streamline management or safety for a buyer or to form a relationship with Feilo so as to sell Havells product using Feilo's distribution in coming future period.
Feilo would contribute to Sylvania through a wide portfolio of competitive LED products. It would widen and deepen the local product offering providing additional growth and profitability avenues. Feilo proposes to utilize local manufacturing facilities through creation of additional business opportunities.
Consideration
Total consideration, subject to the closing adjustment, in respect of proposed 80% transaction is Euro 148.8 million out of which:-
Euro 138.4 million for the sale of Havells Sylvania's stake.
Euro 10.4 million for the sale of Exim's stake.
Flashback: Sylvania's Acquisition in 2007:
With a vision to spread its wings abroad, Havells in 2007 acquired SLI Sylvania worldwide.
Based out of Frankfurt, Sylvania at that time were world's fourth largest lighting and fixture brand having the presence across five continents. Sylvania was a leading global designer and provider of lighting systems having a leading presence in selected markets across Europe and Latin America with a focus on growth in LATAM, Asia and Middle East.
SLI was acquired by Havells India Ltd. at a transaction price of €227.5 million, forming Havells Sylvania. That time Sylvania was almost 1.5 bigger than Havells India.
With the acquisition, Havells acquired the brand rights of Sylvania worldwide excluding Australia, Canada, Mexico, New Zealand and the United States. In fact, Sylvania's acquisition had catapulted Havells in the league of billion dollar club.
 After acquiring Sylvania, Havells increased its product range and strengthened its distribution channel abroad.
Sylvania's revenue break-up in FY08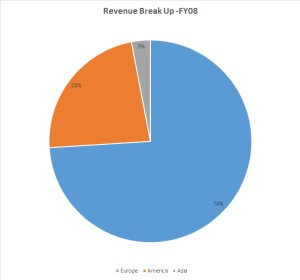 Initially, the transaction was funded through debt. However, later on, Havells India issued 41,60,000 equity shares to Seacrest Investment Ltd (A Warburg Pincus Group Company) at an issue price of INR 625 per share on November 26, 2007, aggregating Rs 260 crore. The proceeds so received were used to repay the Euro 50 million bridge facility taken for the acquisition of Sylvania.
Why a change of heart?
 Just after the acquisition, the global financial crisis struck which rocked all European markets. As a result, the demand for Sylvania' products remained sluggish. Moreover, Havells sacked Paul Griswold, the man who turned around Sylvania from losses to profit before Havells bought it. To improve Sylvania's margins, Havells' top management drew up an 18-month restructuring plan. In the first phase, called Phoenix (January to September 2009), the aim was to improve profitability by cutting manpower costs and closing factories. The second phase, called Program (September 2009 to June 2010), focused on further reducing the headcount and increasing the sourcing of products from low-cost locations such as India and China. However, despite relentless efforts to make Sylvania profitable, it did not yield result as expected. A shift of global demands toward LEDs and increasing losses and pension liability, led the management to exit the business.
Fact and Figures:
PRODUCT EXPANSION OF HAVELLS (consolidated)
In INR crore
Particulars
FY07
FY08
FY15
Revenue
Switchgears
405
542
1279
Cables & Wires
680
924
2190
Lighting & Fixture
231
3242
4071
Electrical Consumer Durable
168
240
1028
EBIT
Switchgears
127
178
439
Cables & Wires
90
96
265
Lighting & Fixture
25
792
167
Electrical Consumer Durables
25
51
258
Capital Employed
Switchgears
121
284
276
Cables & Wires
96
60
291
Lighting & Fixture
20
1371
346
Electrical Consumer Durables
39
62
236
Note:- Above figures are before un-allocable expenses/capital employed.
Source:- Annual Reports, mergersindia.com research
Despite almost 2.5 fold growth in standalone lighting & Fixture division, consolidated lighting division of Havells India was not able to perform well because of sluggish performance of Sylvania. On Standalone basis, revenue from Lighting & Fixture division grew to INR 740 crore as against INR 284 crore in FY08. Consolidated revenue registered growth of only 25% during the same period.
During the period, Capital Employed by lighting division on a standalone basis almost doubled while it floored significantly on a consolidated basis.
FINANCIAL PERFORMANCE OF SYLVANIA
Euro in million
| | | | | | | | | |
| --- | --- | --- | --- | --- | --- | --- | --- | --- |
| Particulars | FY08 | FY09 | FY10 | FY11 | FY12 | FY13 | FY14 | FY15 |
| Revenue | 513 | 509 | 413 | 452 | 440 | 431 | 427 | 430 |
| EBIT | 17 | 10 | -7 | 21 | 29 | 16 | 19 | 17 |
| EBIT Margin | 3.31% | 1.96% | -1.69% | 4.65% | 6.59% | 3.71% | 4.45% | 3.95% |
| PAT | 3 | -39 | -65 | 10 | 11 | 32 | -4 | -10 |
| Average Euro rate in March | 62 | 66 | 61 | 62 | 66 | 70 | 84 | 67 |
| PAT in INR (In crore) | 18.6 | -257.4 | -396.5 | 62 | 72.6 | 224 | -33.6 | -67 |
| Investment made by Havells (INR in crore) | 162 | 388 | 531 | 715 | 775 | 775 | 852 | 981 |
| Return on investment to Havells | 11.51% | -66.39% | -74.61% | 8.67% | 9.37% | 28.90% | -3.95% | -6.83% |
Source:- Havells India Annual Reports, MOSL Report, mergersindia.com research
FINANCIAL PERFORMANCE OF HAVELLS
INR in crore
Particulars
2008
2015
2008
2015
Standalone
Consolidated
Revenue
2055
5238
5002
8569
EBIT
98
700
301
631
EBIT %
4.77%
13.36%
6.02%
7.36%
PAT
143
464
160
385
Networth
649
2375
672
1818
Loans
35
41
1296
295
Capital Employed
684
2416
1968
2113
Return on Networth
22.03%
19.54%
23.81%
21.18%
RoCE
14.33%
28.97%
15.29%
29.86%
Total Assets
1190
3648
3492
4831
Finance Cost
25
23
103
63
Cash flow from operating activities
129
600
-24
962
Interest Coverage Ratio
3.92
30.43
2.92
10.02
Asset Turnover
1.73
1.44
1.43
1.77
CFO/PAT
0.90
1.29
-0.15
2.50
Source:- Havells India Annual Reports, mergersindia.com research
Utilization
 of Funds:
Value for 80% stake sale comes out roughly around INR 1,071 crore. If we calculate profit on the transaction it would come around INR 287 crore which is barely 6% annual compounded return. The return could be much lower if the transaction was funded through debt instead of equity. After the transaction, Havells India will be left with cash of around INR 1,000 crore (after capital gain tax).
This fund can be utilised by the company in various ways. As Havells India is a debt free company (all debts are of Sylvania), the ideal way to use the funds will be for buyback of shares. As the acquisition of Sylvania was funded through equity, the shareholders' stake got diluted during the Sylvania's acquisition. Now with sell of Sylvania, Havells India can use these funds for buy-back of equity shares. The buyback will help them in increasing its EPS. Simultaneously, the company can give back part of an amount of the net cash received to shareholders in the form special dividend.
After divestment, the management has stated that they will be focusing more in domestic market. To strengthen its position in Indian market Havells could utilise the proceeds for some domestic acquisitions.
Further, after the divestiture of remaining 20% stake and a stake in subsidiaries in Brazil, Chile, Thailand and the US, the company will get more funds which can be further deployed in the domestic business.
CONCLUSION:
Havells India acquired Sylvania to expand its wings overseas and use its technology or marketing strategies in its Indian operations and become one of the key players in the lighting industry.  Maybe it was known to the top management that it won't be easy and hence it financed the whole deal through equity. Even after eight years, there was insignificant growth both in terms of top line and bottom line in its international lighting business. In the past eight years, Havells India's market cap grew significantly because of its growth in other segments and domestic lighting division. Havells was scouting for the buyer for its international business for a while and focused on a balance sheet of Sylvania to make it debt free. Now they finally got suitor in the form of Feilo. However, Havells is smart enough to leverage Sylvania's global presence and technology for its growth in emerging markets in the coming years.