India is one of the fastest growing economies of the world. With the increasingly young and educated middle class, India is expected to become the third largest world economy by 2030, surpassing developed economies like Japan and Germany. With the overwhelming successes of the Green and White Revolutions, India is now fervently poised for the Food Revolution that will ensure agricultural diversification and large investments in food processing. The entry of multinationals, aggressive rise of commodity branding and low cost of technology is changing the economics of the Indian food industry. The Indian food market is approximately Rs. 2,50,000 crore ($69.4 billion), of which value-added food products comprise a mere Rs. 80,000 crore ($22.2 billion). There is a good scope for the value-added segment.
Key Highlights of sector
The food processing industry is witnessing a 20% annual growth rate and, consequently, the demand for processed foods and beverages in the country is constantly on the rise.
India has the second-largest arable land resources in the world. With 20 agri-climatic regions, all 15 major climates in the world exist in India. The country also possesses 46 of the 60 soil types in the world.
India is the largest producer of pulses, milk, tea, cashew, mangoes, and buffalo meat; and the second-largest producer of tea, wheat, sugarcane and rice.
Strategic geographic location and proximity to food importing nations favour India in terms of exporting processed foods.
The food processing industry is one of the largest industries in India and ranks fifth in terms of production, consumption and exports.
India's exports of processed food and related items rose at a CAGR of 33.2 per cent during FY11–14.
On the flip side, wastage of the food produce en route and the huge built in costs between the sourcing center and the distribution outlets is perhaps the world-highest in India. The need for preservation and massive storages cannot be overlooked. If taken care of adequately India will emerge as one of the biggest markets for production, captive consumption, and export.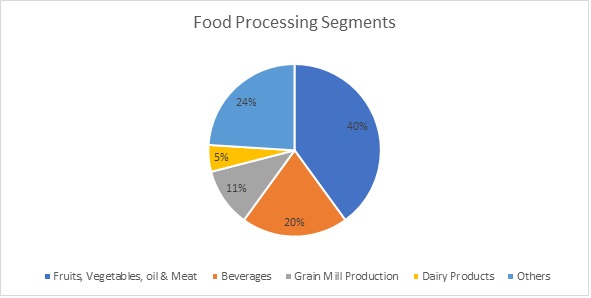 Source:- IBEF Presentation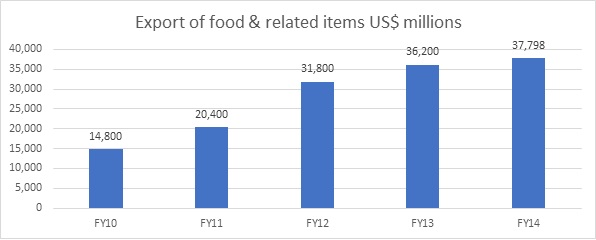 M&A in Food & Beverages Sector

Source:- Grant Thornton Dealtracker
Major M&A Activities
Date
Target company
Acquiring Company
Type of

business

Deal Value

(US$million)

July 2014
United Spirits Limited
Relay Bv
Liquor
1900.9
April 2013
Bush Foods Overseas Pvt. Ltd
Hassad Foods
Rice Exporters
135.0
May 2014
Nashik Vintners Pvt. Ltd
Investors Group
Wines & Brandy
39.27
April 2013
Taraori Rice Mills Pvt. Ltd
Ebro Foods SA
Floor & Grain Mills
14.0
March 2014
Shanghvi Brands PromoterPvt. Ltd.
Tano Capital LLC
Floor & Grain Mills
9.86
Source:- IBEF Presentation
Challenges
Despite food production in the country is expected to double by the year 2020, not much attention has been given to the growth of this vital industry, with no standard publication highlighting the importance of this sector.
Historically, food processing industry has witnessed low margins due to the investments which need to be made in processing facilities, volatility in material prices due to the scarcity of resources and uncertainty in consumer preferences.
In a country like India agriculture sector is completely dependent on Manson. Poor warehousing facilities, Lack of product development and innovation adds more problem to the food sector.
Conclusion
India is known for its spices. With continuous changing taste and preferences of customers, increasing quality consciousness the structure of food market is changing rapidly. Food companies are trying to come up with a diversified portfolio. Due to increasing Internet penetration modern retail has gathered significant momentum. There is a huge increase in a number of new emerging brands and players in the food industry in the last few years. Consolidation of businesses through merger and acquisition is perhaps the best way for all existing as well as new players to achieve diversified portfolio and to stay competitive. Latest Heinz Kraft merger will encourage other big companies in this sector to go for merger and acquisitions.