p style="text-align: justify;">Indo Amines Limited (IAL), incorporated as a public limited company in 1994 in the State of Maharashtra, is a significant worldwide manufacturer, developer and supplier of speciality chemicals and active pharmaceuticals ingredients. The products manufactured find application in various industries like Pharmaceuticals, Agrochemicals, Fertilizers, Petrochemicals, Road Construction, Pesticides, Perfumery Chemicals, Dyes and Intermediates, etc.
The company has four manufacturing sites: They are located at Baroda (Gujarat), Dombivli, Rabale (Navi Mumbai) and Dhule. IAL is one of the largest manufacturing company in south Asia.
Transaction
The scheme of amalgamation between Classic Oil Limited, wholly owned subsidiary of the company (Transferor Company 1) and Sigma Solvents Private Limited (Transferor Company 2) with Indo Amines Limited (Transferee Company) and their respective shareholders and creditors.
Consideration
There is no obligation to carry out valuation of Classic Oil Limited (COL) as there is an amalgamation of Wholly Owned Subsidiary with its Parent Company i.e. IAL.
The Share Exchange Ratio of the Equity Shares for Amalgamation of Sigma Solvents Private Limited (SSPL) into Indo Amines Limited at 10 (ten) equity shares of IAL of Rs 10 (Rupees Ten Only) each fully paid up for every 26 (Twenty-Six) equity shares of Rs 10 (Rupees Ten Only) each fully paid up.
Basis for Amalgamation: The value per equity share of SSPL and IAL is arrived at by using the Future Earnings Capitalisation Method and Market Price Method respectively.
Transaction Overview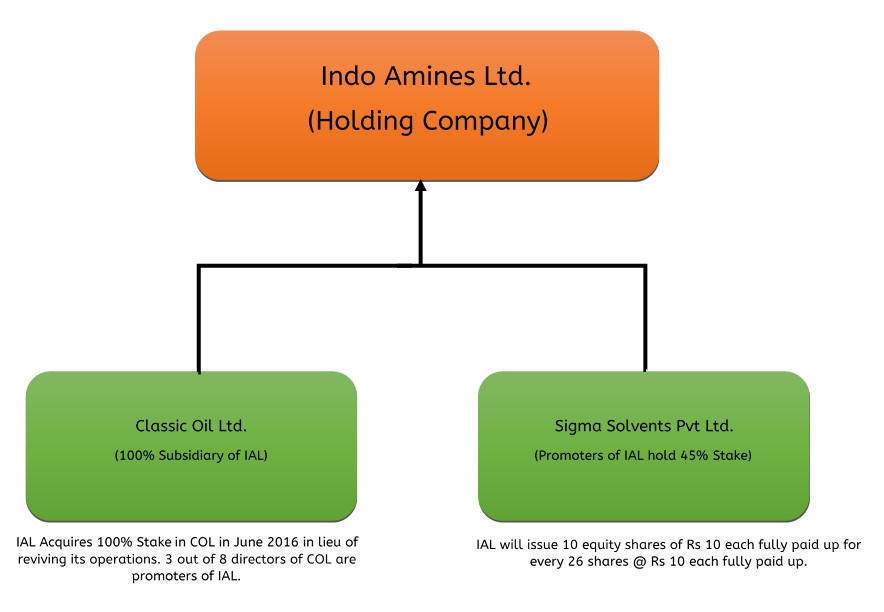 Business of Three Companies
Subscribe to read the full Article.