After long deliberations, cement-makers France-based Lafarge and Switzerland-based Holcim decided on new financial terms and leadership to pull through the merger plan as it was almost on the verge of collapse. First announced in April 2014, the deal almost collapsed because of public wrangling between the two companies. The deal was finally successfully closed in July this year and in December the combined entity declared its third quarter of the year and the nine month period to September 2015 results.
The boards of the two companies also agreed to new financial terms, including a new share-swap ratio for the deal, altering a one-for-one exchange ratio first agreed upon last year. However, LafargeHolcim is facing the same problem which most cement makers are going through a – slowdown in demand for cement. The combined entity reported a fall in net sales and adjusted earnings before EBITDA for the first nine months of this year, compared to the same period last year. The group has said that lower than expected demand was the reason for lower sales especially in countries like China and Brazil. The combined entity plans to raise Euro 3.2 billion in 2016 from selling off assets, around half as much as Lafarge and Holcim had to sell to allow the merger to go through.
About Lafarge:
The company started operations in 1833 as a limestone mining company. It transformed itself and now has a presence in 62 countries. Lafarge is now a world leader in building materials and a top-ranking player in its cement, aggregates and concrete businesses. The company contributes to the construction of cities around the world, through its innovative solutions. With the world's leading building materials research facility, Lafarge places innovation at the heart of its priorities in order to contribute to the more sustainable construction and to better serve architectural creativity.
Lafarge is active in India through its subsidiaries (i.e., Lafarge India Private Limited (Lafarge India) and Lafarge Aggregates & Concrete India Pvt. Ltd. (Lafarge A&C)
About Holcim:
Holcim is one of the world's leading suppliers of cement and aggregates (crushed stone, gravel and sand) as well as undertaking further activities such as ready-mix concrete and asphalt including services. In almost a century, Holcim has grown from humble beginnings in a Swiss village to become one of the world's leading construction materials companies. The group, before the merger with Lafarge, held the majority and minority interests in around 70 countries across all continents. In 2005, Holcim entered into a strategic alliance with Gujarat Ambuja Cements to participate in the growth market of India, making a public purchase offer to the shareholders of The Associated Cement Companies (ACC) and Ambuja Cement Eastern. In the same year, Holcim acquired Aggregate Industries, thus entering the UK market and strengthening its aggregates and ready-mix concrete businesses in North America.
The overview of the deal
On April 7, 2014, the world's two largest cement manufacturers, France-based Lafarge and Switzerland based Holcim, announced they had agreed to terms on a merger. Merger talks had begun in January 2014, with agreement on a "Merger of Equals" being unanimously approved by the company boards on April 5, 2014.
Lafarge and Holcim executives were of the opinion that the deal, which would create a new company named LafargeHolcim, will be complete during the first half of 2015. The new company's manufacturing capacity of 427 million tons a year would vastly exceed the 227 million ton capacity Anhui Conch, the current industry leader in that category. However, the deal went into trouble and was almost on the verge of collapse. Timely intervention by the boards of the two companies saved the $47 billion deal.
The new company would be based in Switzerland and listed on stock exchanges in both Zurich and Paris. Their research facilities will remain in France. Teaming up would allow them to roll out more products quickly, giving them an edge on the competition. They have a combined 136,000 employees across 90 countries. With a combined market value exceeding $50 billion, the merger is the second largest announced in 2014 worldwide.
Holcim and Lafarge had been careful to present their deal as a merger of equals not just in terms of the price. Management positions had been meticulously shared out, with equal representation for each company on the new board. Holcim and Lafarge have predicted the merger will lead to cost savings of 1.4 billion euros annually, giving them an advantage over rivals as the global recession eroded demand for building materials and forced some kilns to run into a loss. The deal would combine Holcim's marketing strength with Lafarge's edge in innovation while providing significant cost savings
The Twist 'n' Turns:
The deal announced in April 2014 was intended to combine Lafarge and Holcim on an equal basis, but diverging results, share prices and fluctuations in the Euro and Swiss Franc have led Holcim to seek a revision of the terms. In fact, Holcim outperformed Lafarge, raising questions about the one-for-one share swap proposal.
Holcim has traded strongly since announcing the deal last April, while Lafarge has missed market expectations. This divergence in trading performance has been aggravated as the Zurich-based company soared in value on the back of currency fluctuations when the Swiss central bank scrapped its currency's peg to the euro. Lafarge reported a fourth-quarter (2014) loss of 145 million euros ($155 million) after writing down the value of its operations in Iraq and Syria.
A clash of cultures
In the deal, it was agreed that Lafont would retain his chief executive role at the merged group and Holcim would get the chairmanship. But as the weeks of integration turned into months, Bernard Fontana, Holcim's chief executive, and his team found it increasingly difficult to work with Lafont. Bruno Lafont made a strategic error when the chairman and chief executive of France's Lafarge had chosen to use a private jet to fly across the US. The decision was not just against Holcim's company guidelines but left its executives wondering how the man who was set to lead the combined group could spend tens of thousands of dollars for a flight when commercial options were available.
After the investor roadshow in February, the frustrations boiled over as Wolfgang Reitzle, current chairman of Holcim and his team decided they were simply unwilling to work with Lafont. On March 15, they sent a letter to the Lafarge board. Not only did a new price have to be agreed but Lafont could no longer run the group. Holcim and Lafarge started renegotiating the terms of their Euro 41 billion merger after a divergence in the value of the two companies over the past year.
The companies agreed to new terms on 20 March, valuing Lafarge at €28.2 billion ($30.5 billion), and said Lafont would become co-chairman of LafargeHolcim along with Holcim Chairman Wolfgang Reitzle.
Revision of terms
Lafarge SA hammered out new terms in its $44-billion merger pact with Holcim Ltd. The two agreed on a new share-swap ratio of 9 Holcim shares for each 10 of Lafarge. The new share-swap ratio means Holcim shareholders would own 55.6% of LafargeHolcim compared to 53% previously.
Lafarge chief executive Bruno Lafont to become co-chairman instead of chief executive of the combined group as originally planned. Wolfgang Reitzle and Bruno Lafont will be non-executive Co-Chairmen of the Board. The two Co-Chairmen will be working closely together. Beat Hess will be Vice-Chairman of the Board. Lafarge and Holcim have agreed that, subject to shareholder approval, the new company will announce a post-closing scrip dividend of 1 new LafargeHolcim share for each 20 existing shares.
The Facts and Figures:
Geographic Distribution of Sales of Both the Companies

Sources:- Company Data, hu Research
Geographic Distribution of Sales of LafargeHolcim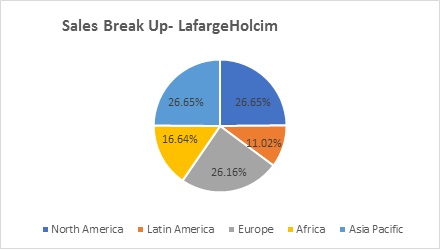 Sources:- Company Data, hu Research
Holcim's Region Wise Break Up
Million CHF
| | | |
| --- | --- | --- |
| Region | Net Sales | Operating Profit |
| Asia Pacific | 6970 | 934 |
| Europe | 3012 | 663 |
| North America | 3334 | 314 |
| Latin America | 3012 | 663 |
| Africa | 861 | 220 |
Sources:- Company Data, hu Research
The deal will help Holcim to expand its footprint in emerging Cement markets like Africa and Latin America where operating Profit margin of Holcim for a year ended 2014 was 25.55% and 22% respectively ranks 1st and 2nd among other divisions.
Lafarge and Holcim feel the deal well better position them to compete in emerging markets which account for a majority of the world's demand for cement. LafargeHolcim would get 60% of its sales from emerging market sales, and no one country would account for more than 10%.
Consolidated Key Figures of Both the Companies
| | | | |
| --- | --- | --- | --- |
| Particulars | Holcim | Lafarge | Combined |
| Production Capacity MT | 211.4 | 215.6 | 427 |
| Cement and Grinding Plants | 144 | 155 | 299 |
| Presence- No. of Countries | 70 | 62 | 90* |
| Sales of Cement MT | 140.3 | 116.4 | 256.7 |
| Net Sales | Euro 15,734 mn | Euro 12,843 mn | Euro 28,577 mn* |
| EBITDA | Euro 3,084 mn | Euro 2,721 mn | Euro 5,805 mn* |
| Employees | 68,000 | 64,000 | 132,000 |
*- Approximately
Sources:- Company Data, hu Research
Gain to Shareholders of Lafarge
As on 24th March 2015
Particulars
Amount

Stock Price of Holcim [ CHF 76.90*0.95

#

]

Euro 73.05

Stock Price of Lafarge

Euro 64.14

Exchange Ratio

9:10

Premium per share

Euro 1.60

Market cap Holcim

Euro 23.90 bn

Market cap Lafarge

Euro 18.36 bn
#– 1 CHF= 0.95 Euro
Sources:- Company Data, hu Research
Indian Presence:
In India, the Competition Commission of India (CCI) has approved the merger. The approval, however, came with a rider. Both the firms will have to divest two cement plants to address monopoly concerns. CCI has decided that a divestiture of Lafarge's Jojobera plant in Jharkhand and the company's integrated unit at Sonadih in Chhattisgarh will be most effective in eliminating the concerns. The pre-combination market share of Holcim in the relevant market for the eastern region is around 25% and that of Lafarge is around 16%, thus resulting in a market share of around 41%, post combination," the CCI said in its order. The total cement manufacturing capacity of Holcim and Lafarge in India was about 67 million tonne (mtpa) in 2013-14. The total installed capacity in the country is 350 mtpa.
Based on publicly available information on capacity of cement companies in India, set out below is the information on the estimated market shares of the Holcim and Lafarge prior to, and after, the proposed Transaction:-
Relevant market
Estimated Market Share (On Capacity)
Holcim
Lafarge
Combined
East+ North India
15.2%
7.3%
22.5%
East + MP+ East UP
19.9%
9.1%
29%
North/West + West UP
13.6%
3.1%
16.7%
Sources:- Form IV submitted to CCI
Conclusion:
The finalization of the Holcim and Lafarge merger is an example of how cultural integration is important in making a deal successful. The need for culture insight becomes even more acute when the target and the acquirer are based in different countries.
Doing deals right and, in particular, integrating two or more operations post close can present a serious challenge, especially when it comes to the people side of the business. The people aspects of merger integration cannot be handled in a silo, away from the rest of the effort. Human capital issues are critical to every work stream and must be managed with the same focus and discipline as issues of finance and operations.
The Lafarge and Holcim transaction were in the nature of a merger of equals and strategic combination of the businesses that aims to create a geographically diversified company active in the production and supply of cement, aggregates, and ready mix concrete. However, later on, Holcim shareholders pushed openly for changes to the deal because they saw it as too favorable to Lafarge and argued that Holcim would be better off alone. The deal is a classic example of how companies can save deals from collapsing and can be a win-win situation for all stakeholders.