Established in 1957, Siemens India Limited (Siemens), in which Siemens AG holds 75% of the capital (directly & through its subsidiary), is the flagship listed company of Siemens AG in India. Siemens focuses on areas of electrification, automation, and digitalization. It is one of the leading producers of technologies for combined cycle turbines for power generation; power transmission and distribution solutions; infrastructure solutions for smart cities and transportation; automation and software solutions for industry, and also supplier of healthcare equipment.
It has done multiple M&A transactions with group companies in last few years as detailed below

Past amalgamation, divestment, and acquisition
2007
Siemens divested 100% stake in Siemens Public Communication Network Limited for a consideration of Rs 189 crore to Nokia Siemens Network Pvt. Limited.
In the same year, the company sold its VDO Automotive Division to a 100% subsidiary of Siemens AG for a consideration of INR 170 crore.
2009
The Board of Directors approved the amalgamation of Siemens Healthcare Diagnostics Limited (SHDL) with the Company. SHDL was based at Baroda and was engaged in manufacturing, marketing and customer support of Medical Diagnostic Reagents and Instrument etc. SHDL was listed on the Bombay Stock Exchange Ltd. The Board had recommended a share exchange ratio of 2:1 i.e. two equity shares of fully paid-up of the Siemens for every 1 Equity Share of SHDL i.e. value of approximately Rs 300 crore. Siemens already was in healthcare vertical with a turnover of Rs 543 crore.
Siemens acquired balance 50% stake in Flender Limited from Siemens AG for a consideration of Rs 91 crore.
Siemens sold 100% stake of Siemens Information Systems Limited and 51% stake in Siemens Information Processing Services Limited to Siemens Corporate Finance Private Limited for Rs 279 crore & Rs 23 crore, respectively.
2010
Siemens acquired balance 13.85% stake in Siemens Building Technologies Private Limited (SBTPL) from its promoters for a consideration of Rs 70 crore.
2011
Siemens merged its WoS SBPTL and sold subsidiaries of SBTPL- iMEtrix Technologies Private Limited (Ireland), Europlex Technologies Private Limited (UK) and the UK and Europlex Technologies (Ireland) Limited to Siemens Schweiz AG (Subsidiary of Siemens AG) for a consideration of Euro 2.95 million.
In January, Siemens AG came up with open offer and acquired 19.70% equity shares of Siemens from public
The company announced in October, an amalgamation of Siemens VAI Metals Technologies Private Limited (SVAI) a 100% subsidiary of Siemens AG, for a share exchange ratio of 1,318 equity shares of Siemens for every 100 shares of SVAI. SVAI was engaged in a business of EPC contracts for industrial/ steel plant i.e. value of approximately Rs 950 crore (number of shares issued * market price).
2012
The company amalgamated Siemens Power Engineering Pvt. Ltd, a 100% subsidiary of Siemens AG, with itself. Siemens issued 6 equity shares for every 13 equity shares of Siemens Power Engineering Pvt. Ltd.
Siemens merged Winergy Drive Systems Pvt. Ltd. With itself for consideration of 1 equity share for every 72 equity shares of Winergy Drive Systems Pvt. Ltd.
2013
The company sold its Postal & Parcel Logistics Technologies & Airport Logistics Technologies business as a going concern on a slump sale basis to 100% subsidiary of Siemens AG for a consideration of INR 128 crore.
2014
The company sold its Metal Technologies business to Siemens VAI Metals Technologies Gmbh for a consideration of Rs 1,023 crore.

The Transaction
Board of Directors of Siemens approved the sale and transfer of its Healthcare Undertaking, as a going concern on slump sale basis, for a cash consideration of INR 3,050 crore, to Siemens Healthcare Private Limited (SHPL), a subsidiary of Siemens AG, Germany. SHPL currently provides clinical, software development and delivery know-how for all Siemens healthcare area.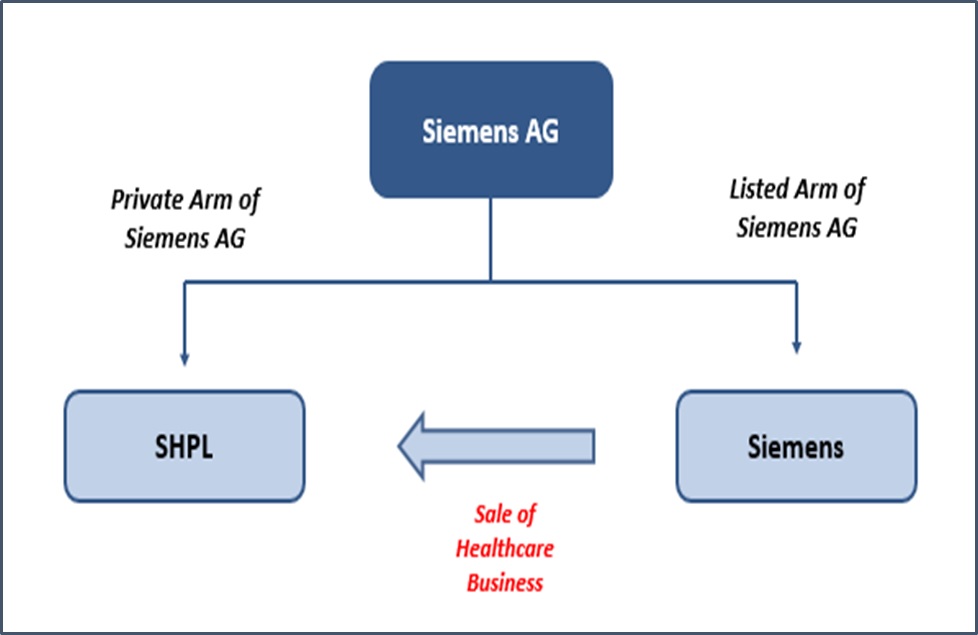 Rationale:-
Limited synergies between healthcare and another segment. After the hive off, Siemens can focus on its core business i.e power processing and digital segment more effectively.
50% of transaction amount will be retained by the company, which will be used to further grow its profitable businesses which in turns can be EPS accretive.
The EBIT margin of Healthcare business is 4.7% as against Siemens 9%. Hence, the proposed transaction can be margin accretive for Siemens.
In the last couple of years, Siemens has done many restructuring with its group entities. Despite such initiatives, the results are not too encouraging

Further, the board of directors has also decided to consider the distribution of 50% of the sale consideration as reduced by the applicable capital gains tax and dividend distribution tax, as a special dividend.
The proposed transaction is likely to complete on or before 1st July 2016.

Snapshot: – Healthcare Business
Particulars
2009
2010
2011
2012
2013
2014
2015*
Revenue
543
753
1069
1081
1129
1442
1850
EBIT
41
51
51
6
32
43
89
EBIT Margin
7.6%
6.8%
4.8%
0.6%
2.8%
3.0%
4.8%
For the year ended on 30th September.
*:- The figures are adjusted by ignoring company's change in revenue recognition policy in 2015.
From 2009, the healthcare business grew at CAGR of 20%. The further private arm of Siemens AG, SHPL revenue for the 3 months ended on 31.12.2015 was Rs 80 crore. SHPL registered profit before tax of Rs 18 crore for the same period.
Contribution of Healthcare Undertaking in Siemens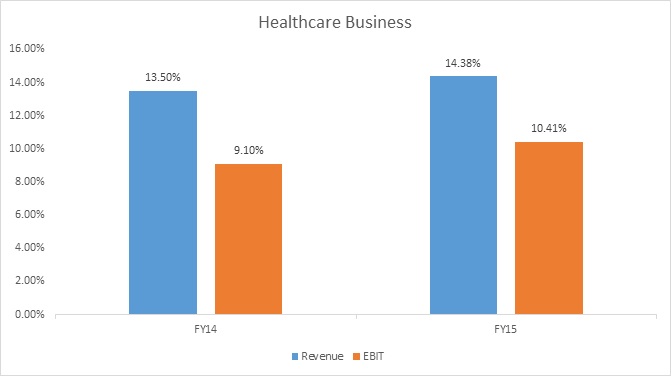 Valuation multiple
INR in crore
| | |
| --- | --- |
| Particulars | Amount |
| Sale Consideration | 3050 |
| Revenue from healthcare Business | 1424 |
| Revenue multiple assigned to the deal | 2.1 |
| EBIT | 67 |
| Consideration/EBIT | 45.5 |
Reversal of Trends
In 2009, Siemens merged Siemens Healthcare Diagnostics Limited with itself which today forms approximately 30% of the revenue of its Healthcare Business. Further, in 2011, they merged Siemens VAI Metals Technologies Private Limited into the company. However, later on, they decided to sell it off to private arms of their holding company. As a result of extraordinary gain, on both the transactions, the company announced a special dividend. On sale of its metal business, the company distributed approximately Rs 142 crore as dividend.
After sale of Healthcare Business, considering 75% stake in Siemens is held by Siemens AG, 75% of dividend will be distributed to Siemens AG i.e approximately INR 750 crore will be received by the Siemens AG. Further, Siemens AG will continue to hold 21, 54,416 shares which it got in the course of a merger of SHDL into Siemens.
Siemens Limited- Performance
INR in crore
Particulars
2015
2010
As on 30th September
Revenue
10,723
9,809
EBIT
913
1,217
EBIT %
9%
12%
PAT(Excluding Exceptional Items)
666
957
Net Margin
6%
10%
Networth
5,117
3,279
Return on Networth
13%
29%
Market Cap (As on 10th March of respective year)
36,700
24,800
Market Cap/Revenue
3.4
2.5
Promoters Holding
75%
55.18%
Delisting undertaking instead of a company
As mentioned above, Siemens in the last couple of years done many restructuring with its group entities. Despite many internal restructuring, revenue of Siemens grew only 2% CAGR. Its margins are adversely effecting.  From the date of merger of SHDL till date, the company has incurred around Rs 300 crore of capital expenditure on healthcare business. They acquired SHDL in 2009. They spent significant amount on improving healthcare business. However, when EBIT margin of healthcare business is improving they came up with announcement of selling Healthcare Business.
In past, Siemens sold many of its business to a private arm of their holding company somewhat like delisting their non-core businesses from listed entity, though the same were merged a few years back only and then they took the business private again.
As on 30th September, 2015 Healthcare business had capital employed of INR 88 crore hence no huge investment will be required in the immediate future. Considering this, it seems only reason behind carving healthcare business is consolidating its healthcare equipment business with healthcare software business. But in the process, public/minority shareholders will not be able to reap benefits of future growth of healthcare business.
In both Metal & Healthcare Business (SHDL), Siemens AG acquired stake (directly/indirectly) in Siemens and later Siemens exited the business in such a way so that there will not be any compliances of SEBI Takeover Code. Today, SEBI does not provide any guidelines on the partial delisting of a company, as a result, public shareholders are not getting exit from the business at the price discovered through reverse book building.