Mergers have played a key role in shaping the global pharmaceutical landscape. Indeed, most of the pharmaceutical companies that stayed among the world's 20 largest between 1995 and 2005 were involved in "megamergers," which we define as deals larger than $10 billion in which the target company boasts at least 10 percent of the acquirer's sales and 20 percent of the acquirer's market capitalization.
In India after acquisition by Sun Pharma of Ranbaxy Laboratories Ltd through the structure of amalgamation i.e. no cash deal, recently there is one more deal in the industry, though tiny as compared to the mega-merger. Strides Arcolab announced that it has acquired Raricap a renowned brand and India branded generic business of Bafna.
Deal :
Strides Arcolab Limited (Strides) entered into an agreement with Bafna Pharmaceuticals Limited to acquire a majority stake of their India Branded Generics Business. Bafna will sell its India Branded Generics Business for (Enterprise value) of Rs.65 crore. Out of which, Strides will pay Rs .48.1 crore in cash and balance in the form of 26% stake in the SPV created to hold the said business. The transaction is expected to close by the end of September 2014 and is subject to customary closing conditions and statutory approvals.
Transaction Structure :
Bafna will transfer entire India branded generics business as a going concern on a slump sale basis to Strides. The business has 7 brands including Raricap. The business has a presence in 17 states in India with a field force of about 400 people.
The Business in its entirety will be transferred to an SPV, in which Strides will hold 74% (i.e. making the SPV subsidiary of Strides Arcolab Ltd.) and balance 26% will be held by Bafna.
The IPs and marketing infrastructure including manpower will be transferred to the SPV as part of the business transfer
Bafana will continue to manufacture these products for the SPV for five years
The SPV will have global rights for Raricap brand also.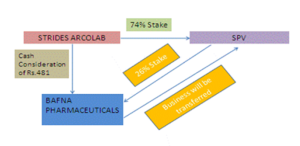 Background of Companies :
Strides Arcolab Limited :
Strides Arcolab, listed on the Bombay Stock Exchange Limited (532531) and National Stock Exchange of India Limited (STAR), is a global pharmaceutical Company headquartered in Bangalore, India that develops and manufactures a wide range of IP-led niche pharmaceutical products.
The Company has 5 manufacturing facilities presence in more than 75 countries in developed and emerging markets.
The Company's business division includes Pharmaceuticals, Biotech, and Specialties (Agila). Agila (Specialties business) is focused on key domains, such as oncolytic, poems, penicillins, cephalosporins, ophthalmics, peptides and biosimilars. The pharmaceutical division is led by IP-driven licensing agreements and partnerships, which provides a solution to the global big pharma companies. Biotech is a wholly owned subsidiary of Strides. The Company's subsidiaries include Agila (NZ) Pvt Ltd, Agila Australasia Pvt Limited, Agila Biotech Private Limited, Agila Specialties Americas Ltd and Agila Specialties Global Pvt. Ltd. strides increased consolidated stake in Inbiopro Solutions Pvt. Ltd. from initial holdings of 70% to 100% to become a 100% subsidiary
Bafna Pharmaceuticals Limited:
Bafna Pharmaceuticals forayed into the pharmaceutical manufacturing industry, way back in 1981 and consistent drive and determination of our CMD to expand our horizons resulted in the metamorphosis of Bafna Pharmaceuticals into a Public Limited Company in 1995.
Mr. Bafna Mahaveer Chand – Chairman and Managing Director, Bafna Pharmaceuticals Ltd., has over three decades of experience in the Pharmaceutical Industry.
A doyen in the industry, with in-depth know-how and expertise of all the faculties & operations of the industry, his consistent drive and determination to expand the horizons has resulted in different stages of metamorphosis of Bafna Pharmaceuticals from an Institutional supplier to becoming a Generic player and then to Branded Generics and finally to acquiring and creating Brands.
Raricap, the flagship brand of Bafna, is the 8th largest in the oral Haematinic segment in India with 8 SKU's in oral and liquid forms with an annual revenue of Rs. 200 Million. Raricap was acquired by Bafna from Johnson & Johnson in the year 2011 and has grown at CAGR of ~ 64% in last 3 years. India branded generics business of Bafna is engaged in sales and marketing of branded pharmaceuticals products in niche therapeutic segments of Haematinic, women healthcare, Pediatric care in India and includes the flagship brand 'Raricap' and 7 other brands.
Mr. Bafna has overseen the launch of Raricap and its extensions in Sri Lanka and Singapore. He is now looking to launch Raricap in about 100 countries including the USA, UK, Philippines, Vietnam and CIS countries in the next 18 months.
Bafna Pharmaceuticals has expanded its operations and set up manufacturing facilities in Chennai, India, with UK-MHRA & TGA- Australia accreditations, with round the year exports to prestigious Regulated Markets and Emerging markets. Bafna Pharmaceuticals has received Best Supplier Award from the Government of Sri Lanka, Gold Quality Excellence Award 2009, and Quality Excellence Award 2010 from IDMA and Excellence Award 2011 from IES. Mr. Bafna has received The National Level Entrepreneurship Excellence Award in 2010 from the SME Chamber of India, Udyog Rattan Award 2011 and Pioneers 2012 Award from "The Times Award" for his Contribution towards the success of Healthcare in Tamil Nadu.
Strategic Rationale:
For Strides, it will
Strengthen the Women & Childcare portfolio of Strides' branded generics business
Bafna's pan India reach to aid Strides' biggest brand Renerve's entry in new market segments
Strides strong South India Presence to help Raricap reach a higher patient base
Commenting on the development, Mr. Arun Kumar, Founder and Group CEO of Strides Arcolab Limited stated, "This acquisition provides the necessary impetus to our domestic branded generics business and the transaction is in line with our strategy to grow the company's branded business. The transaction will strengthen our reach to newer markets with a wider portfolio of products".
For Bafna, it will facilitate it to deleverage. Further, it seems though the Raricap brand is capable of reaching a larger geographical area, because of a paucity of resources, was not able to expand. When it acquired the same from Johnson, it had a business plan to reach Rs500 crore as turnover within 2 years, but its turnover reached only Rs 167 crores for FY 2013. As it could not scale up, this was a golden opportunity for it to exit in a most profitable manner as it realized more than 200% profits i.e. Bafna Pharma bought Raricap for 21 crores in April 2011 and sold its branded generic business for Rs.650 millions in three years.
Why mature drugs means big bucks :
Companies can expand in overseas markets such as the US
Beat unbranded generic players
High sales volume of older drugs itself an incentive
Companies can leverage the brand to diversify
Bafna is not proposing 100% exit may be as it believes that there is lot more potential and huge valuation upside few years down the line when it may get offer to sell balance 26% As per one of the conditions, Bafna will continue to manufacture these products for the SPV for five years, this will help Bafna to recover part of its fixed operating costs and make it easier for Strides not to be burdened with small infrastructure. As the transaction is structured as Slump sale, Bafna will have capital gain liability and Stride will have substantial stamp duty.
Conclusion:
Mergers & Acquisitions are one of the options to improve efficiencies. The generics drug market size is poised to reach $335 billion globally by 2017 on the back of the demand from the US and emerging markets.
No doubt acquisition of Raricap and Other generic business of Bafna pharmaceuticals will help Strides Arcolab to increase patient base & grow the business of Strides Arcolab. Only time will tell whether this acquisition is going to create value for Strides Arcolab or not, particularly considering that it acquired 74% stake for 3 times its turnover.