India is the second largest producer of textiles and garments in the world. The textile and allied product's earnings from export was $37.14 billion in FY16, or 13.71% share of India's total exports of $262.29 billion in FY16. Currently, the size of the textile industry is estimated at around $108 billion. The textile industry has two broad segments. First, the unorganised sector consists of handloom, handicrafts, and sericulture, which operate on a small scale and through traditional tools and methods. The second is the organised sector, which consists of spinning, apparel and garments segment which apply modern machinery and techniques such as economies of scale.
Textile and specific to Garments: The readymade garments market is estimated at $45 billion, of which the domestic market is around $27 billion, while exports stand at $18 billion. The Indian branded apparel industry is estimated to be $10 billion in size and growing at 10-12% per annum.
The Indian textile industry contributes approximately 5% to India's Gross Domestic Product (GDP) and 14% to overall Index of Industrial Production (IIP). The industry has witnessed an upsurge in investment during the last five years. The industry (including dyed and printed) attracted Foreign Direct Investment (FDI) worth US$ 1.85 billion during April 2000 to March 2016.
ABOUT ARVIND LIMITED
Indian Textile Industry has witnessed an upsurge in Investment in last few years and contributes approx. 5% to India's GDP.
Arvind Ltd is the largest cotton textiles manufacturer and exporter in India. The company's principal business consists of manufacturing and marketing of denim fabric, shirting fabric, shirts, knitted fabric, and garments. The company has the rights to market international brands such as Lee, Wrangler, Arrow and Tommy Hilfiger in India. The company has also owned popular brands such as Newport, Flying Machine, Excalibre and Ruf & Tuf. They are having their production facilities at Ahmedabad, Mehsana, Gandhinagar in Gujarat, Pune in Maharashtra and Bangalore in Karnataka.
Arvind Ltd was incorporated in 1931 as Arvind Mills Ltd by three brothers Kasturbhai, Narottambhai and Chimanbhai. In 1934, they established themselves amongst the foremost textile units in the country. They are the first company to bring globally accepted fabrics such as denim, yarn dyed shirting fabrics & wrinkle free gabardines' to India in the year 1986. The company produced 1600 million metres of denim per year in 1991 and became the third largest producer of denim in the world.
TRANSACTION OVERVIEW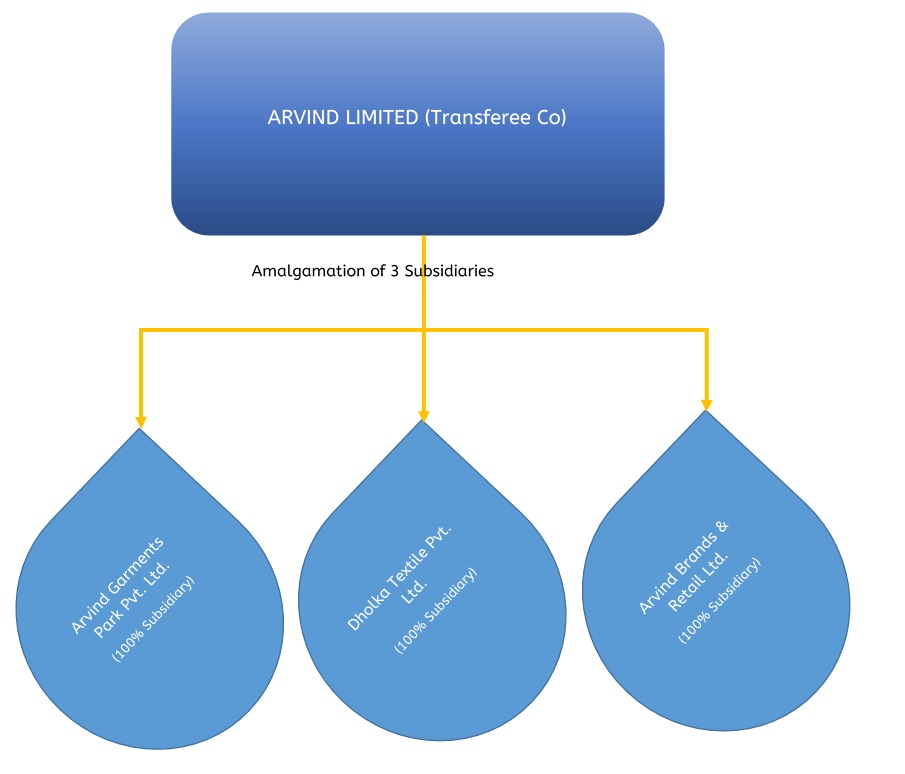 Arvind Limited approved the draft scheme of amalgamation of its 100% subsidiaries, Arvind Brands & Retail Limited (ABRL) and Arvind Garment Park Private Limited (AGPPL) and Dholka Textiles Park Private Limited (DTPPL) with Arvind Limited.
Consolidation of these entities with Arvind Limited comes post branded garments business hold by Arvind Brand & Retail Limited hive off into SPV. In the SPV the group has attracted Private Equity Investors "Multiple" with dilution of 10% stake for approx. Rs. 50 crore with an enterprise value to Arvind Fashion Portfolio of Rs. 8,000 crore.  The steps taken by the group before this announcement are as follows:
Composite Scheme of Amalgamation of Arvind Retail Limited with Arvind Lifestyle Brands Limited
Arvind Lifestyle is Subsidiary of Arvind Brand and Retail Limited. Arvind Lifestyle is one of the dominant players in the organized branded apparel market in India having a very wide network of exclusive branded outlets as well as multi-branded outlets.
Whereas Arvind Retail Limited is operating under the brand name Megamart and has been a pioneer in the value retail market offering many of its own private brands apart from a wide range of international brands.
Scheme of amalgamation of Arvind Fashion Brands Limited and Arvind Sports Lifestyle Limited with Arvind Lifestyle
Arvind Fashion Brands Ltd is engaged in desirable homegrown apparel brands with the Arvind promise of quality. Pioneering the launch of Arvind Fashion Brands Ltd. are western wear brands Shuffle and PRYM. The brands will retail across various e-commerce portals, with plans to expand the distribution channels to offline stores in the future.
Whereas Arvind Sports Lifestyle Ltd was set-up, with the objective of introducing exciting footwear brands to the Indian market through a mix of homegrown, acquired, licensed brands and joint ventures showcasing the Arvind promise of quality across ranges. Arrow, US Polo Association, Flying Machine, Cole Haan & Heatwave are just a few of the premier footwear brands that will pioneer Arvind Sports Lifestyle's entry as it looks to establish itself as a major force in the Indian footwear industry
Scheme of Amalgamation of Asman Investments Limited and Arvind Brands Limited with Arvind Brand & Retails Limited
Asman Investment is engaged in business of trading of fabrics and garments and investment in properties and one group listed company i.e. Atul Limited. Asman might have exited properties and investment in group listed company before amalgamation.
Pursuant to scheme, there is transfer of branded garment business of Asman to the Arvind Brand and Retails Limited. The financial of Arvind Brands Limited is not available.
Hive of all business of Arvind Fashions Portfolio (Branded Garments) in SPV by Arvind brand & retail to Arvind Fashions Limited
Sale of 10% stake in Arvind Fashion Limited to Multiple Fund, a private equity investors which has currently invested in Arvind Limited for approx. Rs 750 crore.

Please Note: ESOP to Dholka Textiles Park Private Limited which might be to the employee.
CONSIDERATION AND ACCOUNTING
Arvind Ltd shall not issue or allot any equity shares as ABRL, AGPPL and DTPPL are wholly owned subsidiaries of Arvind Ltd. Accounting for amalgamation is as per INDAS 103 Business Combination.
BUSINESS OVERVIEW
| | | |
| --- | --- | --- |
| Arvind Garments Park Private Limited | Dholka Textile Park Private Limited | Arvind Brands and Retails Private Limited |
| Main business of the company is to develop Garments Park by acquiring land and creating other infrastructure developments for the park. | Main business of the company is to develop Garments Park by acquiring land and creating other infrastructure developments for the park. | Post Hive off the brands business portfolio which included apparel brands such as Calvin Klein, Tommy Hilfiger, US Polo Assn., Ed Hardy, Arrow, Gant, and Nautica among others. The company is engaged in the business of making investments in Subsidiary Companies of Arvind Group |
WHY THIS TRANSACTION
The groups business and operations will be consolidated with an aim to optimise utilisation of resources; the assets of the subsidiaries will be used for textile projects and setting up company's own manufacturing plants.
The operation business of garments of subsidiaries has been hive off to SPV to attract investors, therefore subsidiaries left only with properties and assets so clubbing of subsidiaries will bring management under one roof and there will be more of a focused leadership in the organization.
This transaction will help Arvind Ltd unlock the value, that the brands business has accomplished in a short period and add financial muscle to future strategic opportunities for the group.
The transaction of stake sale helps Arvind unlock the value that the brands business has accomplished in a short period and add financial muscle to future strategic opportunities for the group.
Fund Raised and Utilisation:
It is proposed to reduce the group's debt down from Rs 3,200 crore to Rs 2,460 crore by using this Rs 740 crore of proceeds. The ideal debt to equity ratio of a company will be reduced to 2.1, So this deal will also improve the financial leverage. The stake sale gives the brand business arm an enterprise valuation of almost Rs 8,000 crore at one year forward multiples of 20-25 times
INVESTMENT BY MULTIPLE
The investment by multiple PE is a strategic long-term investment. In January 2014, it had also picked up a little under 4% stake in Arvind for around Rs 150 crore by purchasing shares on the stock market through the foreign institutional fund and Indian funds.
It is a very interesting mix of bridge to luxury brand and brands for the mass market. It also has an interesting proportion of speciality retail. So, it is a unique combination of old brands, licensed brands, and speciality retail and this is a business Arvind has been nurturing for many years. So, they have a very experienced management team and a very robust strategy on how you address the consumerism opportunity of the Indian market. And the fact that it is a very large bouquet gives them lot of unique advantages when it comes to retailing out spaces or identifying an appropriate merchandise or even on the brand spend.
INDUSTRY ATTRACTING INVESTORS
Earlier in August 2016, US-based PE firm TA Associates Management LP invested $140 million (Rs 970 crore) by acquiring existing shareholders (promoters and private equity investors) in TCNS Clothing Co. Pvt. Ltd, a leading women's apparel platform that sells popular fashion brand 'W'. The company does not need cash as it is cash rich.
The transaction helps Arvind Group unlock the value that the brands business has accomplished in a short period and add financial muscle to future strategic opportunities for the group.
The brands are present in more than 1,600 points of sale across India, Mauritius, Sri Lanka and the Middle East, and in over 300 exclusive stores in more than 100 cities. The firm has achieved consumer sales of more than $120 million (Rs 830 crore) in 2016, resulting in 70% year-over-year growth. The company did not share details of the transaction but said TA Associates has picked a minority stake in the privately held firm.
In February 2016, Premji Invest, an existing investor in the Fabindia, bought an additional 8% stake in the company from exiting investor L Capital's 8% for around Rs360 crore. The Indian consumption story has attracted other major PE funds too like Everstone Capital, Warburg Pincus and US fund General Atlantic who have invested in brands like Ritu Kumar, BIBA Apparels Pvt. Ltd and Anita Dongre's firm House of Anita Dongre.
CONCLUSION
The Group has consolidated the branded business into a SPV "Arvind Fashion Limited" and remaining assets in Arvind Limited. Arvind Fashion Limited has attracted "Multiple" PE investor which will help to unlock the value that the brands business has accomplished in a short period and add financial muscle to future strategic opportunities. Multiple has shown faith in Arvind by making an initial investment in Arvind Limited and now major investment Arvind Fashion Limited which might be in minority but it is strategic long term investment.
Please feel free to share/retweet the article and as always you can write down in the comment box below for anything related to the article. We would love to answer.