The country's third-largest software services company, Wipro has been acquiring companies to grow its digital technology strength. The company's new chief executive officer (CEO) Abidali Neemuchwala had acquired two companies — HealthPlan Services and Appirio last year for over $1 billion.
In fact, after taking over as CEO, Mr. Neemuchwala had laid out a vision to make Wipro a $15-billion company in revenue by 2020 (from $7.5 in FY16) and help transform the information technology services player into a service company. The former Tata Consultancy Services veteran joined Wipro as chief operating officer in April 2015 and then became the CEO a year later.
Before him, too, the company had taken an aggressive approach in acquiring companies. The company under the astute leadership of its founder Azim Premji had initiated mergers and acquisition spree in 2005 with a strategy called as String of Pearls. Since then it has acquired around 14 companies with varied valuation. These acquisitions have helped Wipro hedge technology risks, especially at a time when newer startups disrupt existing ideas.
Wipro will have to move faster to the new market segments such as cloud and digital as the ongoing business model is decelerating with no growth prospects in the long-run. In fact, the information technology industry's growth is now being increasingly driven by automation, digital, cloud, and analytics.  Wipro is also engaged in the fast moving consumer goods sector (FMCG) and has even done a number of acquisitions there. The 6,000 crore Wipro Consumer care made headline in the global FMCG market when it acquired Chinese personal care maker Zhongshan Ma Er Daily products, which was the tenth acquisition in a decade.
Acquisitions by peers
Most Indian software services firms are looking at the digital space. Accenture has been acquiring companies to expand in new markets and domains. While Cognizant acquired ten companies in 2016, it has acquired more than 15 companies across the globe in the last four years.
In contrast, Wipro's rival Infosys has done only three acquisitions since 2015 – Isreal-based Panaya for $200 million, US-based Skava for $120 million and US-based Noah Consulting for $70 million. Infosys CEO Vishal Sikka has been aggressive to pursue acquisitions for growth, but his approach is in conflict with the conservative approach of the founders who were not willing to acquire and the company's cash reserves piled up.  Under Sikka, Infosys has made nine minority investments and three buyouts in less than three years.  That is the reason why the company has caught the eyes despite the fact that its peers like Wipro and Cognizant have acquired more number of companies.
In order to gain the confidence of investors because of an uncertain future, offlate, IT companies are resorting to buybacks. In February this year, TCS board approved the decision on buyback of shares, while Infosys and Wipro, too, are likely to follow suit. In fact, Wipro has done buybacks in 2016 as high cash balances are a drag on overall return ratio. These companies are following the footsteps of Cognizant has been doing buybacks for years. However, buybacks are not the solution as it may appease the shareholders in the short run and will not help in the long run. Companies will have to look for acquisitions to grow. Acquisitions cannot be done just to increase revenue, but to help the change in a specific vertical.
Going forward, there will be consolidation in the industry and those who make bold moves early and take risks early will benefit in the changing IT services landscape.
Wipro acquiring HealthPlan and Appirio
As a part of the vision, in February last year, Wipro acquired US-based healthcare and life science firm HealthPlan for $460 million. This acquisition was done to strengthen Wipro's existing business in the healthcare sector, which accounts for 12% of the company's overall business. It was the second-biggest acquisition in the company's history; the biggest was in 2007 when it acquired Infocrossing for about $600 million.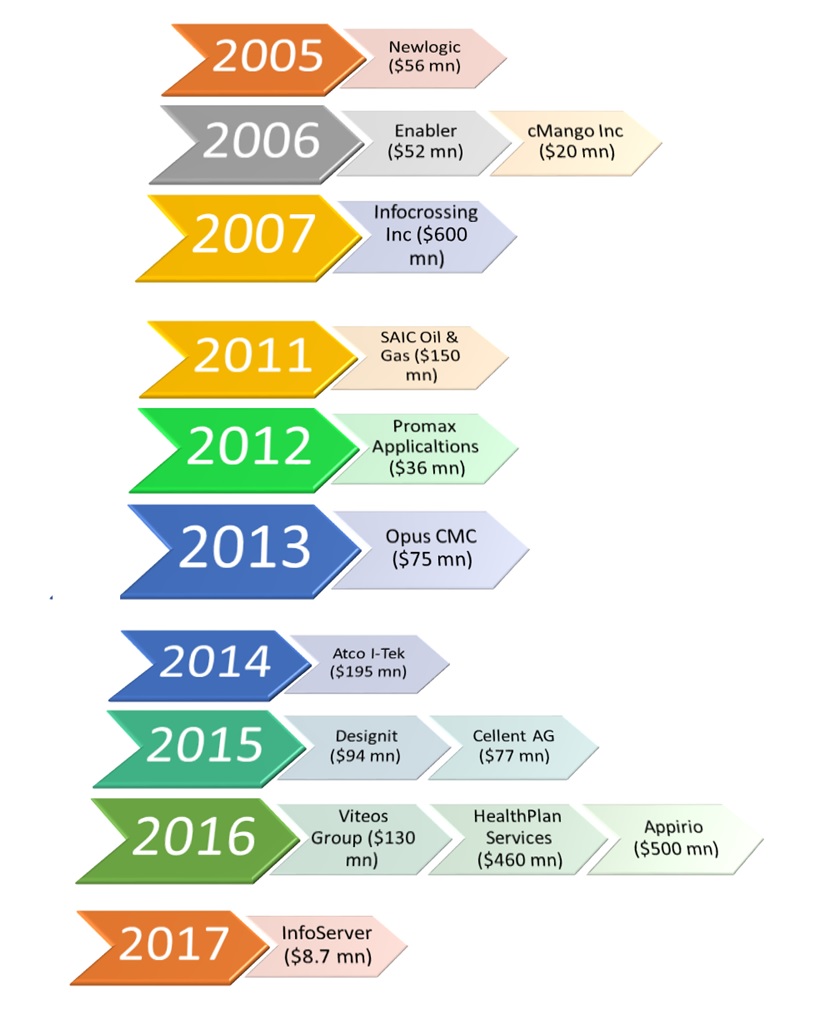 HealthPlan was set up in 1970 which provided technology platform and business process as a service solution to health insurance companies in the US. In 2015, it reported revenue of $223 million, a growth close to 19% over the previous year. Wipro, too, provides services to over 100 payers, leading healthcare providers and public health agencies in the US. The acquisition has helped Wipro to scale up operations as the healthcare space in the US has seen a lot of changes, specially the Patient Protection and Affordable Care Act. The acquisition has given Wipro an access to the HealthPlan's back-office technology platform and a plethora of large healthcare insurance customers in the US, including Metlife and Allstate.
In December 2015, Wipro had made two acquisitions including German consulting firm Cellent AG for $77 million and new Jersey-based Viteos Group for $130 million. Over the past six years, Wipro has made over half a dozen acquisitions firm like Opus Capital Markets Consultants, Atco I-Tek, and Australia-based Promax Applications.
Similarly, last year Wipro acquired US-based cloud services firm Appirio for $500 million. It had annual revenue of less than $200 million, which means that the price tag of buying this company was 2.5 times revenue. The acquisition has helped Wipro as Appirio is one of the largest independent cloud services implementation partner for software as service vendors such as Salesforce and Workday. It will eventually help Wipro place to position itself in the software as services domain. Moreover, these acquisitions will help Wipro in the ongoing shift from the on-premise software business to software as a service business. In technical terms, software as a service is software that is delivered over the internet to customers. Most business customers buy much of their software this way. This is a different support model that legacy systems integration companies like Wipro will have to adopt rapidly to stay ahead of the curve.  About half of Wipro's revenue is from business applications and the rest is from business process outsourcing.
So, it is quite clear from these acquisitions that Wipro is quickly catching up after lagging in the digital domain. While some of the acquisitions will hurt the profit and loss and lead to dilution of earnings in the short and medium term, Wipro is willing to take a hit in order to create a more sustainable growth engine and business model. Of course, the stock market's response to Wipro's acquisition has not been very encouraging as most investors look for short-term gains.
Wipro shows how to use cash
The series of acquisitions done by Wipro has sent the right message to investors that the company does not sit on a pile of cash that earns negligible returns. Despite the low growth trajectory, the company has been aggressively making acquisitions to get out of the slow growth cycle. However, investors will expect that Wipro's management work on integration issues and regain the lost position.
Wipro's business growth has been weak as revenue grew just 2% year-on-year (YoY) in FY16 and net profit by 3.4% (YoY).  However, unlike other software services companies like TCS and Infosys, Wipro has smartly deployed its cash pile in acquiring firms which would generate higher returns and accelerate towards emerging sectors such as cloud computing and digital services. Wipro has invested in firms that are building solutions and products like big data, open source, industrial internet and security which can be linked to its services business. The company's CEO Abidali Neemuchwala believes that the acquisition strategy will pay off by March next year and it would generate more business even from existing clients.
Some early signs indicate that Wipro's M&A strategy is working well. The company has managed to improve average revenue per client to about $6.6 million at the end of September last year from $6 million at the beginning of the financial year in April. It held on to a 17.8% operating margin in the three months to September 2016, same as during the April-June 2016 period despite salary raises to around 1.7 lakh employees.
Conclusion
Going ahead, strategically the company will have to make itself future-proof as execution will be the key. As the company's exposure to telecom and energy in the past had its impact, balancing the whole portfolio will take time. In the new world, automation and bots using massive computing resources are expected to take over the bulk of IT services. So, Wipro will have to configure the business which is diversified so that cyclical changes do not have much impact and continue to make mergers integration well.
Please feel free to share/retweet the article and as always you can write down in the comment box below for anything related to the article. We would love to answer.