SPECIALTY CHEMICALS INDUSTRY
Specialty chemicals (also called specialties or effect chemicals) are chemical products which provide a wide variety of effects on which many other industry sectors rely. Some of the categories of specialty chemicals are adhesives, agrichemicals, cleaning materials, cosmetic additives, construction chemicals, elastomers, flavours, food additives, fragrances, industrial gases, lubricants, polymers, surfactants, textile auxiliaries, automobile, aerospace, food, cosmetics, agriculture, manufacturing, textile industries are highly dependent on such products.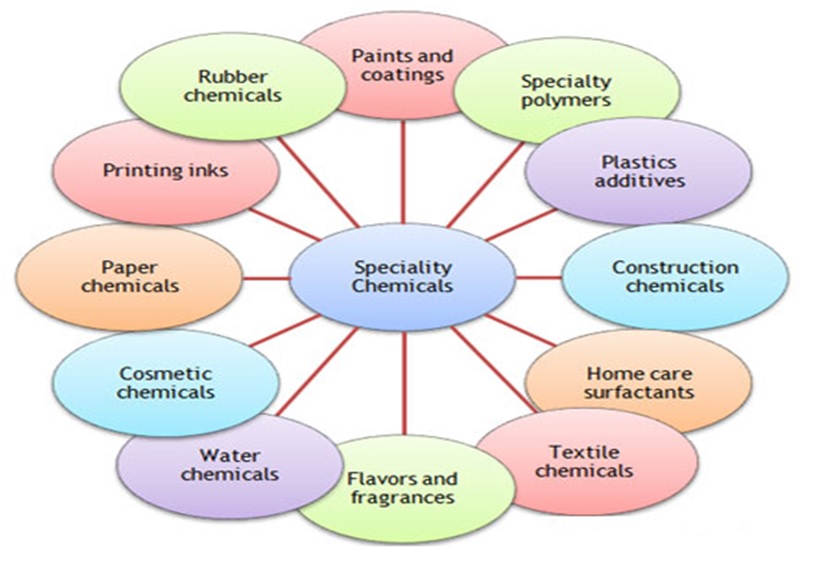 India's specialty chemicals industry is valued at nearly $25 billion. It delivered 13 per cent growth over the past five years, primarily led by domestic consumption. The Indian industry accounts for a marginal 3 per cent of the global specialty chemicals market.
Analysts say going forward the government's 'Make in India' initiative will facilitate growth in the industry and the consequent flow of foreign direct investment (FDI) to this sector will accelerate growth.
TRANSACTION
The board unanimously approved the Scheme of Amalgamation between Balaji Amines Limited (Transferee Company) and Bhagyanagar Chemicals Limited (First Transferor Company) and Balaji Greentech Products Limited (Second Transferor Company)and their respective shareholders and creditors for consolidation of businesses of three companies into one entity. Swap ratio in case of BCL is not applicable as it is a wholly owned subsidiary of BAL, and in case of BGPL, it is Nil, because it has a negative equity capital.
OVERVIEW OF THE SCHEME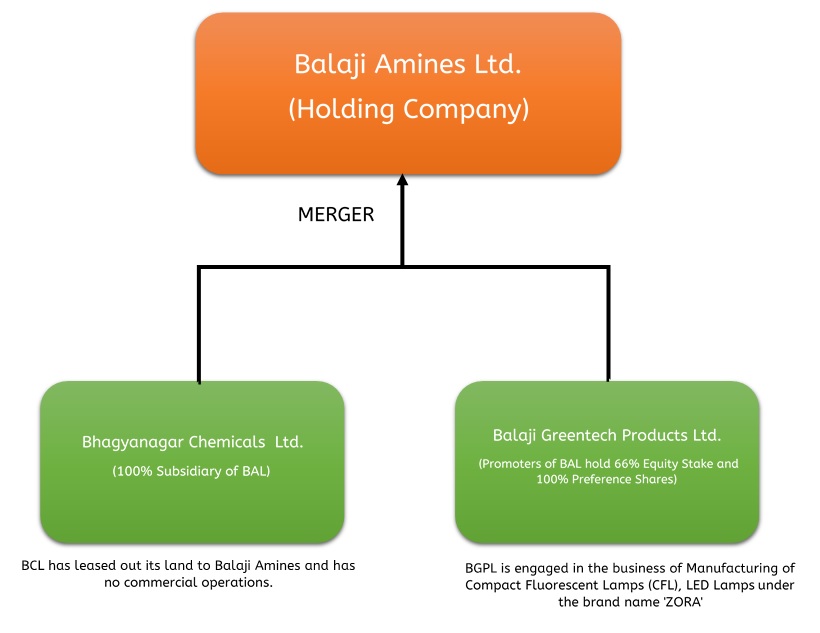 ABOUT BALAJI AMINES LIMITED
Balaji Amines Limited (BAL), one of the leading manufacturers of Aliphatic Amines in India, was set up in 1988 to cater to the growing requirements of value-based Specialty Chemicals. In May 1995, it came out with a public issue of 9.63 lakh equity shares (premium: Rs 30), aggregating Rs 3.85 crore to part-finance expansion plans for ethylamines and forward integration for the manufacture of derivatives of methyl and ethyl amines, totaling to Rs 10 crore.
From June 1997 the company had successfully commenced the commercial operation of its main plant (Ethyl Amines). Presently, the company is a leading manufacturer of ethyl and methylamines, which have various applications in chemical industries. Apart from this, it has now diversified into producing derivatives of methyl and ethyl amines, namely, dimethylamine hydrochloride, choline chloride, dimethyl acetamide, etc. At present, BAL supplies to various blue chip companies like IDI, Hoechst, Rallis, Ion Exchange, Cheminor Drugs, TTK Pharma, etc.
BAL has been consistently adding capacities and fine tuning process to provide quality products at lower cost to the customers. World over, Amine technology is a closely guarded process with only a handful companies having access to such technology. BAL for the first time in India tested on an indigenously developed technology and developed it further over a period. Today, BAL's products are accepted in international markets and have gained the distinct export quality status, which makes it one of the few companies in India having the potential to match the stringent international quality standards for which they have been awarded ISO-9001: 2000 Certification apart from appreciation and continuous orders from global majors for our product range.
Captain of the ship: A Prathap Reddy, Chairman and Managing Director, Balaji Amines Ltd.
Hotel Business: In 2008, BAL had bought 3.35 acre of land in Sholapur for just Rs 2.7 crore (the market value of which currently pegged at above Rs 25 crore). To utilize the land for diversification, BAL had set up a 5-star hotel of 128-room spending Rs 40 crore till September 2013. The property is managed by Sarovar Group. The project has been set up with an internal accrual of Rs 15 crore and a loan of Rs 25 crore from Bank of Baroda. A formal agreement with Sarovar Group of Hotels has been entered for operating/ managing the hotel property in the name of Balaji Sarovar Premier. The hotel property was commissioned in Nov 2013.
FINANCIALS
Table 1: BALSegemental Revenue (All Figures in Rs. Million as on 31.03.2016)
| | | | |
| --- | --- | --- | --- |
| Particulars | Amines & Specialty Chemicals | Hotel Segment | CFL Lamps and Capsules |
| Revenue | 6201.174 | 149.543 | 82.216 |
| PBIT | 1149.394 | -17.001 | -31.269 |
| Interest | 175.835 | 25.014 | 20.688 |
| PBT | 973.559 | -42.015 | -51.958 |
| Capital Employed | 1,819.24 | 649.92 | 335.12 |
| PBIT/Revenue | 19% | -11% | -38% |
| ROCE | 63% | -3% | -9% |
Table 2: Financials of All Companies
| | | | |
| --- | --- | --- | --- |
| Particulars | Balaji Amines Ltd | Bhagyanagar Chemicals Limited | Balaji Greentech Products Limited |
| Net worth | 291,69,24,789 | -50,31,574 | -8,58,38,588 |
| EPS | 18.91 | -0.01 | -4.72 |
| Book Value | 90.03 | -3.87 | -9.54 |
Table 3: Standalone Financials of BAL (All Figures in Rs. Crores)
| | | | |
| --- | --- | --- | --- |
| Particulars | 2016 | 2015 | 2014 |
| Net Sales | 634.92 | 604.87 | 610.12 |
| Operating Profit | 131.13 | 105.75 | 93.61 |
| Profit after tax | 61.27 | 36.36 | 33.52 |
| Operating Profit Margin (%) | 20.65 | 17.48 | 15.34 |
| Net Profit Margin (%) | 9.65 | 6.01 | 5.49 |
| Earnings Per Share (Rs) | 18.91 | 10.98 | 10.18 |
Balaji Amines Limited is currently having market cap of Rs 1,119 Crore and its EPS is increasing year on years. The earlier strategy of the company was to focus only on commissions and upgradation and it did not have any expansion plans. This resulted in increased plant capacity, due to which their production of derivatives and specialty chemicals increased on large scale.
The company's excellent performance is primarily attributed to the efficient usage of plants, product mix, increase in the value chain and increase in plant efficiencies which have optimized the consumption coefficient of materials.
Bhagyanagar Chemicals currently does not have any operations and it has leased out its land to Balaji Amines Limited. Balaji Greentech Products Limited manufactures and sells Compact Fluorescent Lamps.
As per the scheme, the businesses of the three companies will be consolidated into one entity after amalgamation.
What is there for Balaji Amines Limited?
Post amalgamation, Balaji Amines Limited will get the tax benefit of set off of losses, unabsorbed depreciation plus if the transferor companies are claiming any deduction of expenses u/s 35, the same will be available to the transferee company, upon fulfilment of prescribed conditions.
The consolidation of the business will result in efficient capital utilization, talent pooling and will result in creation of a single larger unified entity in place of various entities under the same management and control, thus resulting in efficient synergies of operations and streamlined business transactions.
BAL will have benefits of economies scale, reduction in administrative costs reduction in overheads and other expenses, reduction in administrative and procedural work and enable the amalgamated company to effect internal economies and optimize profitability as also to reduce administrative inefficiencies by reducing duplication of functions.
That leaves us with the following questions-
BAL and BGPL are not in the same business.
BGPL is incurring losses since past four years in its Compact Fluorescent Lamps (CFLs) business on an increasing scale and after the amalgamation, as per the scheme, Balaji Amines Ltd is continuing the business of Balaji Greentech Products Limited. Why does BAL want to continue the business of BGPL despite huge losses?
Is this an exit option for promoters? Because if not for this amalgamation, the company would wound up and promoters would be personally liable for the debt?
Is this amalgamation done to bail out the promoters?
Would selling BGPL company and utilizing the proceeds, to the better of BAL, be a better option?
BAL is also engaged in Hotel business, which is also incurring losses, so is this diversified project in losses due to mismanagement?
Conclusion
This amalgamation appears to be a damage control done by Balaji Amines Limited. Hence there can be no real synergy benefit to BAL.
Please feel free to share/retweet the article and as always you can write down in the comment box below for anything related to the article. We would love to answer.