Hindustan Unilever outruns Nestle and bags GSK's nutrition business in its kitty. This being the country's biggest consumer goods deal is an all-equity deal.
Hindustan Unilever Ltd (HUL), incorporated in 1933 and is a subsidiary of Unilever, one of the world's leading suppliers of Food, Home Care, Personal Care and Refreshment products. Unilever has over 67% shareholding in HUL. HUL is India's largest fast-moving consumer goods company with a heritage of over 80 years in India. HUL operates in four business segments, they are:
Personal care includes products in the categories of oral care skin care, soaps, hair care, talcum powder and colour cosmetics.
Home Care includes detergent bars detergent powders
Foods & Refreshments
Water purifier called Pureit
The shares of HUL are listed on BSE and NSE and the current market cap is ~₹3,86,076 Crores.
GlaxoSmithKline Consumer Healthcare Ltd (GSK), is one of the largest players in the Health Food Drinks industry in India. The company is an Indian associate of GlaxoSmithKline plc UK one of the world's largest consumer healthcare companies. The company's principal activities are to manufacture and distribute a wide range of healthcare foods drugs pharmaceuticals and dairy products. The products include malted milk food malted foods biscuits energy and protein foods milk powders ghee milk fluid and milk cream. The company has its manufacturing facilities located at Nabha in Punjab Rajahmundry in Andhra Pradesh and Sonepat in Haryana. Equity shares of GSK is listed on BSE and NSE and the current market cap is ~₹31,758 crores.
Transaction Structure
"
All-stock mergers are emerging as the preferred route for high-value and high-multiple M&A transactions in India
"
The merger of GSK Consumer Healthcare Ltd with HUL will be on based on an exchange ratio of 4.39 HUL shares for each GSK share.
Appointed date shall mean the same date as effective date or such other date that is mutually agreed in writing between GSK and HUL.
GSK consumer' lead brand Horlicks will be acquired by Unilever i.e. the parent company of HUL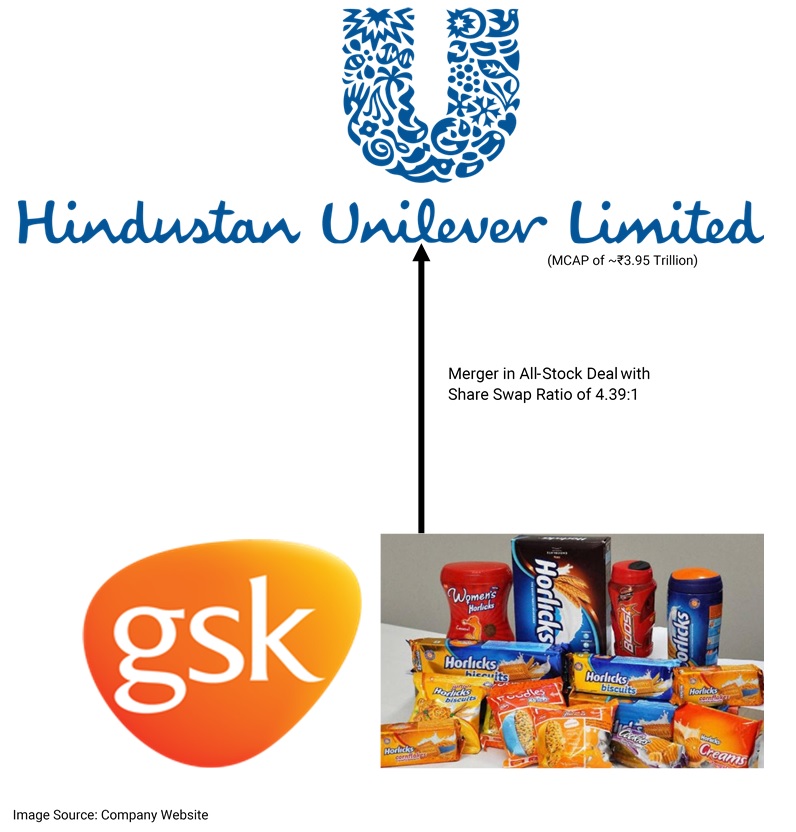 Shareholding Pattern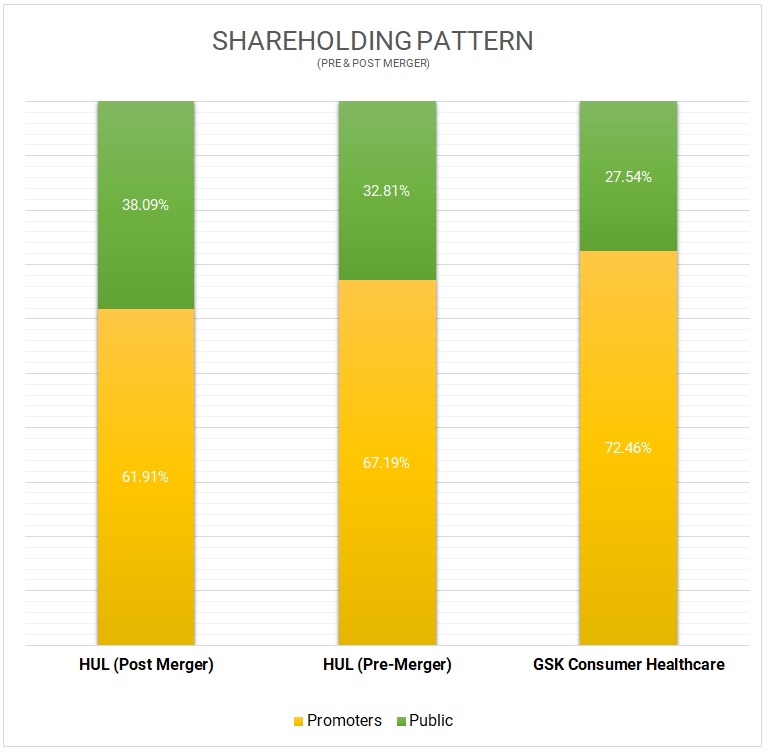 All the GSK shareholders will be public shareholders of HUL post-merger.
There is a dilution in the promoters' equity by 5.28%. Simultaneously there is also an increase in the public shareholders, the major increase being promoters of GSK holding around 6 % in the public shareholding category of HUL post-merger.
GSK is valued at Rs 31,310 Crores for which HUL is issuing 18,46,23,812 Shares at a swap ratio of 4.39 Shares of HUL for each GSK share.
Tax Implications
"All the GSK shareholders will be public shareholders of HUL post-merger"
This is a tax neutral merger under section 2(1B) of the Income Tax Act. However, GSK will monetise these shares at a subsequent stage, hence tax implications will arise for GSK promoters.
Synergy to HUL
GSK is one of the key players in the foods and refreshment (F&R) category with the iconic brands such as 'Horlicks' and 'Boost' and comprises of a wide product portfolio. Pursuant to the strategic review of the 'Horlicks' and other consumer healthcare nutrition products business in India, GSK has decided to undertake amalgamation of its business with HUL.
The amalgamation is in line with HUL's strategy to build a sustainable and profitable F&R business in India. GSK and HUL expect significant synergies through supply chain opportunities and operational improvements, go-to-market and distribution network optimization, scale efficiencies in cost areas such as marketing and optimization of overlapping infrastructure.
The amalgamation will result in consolidation of the business of the companies resulting in expansion of the consolidated business and creation of greater value for shareholders and all other stakeholders, and
The amalgamation would be in the interest of the public shareholders of GSK, as they would continue to play a part in the Indian consumer growth through one of India's leading fast moving consumer goods companies i.e. HUL
HUL will distribute GSK's Over-the-Counter and Oral Health products under a consignment selling agreement (5years).
It is complete exit by GSK from the health food business both in India and internationally. The consideration for transfer of Flagship brand Horlicks from GSK to UNILEVER is not known. HUL will have now presence not only in the health drink segment but also will be able to use infrastructure and channels for pushing its own products. Valuation is net worth accretive, PE accretive and in fact significant synergies as visualised if captured in a reasonable time, then it can create substantial value for all concerned. No doubt GSK post-merger will exit but cash flow to GSK on sale of shares will be funded by another financial investor and not necessarily and compulsorily by HUL.
"Hindustan Unilever's clutched the bid for GSK Consumer Healthcare from those made by Nestle, Coca-Cola and ITC"
Equity shares being currency of the acquisition in the case of growing listed companies is financial, tax and compliance efficient thereby removing all frictions in various approvals and cash flow required even to fund open offer is eliminated. Using equity share as currency of the acquisition is not only beneficial to the shareholders of both the companies but also will not create any cash crunch on the balance sheet of the merged entity nor the merged entity will have to borrow to finance the acquisition. All said and done UNILEVER is the biggest beneficiary as it is enabling to consolidate its number 1 position in India with just around 6% dilution in the merged entity.
Financial Performance
Based on Standalone Financials as on 31st March 2018. Rs in Crores
Table 1: Financials (Standalone & Consolidated)
| | | | |
| --- | --- | --- | --- |
| Particulars | HUL | GSK | Combined |
| Net Worth | 7,075 | 3485 | 10,560 |
| Total Revenue | 35,785 | 4634 | 40,419 |
| EBITDA | 7,783 | 1141 | 8,924 |
| EBIT | ,305 | 1076 | 8,381 |
| PAT | 5237 | 700 | 5,937 |
| EPS | 24.2 | 166.47 | 25 |
Financial gains for HUL post-merger
HUL's foods and refreshments business will cross Rs 10,000 Crores, compared to Britannia Industries Ltd having consolidated revenue of Rs 9,990 Crores.
Table 2: Revenue Distribution (All figs in ₹ Crores)
| | | | |
| --- | --- | --- | --- |
| Revenue from foods and refreshments business | HUL | GSK | Total |
| Foods | 1,165 | 4,377 | 10,756 |
| Refreshments | 5,214 | | |
Operating profit percentage will increase to 23% from 22%.
EPS will increase to 25 from 24.2
Conclusion
In the long term, benefits from synergy extraction are estimated to be even bigger — and more durable — for HUL, which is seeking to establish its leadership credentials in the Indian packaged foods business.  HUL intends to allocate more resources to strengthen the brands that could become the mainstay of its foods business. This deal in a true sense can be a boost to HUL.