Glass-lined equipment is a corrosion-proof material that can be used for a host of processes from pharmaceutical production to specialty chemicals and polymers. Strong glass-lined equipment prevents materials exposed to harsh chemicals, such as acids, alkalis, water, and other chemicals, from becoming corroded and causing failures in the equipment. As a result, this type of equipment can maintain a long service life in environments where service conditions are difficult and other equipment would soon become unserviceable. According to planet market reports.com, over the next five years, the Glass Lined Reactor/Equipment market will register a 4.0% CAGR in terms of revenue, the global market size will reach US$ 610 million by 2024, from US$ 500 million in 2019.
HLE Glascoat Limited (HLE), formerly known as Swiss Glascoat Equipment's Limited, is a listed company. Company is based in the western part of India and is engaged in the businesses of manufacturing of Glass Lined Equipment, Other Engineering equipment and Chemical – Manufacturing of organic chemicals.
Thaletec GmbH (THALETEC) a German Company with limited liability, established in accordance with German laws and involved in the business of manufacturing products with enamel technology and containers, apparatus and plant engineering. THALETEC has a manufacturing facility at Thale, Germany. THALETEC Currently employs over 160 persons. THALATEC has a wholly-owned subsidiary, THALETEC USA Inc" incorporated under the laws of the United States of America engaged in providing market development and market support services for THALETEC products in the USA.
The Transaction
HLE will purchase 100% of the equity shares in THALETEC, from the Selling Shareholders. The consideration for the shares will be Euro 12 million (i.e., circa ₹103.50 crores) in cash. As a part of the deal, both companies have mutually agreed that THALETEC will continue to have its distinct brand identity and remain a separate business entity post the acquisition. The transaction is subject to approval German Federal Ministry for Economic Affairs and Energy. After the acquisition, Dr. Reinemuth will continue to act as the Managing Director of THALETEC and Mr. Bergmann will act as the Advisor to THALETEC.
HLE will fund the transaction from internal accruals and surplus funds and raising of further funds as surplus cash as on 31st March,20221 is circa Rs 20 crores.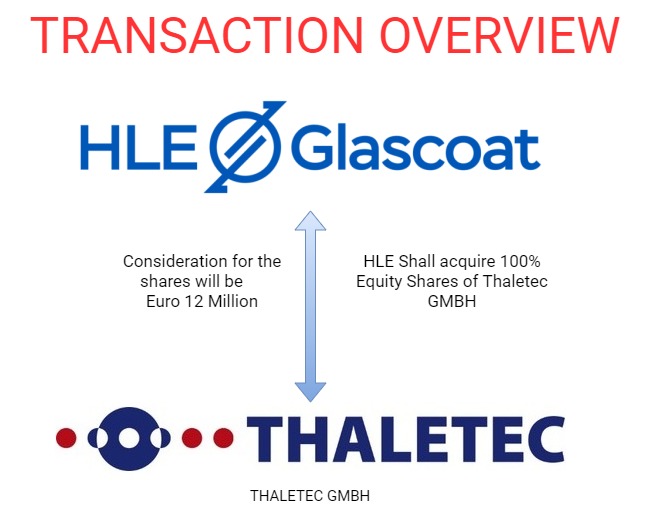 The Rational/objective of the transaction:
HLE acquire THALETEC with the objective to expand its footprint globally. The acquisition will enhance efficiencies and combine similar business interests for both entities, resulting in operational synergies, streamlining and optimization of the businesses. The key reason is:
To Integrate technology
To expand territory
To use expertise of THALETEC in marketing and after sale services.
Use existing capacity of THALETEC to cater Europe and America market.
Past schemes of Business Restructuring and acquisitions:
In 2016-17:
HLE Engineers Private Limited acquired 51% stake of Swiss Glascoat Equipment's Limited ( Present HLE) for ₹62 crores through the combination of open offer and share warrant. After acquisition, the name was changed to HLE Glascoat Limited. Post-acquisition, the HLE Engineers group aims to double the turnover to Rs 500 crore and increase exports substantially within 3 years, Patel said.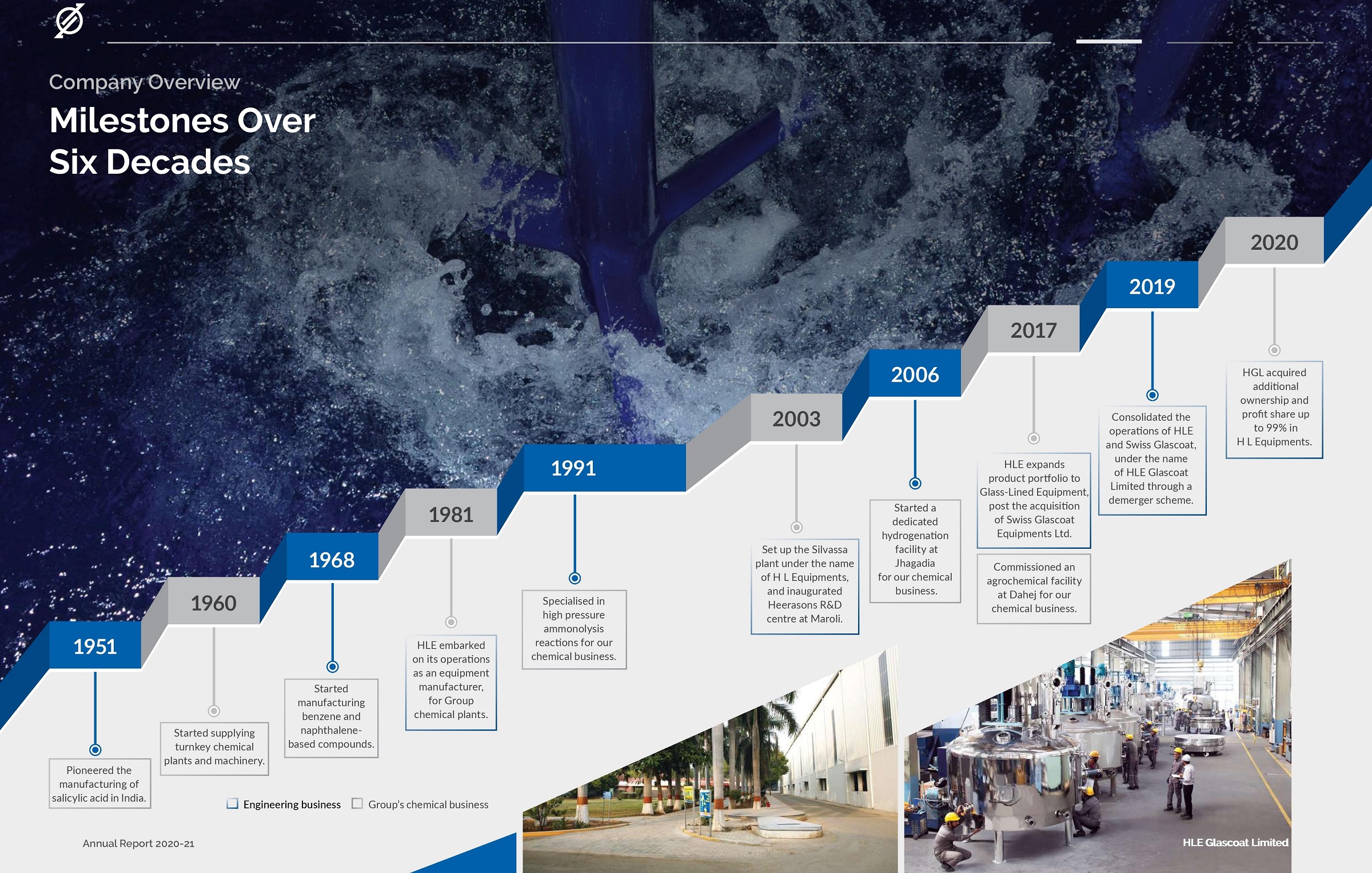 In 2018-19:
On 16th January 2019 board of HLE approved the Scheme of Arrangement between HLE and HLE Engineers Private Limited ( The Holding Company) and Yashashvi Agrochemical Private Limited group company providing for (i) the Demerger of the Operating Business of HLE Engineers Private Limited along with 80% interest in partnership firm M/s HL Equipment's and vesting of the same into HLE; (ii) the Amalgamation of Yashashvi Agrochemical Private Limited with HLE Engineers Private Limited; with effect from 1st April 2018. The Scheme has been approved by the Hon'ble National Company Law Tribunal, Ahmedabad Bench vide its order dated 24th October 2019. Thus, we can say that HLE Engineers Private Limited lists its business by acquisition.
Financials
Brief financial of both the companies is provided below: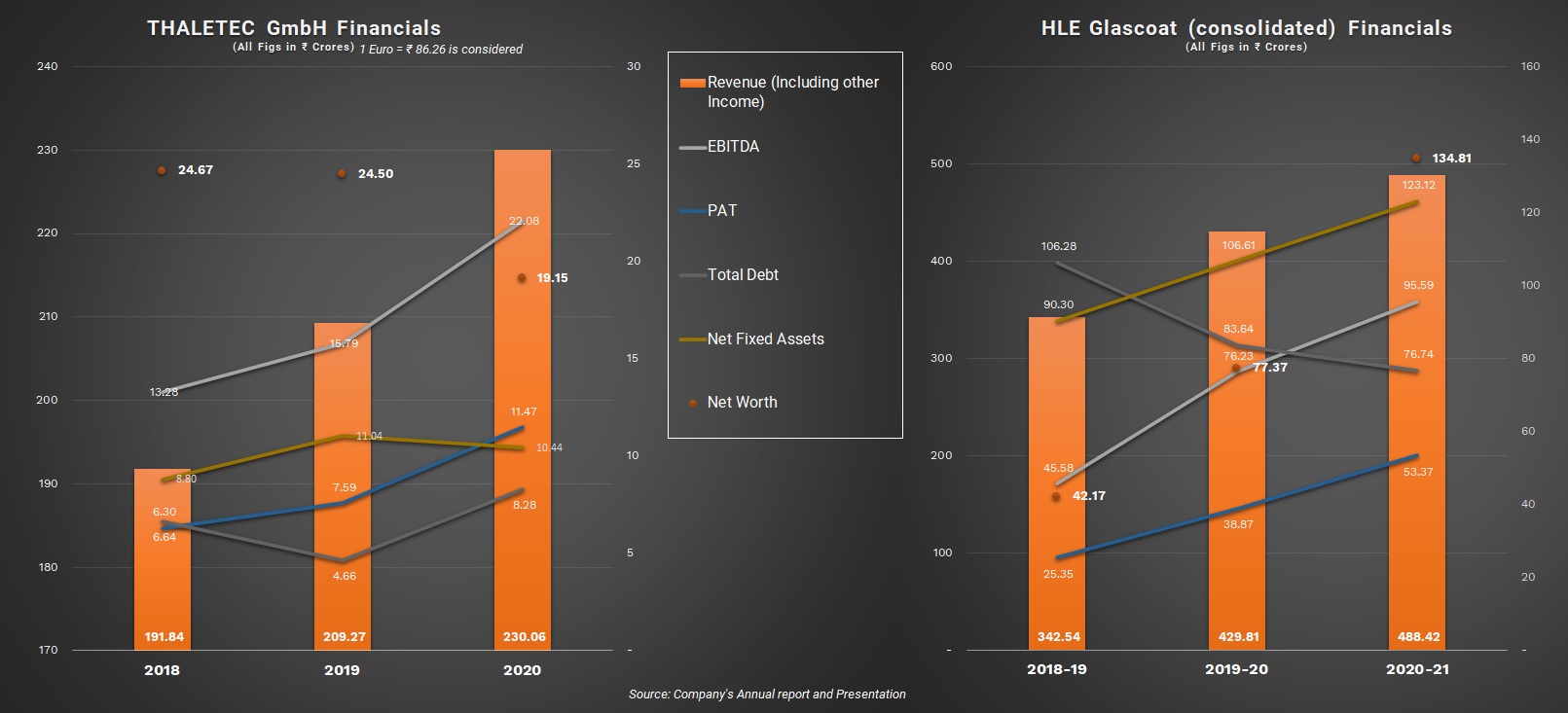 "The transaction is subject to approval German Federal Ministry for Economic Affairs and Energy"
Asset's turnover ratio of THALETEC is higher because of highly depreciated assets and almost 50% of revenue from after sale services & refurbished/reline revenue.
The export turnover of HLE is insignificant as it is circa 5%-6% of its total revenue. HLE currently exports to 21 countries and has 7 sales offices around the world.
Valuation:
Consideration for the transaction is fixed circa at ₹103.50 crores (i.e., Euro 12 million). Consideration is 5.1 times of EV/EBITDA multiple and 9 times of PAT multiple.
Table 1: Valuation of THALETEC GmbH (All figs in ₹ Crores)
| | |
| --- | --- |
| Particulars | THALETEC |
| Equity Value | 103.51 |
| Total Debt | 8.28 |
| Cash and Cash Equivalent | – |
| Enterprise Value | 111.79 |
| EV/EBITDA | 5.10 |
The valuation is significantly lower than as compared to the GMM Pfaudler acquisition of Pfaudler Inc. GMM Pfaudler acquisition at 10x EV/EBITDA. (For more details about GMM Pfaudler Acquisition read this article). However, in the GMM Pfaudler acquisition, the consideration was partly in equity.
The way forward for HLE:
This acquisition of THALETEC will give HLE presence in the European and American markets including service centres in the USA. As of now, the management of THALTEC will continue at least till complete integration and absorption in terms of technology and customers. Acquisition rationale is not only to use India as a low-cost sourcing hub for THALETEC to sell into Europe and America improving their margins but also to acquire new customers, improve services revenue and have at least 33% + revenue from exports
Conclusion:
Make in India initiative give a boost to the manufacturing industry in India and India has become one of the most attractive destinations for investment in the manufacturing sector. Further Government of India has taken several initiatives like PLI (Product Linked Incentive) scheme, to promote a healthy environment for the growth of the manufacturing sector in the country. To encase this opportunity and to expand globally the Indian manufacturing companies acquiring/collaborating with advanced technology manufacturers. According to the management, the primary objective of the acquisition will be to leverage the marketing chain, post-sales service system, and certain technologies. Key to the value creation will be cultural integration as the workforce in India and Germany having different work cultures. When the HLE acquired Swiss Glascoat in FY17, they visualised topline of RS 500 crores and substantial exports in 3 years. Though now HLE's topline is around 488 Crores, the export contribution is insignificant. Let us see this time, they can achieve a better balance between local sales and exports.
Please feel free to share/retweet the article and as always you can write down in the comment box below for anything related to the article. We would love to answer.