Making a complete exit from real estate business, Gurugram-based Indiabulls Group has decided to merge Indiabulls Real Estate Ltd.'s (IBREL) all ongoing, completed and planned residential and commercial projects with two subsidiaries of Bengaluru-based Embassy Group. The merger will be done through a cashless scheme of amalgamation as the two Embassy Group's subsidiaries—NAM Estates (NAM) and Embassy One Commercial Property Developments (NAM Opco) — will swap shares with IBREL. NAM shareholders will get 6.6 shares of IBREL for every 10 shares of NAM and NAM Opco shareholders will get 5.4 shares of IBREL for every 10 shares in NAM Opco. IBREL's shares are being valued at Rs 92.5 per share, a 25.7% premium to the closing price of August 18, 2020.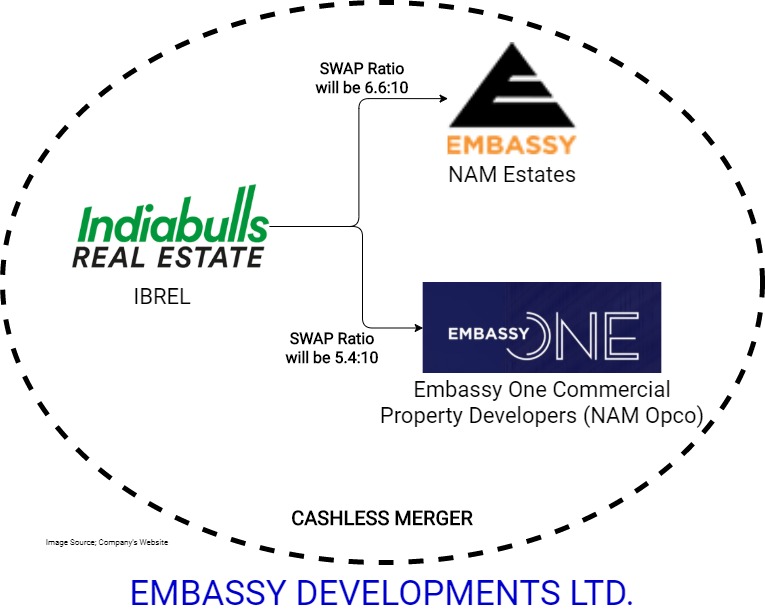 The combined entity, to be called Embassy Developments Ltd, will catapult into one of the country's leading real estate players. The merger will create one of the leading market players among listed companies in the real estate sector in terms of surplus from launched projects, land bank ownership and residential stock and planned area development in the country. As per the stock exchange filing, it will have around 81 million square feet of launched and planned development potential across the country. The merged entity, which will have about 30 projects, will be owned 44.9% by Embassy Group, 26.2% by the existing public and institutional shareholders, 9.8% by existing Indiabulls Real Estate promoter group and 19.1% by Blackstone and other Embassy institutional investors.
The merger will create one of the leading market players among listed companies in the real estate sector
The merger is expected to be completed by the second quarter of next financial year. In fact, Indiabulls group had made its decision to sell off its real estate business last year as it had planned to enter the banking space by acquiring Lakshmi Vilas Bank. However, the merger move was blocked by Reserve Bank of India because of the group's exposure to the realty sector.
Indiabulls exiting real estate business
Indiabulls' real estate business does not account for more than 15% of the group's total revenue. To be sure, after the RBI (Reserve Bank of India) rejected Indiabulls Housing Finance Ltd.'s proposed merger with Lakshmi Vilas Bank, the company decided to completely exit the real estate business and make IBREL debt-free. With no exposure to the property business, Indiabulls can now relook at the merger plan with Lakshmi Vilas Bank and seek RBI's approval again. Recently, Indiabulls Housing Finance appointed former RBI deputy governor S. S. Mundra as the non-executive chairman.
In fact, Indiabulls had been shedding its stake in real estate. In June last year, the promoters of IBREL sold 14% stake through open market transactions to Embassy Group for Rs 950 crore as part of their strategy to focus on financial services and exit from the realty business. In September last year, IBREL sold its stake in some of its office assets in Gurugram and central Mumbai to Blackstone for around Rs 2,717 crore. In fact, in the past two years, IBREL has sold commercial assets to Blackstone for around Rs 12,250 crore. As a result, the New York-based investor took full control and ownership of the former's commercial office portfolio.
As the company had decided to focus only on Mumbai & NCR markets, Indiabulls sold its London property for GBP 200 million (around Rs 1,800 crore). As a result of the series of divestments, the company has made substantial progress to achieve zero net debt. While at the end of FY19, the company's net debt was Rs 4,590 crore, it came down to Rs 2,025 crore at the end of FY20.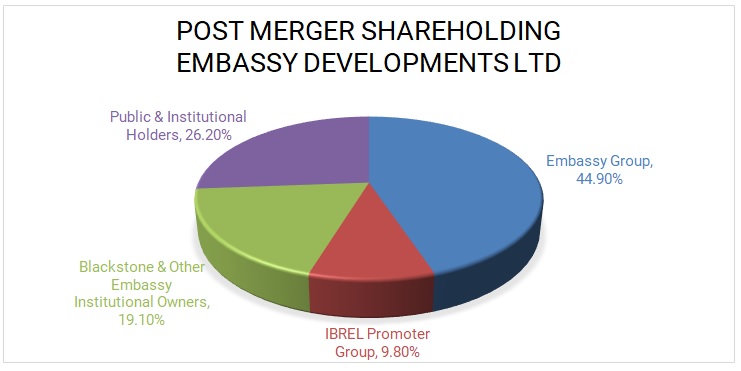 After the merger is complete, Embassy Group's chairman Jitendra Virwani will take control of the combined entity and Indiabulls Group's promoter Sameer Gehlaut will become a passive shareholder. He will then focus on the group's financial services business.
About Indiabulls Real Estate Ltd
The merger will be done through a cashless scheme of amalgamation as the two Embassy Group's subsidiaries will swap shares with IBREL
Indiabulls Real Estate Ltd, is a listed real estate company, with a well-diversified presence in residential real estate development across the price spectrum, from mid-income to premium to the super luxury space. The company was set up in 2006 with a focus on construction and development of residential, commercial and SEZ projects across major Indian metros. The company has delivered through its SPVs/subsidiaries has delivered over 24 million square feet of commercial & residential projects in Mumbai, Gurugram, Chennai, Madurai, Ahmedabad and Thane.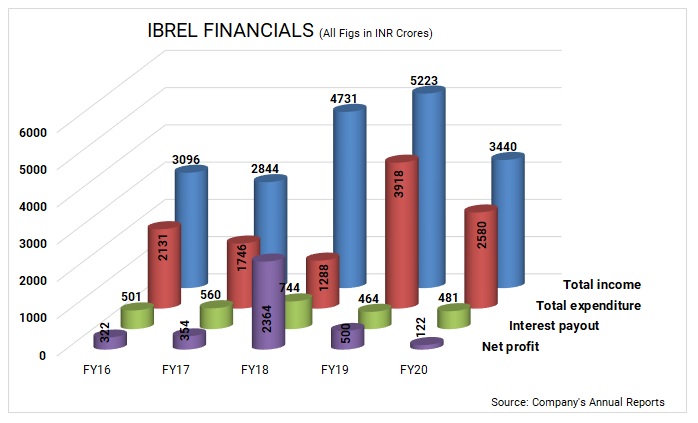 In FY20, the company earned revenue of Rs 3,441 crore as compared with Rs 5,223 crore in FY19. The profit after tax was Rs 122 crore in FY20 as compared with Rs 504 crore in FY19.
About Indiabulls Group
Sameer Gehlaut had set up Indiabulls Group in 2000 along with Saurabh Mittal and Rajeev Rattan. The partners separated in 2014. Gehlaut retained the bulk of the business including housing finance, securities and real estate while Rattan and Mittal got sole control of power and infrastructure businesses.
Indiabulls Group is one of the country's leading business houses with interests in housing finance, real estate, securities, construction equipment leasing and facilities sector. All the group companies are listed on the Bombay Stock Exchange, and the National Stock Exchange.
About Embassy Group
The Embassy Group started operation in 1993 led by Jitendra Virwani, chairman and managing director of the group. The company has developed over 62 million square feet (Mn sq ft) of commercial, residential, retail, hospitality, services, educational and industrial warehouse spaces and holds an extensive land bank of over 1,000 acres across the country. The operation spans across domestic and international markets that include Bengaluru, Chennai, Hyderabad, Pune, Coimbatore, Trivandrum, Serbia and Malaysia.
The group has delivered over 41 Mn sq ft of commercial properties and has 72 Mn sq ft ongoing and future development. In 2012, Embassy Group and Blackstone entered into a joint venture to form Embassy Office Parks – an entity aimed at creating word class office spaces and building business communities. Over the last three decades, the firm has developed over 12 Mn sq ft of residential assets and over 17 Mn sq ft is ongoing and future development.
Embassy Industrial Parks was formed to address the challenges of companies grappling with building and managing industrial and warehousing spaces in a large, diverse and geographically distributed market like India. Located in areas that can cater to seven key cities – Ahmedabad, Bangalore, Chennai, Delhi NCR, Kolkata, Mumbai and Pune, there is on-going development covering over 10 Mn sq ft with an outlined potential of over 35 Mn sq ft in the future. Embassy Office Parks REIT (a JV of Embassy and Blackstone) is the country's first listed real estate investment trust.
Conclusion
The proposed merger will bring in scale to the two companies, especially at a time when the sector is badly hit due to the coronavirus pandemic and the nation-wide lockdown. The combined entity will have a solid presence in key metro markets like Mumbai, Bengaluru and the National Capital Region. As the merged entity will have a balanced mix of commercial and residential assets, it will provide a natural hedge against cyclicality. The merger does not generate any immediate cash flow for Indiabulls promotors. As the same is non-cash transaction, there is no tax while existing the business and at the same time EMBASSY group businesses get listed without making any open offer. Blackstone and other financial investors also get liquidity by getting shares of the listed company.
Please feel free to share/retweet the article and as always you can write down in the comment box below for anything related to the article. We would love to answer.