Aditya Birla Group's flagship company Grasim Industries, which is the world's largest producer of viscose rayon fiber, has sold its entire fertiliser business to Indorama Corporation for Rs 2,649 crore in cash. The Singapore-based company will acquire Indo Gulf Fertilisers through its local unit Indorama India Pvt. Ltd. There is no change in shareholding pattern as the company will be transferring the entire fertiliser business to Indorama India — all assets, liabilities, litigations, brands and employees of the company —on a slump sale basis for cash consideration. The transaction is proposed as a Slump Sale transaction through scheme of arrangement. The transaction is circa 2x of its net worth of Rs 1337 crores and circa 1x of its turnover of Rs 2680 for FY 20.
The fertilizer unit — Birla Shaktiman brand — sold to Indorama India is located at Jagdishpur in Uttar Pradesh and produces urea, and other customised fertilizers along with Agri-inputs, crop protection, plant and soil health products and specialty fertilisers. Indorama India Pvt Ltd is a step-down subsidiary of Indorama Corp which is the largest producer of urea and phosphate fertilisers in sub-Saharan Africa and the largest producer of polyolefins in West Africa.
"Birla Shaktiman brand along with its manufacturing unit shall be sold as a part of this deal"
The transaction is likely to be completed within nine months and is subject to necessary statutory and regulatory approvals including approvals of the National Company Law Tribunal, stock exchanges, Securities and Exchange Board of India, Competition Commission of India, and the respective shareholders and lenders of each of the companies.
Why Grasim sold its fertiliser business
Grasim said in a media release that the sale is a significant "value unlocking" exercise and will help the company pursue growth opportunities in its core businesses. In fact, one of the major reasons for the selloff was that Grasim wanted to sell out its non-core business and use the money to invest in their core businesses. Moreover, the fertiliser sector is tightly regulated and has a low return on capital employed because of high working capital and a long cycle of receivables. In fertiliser business, most times the working capital gets blocked due to delay in recovering of subsidy from the government. Companies must continuously monitor and follow-up the payments from the government authorities.
"Exit from non-core business to reduce debt"
Further, it requires large Maintenance capex which results into negative free cash flow.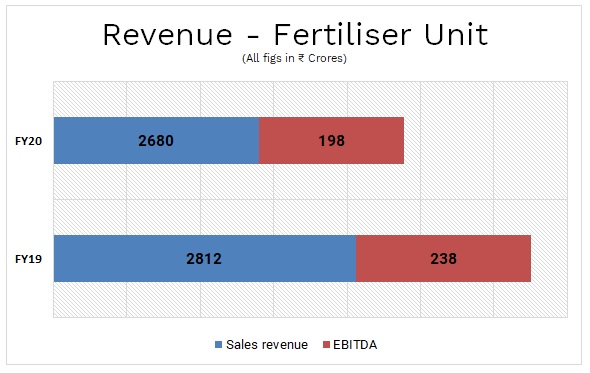 Grasim's Indo Gulf Fertilisers is known for robust performance and high sustainability standards. After the sale, Indo Gulf Fertilisers will benefit from synergies and expertise of Indorama Corporation's existing Agri portfolio. The fertiliser unit of Grasim had a turnover of Rs 2,680 crore in FY20 and accounted for 3. 5 per cent of the total consolidated turnover of Grasim Industries. The fertiliser business reported EBITDA of Rs 198 crore in FY20. The fertiliser business includes the non-urea business (PURAK), comprising agro solutions, seeds, crop protection products, and soil health products, sold to farmers through a common distribution channel.
Acquisition will help Indorama
With the acquisition of Grasim's fertiliser brands, Indorama can now offer a complete range of products to farmers. That will include urea, phosphate fertilisers, potash, soil health products, seeds and crop protection products. In fertilisers, Grasim is one of the largest urea producers in India with a capacity of 3,340 tonnes per day. It operates across seven states in northern and eastern India, comprising a network of 1,635 distributors and around 34,700 retailers, besides having access to close to one million farmers. Such a large installed capacity and distribution network will help Indorama India to scale up its core business of fertilizer and expand the company's footprint.
"Now only demerger or exit from chemical and VSF business and merger of Ultratech Cement Ltd are the last steps to delink all the businesses"
As the agricultural sector continues to be in focus of the government as seen in the improvement in rural infrastructure, higher crop insurance and agricultural credit, will help push the use and sale of fertilizer in the country. This will help Indorama to expand its business in the country. To prevent leakage of fertilizer subsidy, the government has started a Direct Benefit Transfer project across the country to give fertilizer subsidy money to the farmers. Also, the country has been receiving a normal monsoon for the past few years which has boosted record food production.
Indorama India has done few acquisitions in the past, too. In fact, Tata Chemicals sold its fertiliser business to IRC Agrochemicals, a subsidiary of Indorama Holdings for Rs 873 crore. The transaction involved transfer of its Haldia plant with production capacity of about 1.2 million tonnes per annum. The company had to sell off its fertiliser business because of the requirement of higher working capital in the business due to seasonal sales requirements.
Prospects of fertiliser business
At present, the fertiliser production of the country is 42-45 million tonnes, and imports are at around 18 million tonnes. However, the government is working towards making the fertilizer production self-reliant by 2023 as new units are being set up with an investment of Rs 40,000 crore to reduce dependency on imports. The government is also promoting nano fertilisers as they are 25-30 per cent cheaper and report 18-35 per cent higher yield. To promote indigenous industries, all fertiliser companies are converting themselves to gas-based technology. The market is fragmented with a mix of government-owned and co-operatives garnering a high market share in the straight and complex fertiliser space and private companies engaged in a high degree of product innovation to tap the non-subsidy space.
"This acquisition will help Indorama to supply a full fertiliser portfolio to its customers"
Even this year, despite the Covid-19 pandemic fertiliser companies are expected to register healthy profitability due to the robust fertiliser off-take by the farmers. In the first phase of the lockdown, dispatches were affected due to the shortage of labour and shutdown of a few fertiliser plants located in the integrated chemical complexes. Phosphatic fertiliser companies will be major beneficiaries of the volume growth.
India is the second-largest consumer of fertilizers in the world with an annual consumption of more than 55 million metric tonnes. Among the various type of fertilisers used in India, urea is one of the highest consumed fertilisers in the country as a source of nitrogen. The Indian fertilisers market is expected to witness a CAGR of 11.9% during the forecast period 2020-2025. The fertiliser market in the country is a consolidated market with major players such as Coromandel International Limited, Indian Farmers Fertiliser Cooperative (IFFCO), Fertilisers and Chemicals Travancore (FACT), Deepak Fertilisers Limited and Chambal Fertilisers Limited, among others.
About Indo Gulf Fertilisers
"Better late than never – attempt to reverse mistake of license Raj"
Indo Gulf Fertilisers is involved in the manufacturing, trading, and sale of urea and other agricultural inputs. From sowing to harvesting, it develops solutions and products for each stage of farming. The company operates a 1.2 million tonne per annum manufacturing plant in Uttar Pradesh's Jagdishpur. Birla Shaktiman is one of the most preferred brands of fertilisers in the country and is also known to be the farmers' first choice in the entire Indo-Gangetic plain, the core market where it operates.
Manufactured by Info Gulf Fertilisers, a leading agro-solutions provider, Birla Shaktiman and its allied brands such as Birla Shaktiman Vardaan are blends of macro and micronutrients providing complete nutrition for crops of paddy, wheat, potato, sugarcane and corn. With optimisation at the core of its operation, Indo Gulf Fertilisers is also the most energy-efficient urea plant in India. Moreover, Indo Gulf Fertilisers reaches around six million farmers through a unique customer-centric approach serving them through soil testing, Six Sigma demonstrations, farmer group meetings and field days. The strong focus on innovation has helped IGF launch a variety of products that cater to diverse needs and establish itself as the market leader. The company was the first to launch neem-coated urea in 2003 and develops fertilisers customised for different crops.
About Grasim Industries
Grasim Industries Limited, a flagship company of the Aditya Birla Group, ranks amongst the top publicly listed companies in India. Incorporated in 1947, it started as a textiles manufacturer in India. At present, it has evolved into a leading diversified player with leadership presence across many sectors. Grasim Industries is one of the world's biggest producers of viscose staple fiber and is also the largest producer of Chlor-alkali and linen in India. Through its subsidiaries, UltraTech Cement and Aditya Birla Capital, it is also India's largest cement producer and a leading diversified financial services player. The consolidated turnover of Grasim Industries for FY20 is Rs 77,625 crore.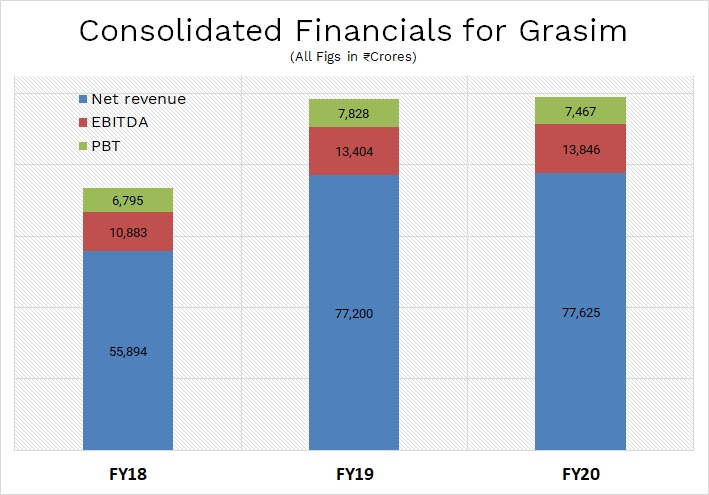 About Indorama Corporation
Indorama India Private Limited, a step-down subsidiary of Indorama Corporation which is one of Asia's leading chemical holding companies with its subsidiaries manufacturing fertilisers, polyethylene and polypropylene resins, medical gloves, polyester fibers and resins, spun yarns and cotton fiber. It is the largest producer of urea and phosphate fertilisers in Sub-Saharan Africa, the largest producer of polyolefins in West Africa, and the third-largest producer of synthetic rubber gloves in the world. Through Indorama India Pvt. Ltd, in India, is a leading producer of phosphate fertilisers, marketed under the brand Paras.
Conclusion
Every conglomerate now concentrates on capital allocation and core businesses and make plans to exit non-core and marginal businesses to release capital and invest in core businesses which generates substantially higher ROCE and in which it has some moat or one of the dominant players. originally, Fertilisers business was separate company and it was merged with GRASIM a decade back. Decision to exit Fertiliser business, though late but in the right direction. GRASIM is in two businesses like fertiliser and cement both capital incentives and both need manufacturing facilities in multiple geographies to service its customers and get value out of its brand. Though in Urea fertiliser, it is one of the dominant players, but in total fertilisers production and marketing the company is marginal player. Hence the decision to exit by way of Slump Sale transaction through a scheme of arrangement for cash consideration will enable GRASIM to reduce its debt by about Rs 2500 crores. For Indorama India, it is god sent opportunity to add to its dominant position overnight and without going through the pain of setting up greenfield project and with long gestation period.
Please feel free to share/retweet the article and as always you can write down in the comment box below for anything related to the article. We would love to answer.