Deal Snapshot
The Board of Directors of ISMT Limited ("ISMT"), at its meeting held on November 25, 2021, approved the issuance and allotment of 15,40,00,000 Equity Shares of ISMT to Kirloskar Ferrous Industries Limited ("KFIL"), representing 51.25% of the emerging voting capital of ISMT on preferential issue and private allotment basis amounting to ₹ 476 crore. Subsequently, shareholders of ISMT in their meeting approved the transaction.
KFIL and the existing promoters of ISMT i.e., Taneja Group also entered into a shareholders' agreement to record inter alia certain inter se rights and obligations. Further, KFIL will also provide an unsecured loan of Rs. 194 crores to ISMT as per the agreed terms.
Infusion of Funds by KFIL in ISMT
| | |
| --- | --- |
| Particulars | Amount (INR in crore) |
| Equity Share Subscription (51.25% stake) | 476 |
| Unsecured Loan | 194 |
| Total | 670 |
As required by SEBI regulations, KFIL has made an open offer to public shareholders up to 25.05% resultant voting capital of the company.
KFIL will fund the acquisition through internal accruals and through borrowing. The board of directors of KFIL approved raising of ₹750 crore through the issue of listed non-convertible debenture.
"Existing promoters of ISMT will continue as promoter with a call option with KFIL. This will provide additional comfort to KFIL, and they will be responsible for right sizing the operations & balance sheet"
Some of the Salient Features of the deal:
KFIL will be in sole control of ISMT and will be identified as and considered as the 'promoter.'
A one-time settlement agreement is proposed to be entered into between ISMT, the Taneja Group and the Lenders for full and final settlement of all the borrowings. As on completion date, KFIL will acquire sole control of ISMT.
Taneja Group will continue to be identified as 'promoters' of ISMT with a call option available with KFIL for acquiring their stake.
Shareholding Pattern: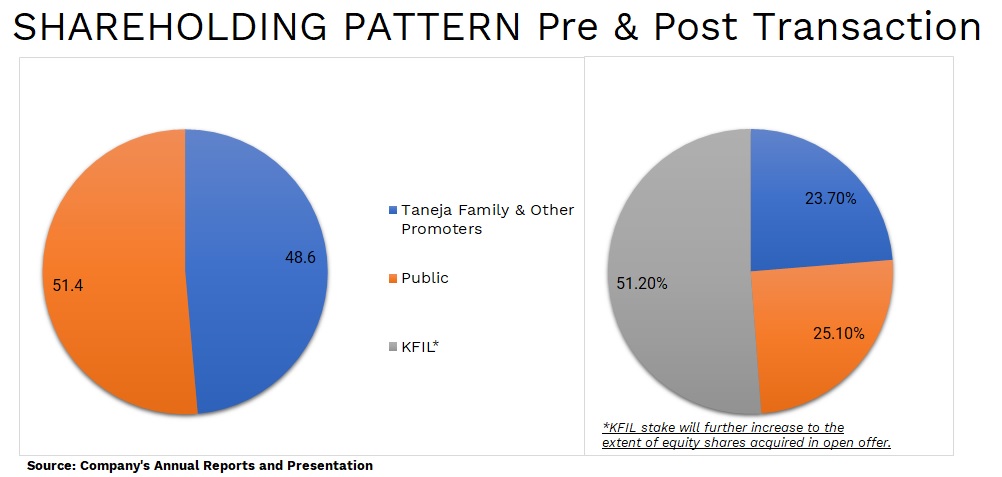 *KFIL stake will further increase to the extent of equity shares acquired in open offer.
"Despite having all the necessary ingredients to grow, the promoter's aspiration to diversify into various businesses snubbed its core business"
Retaining existing promoters as a promoter will not only provide a significant hand-holding for KFIL which ultimately result in smooth transition but also ensure the responsibility of the existing promoters to settle all the litigations, divestment of non-core assets or any complexity present in ISMT. More importantly, through a call option, KFIL in future will reach maximum permissible holding in ISMT by acquiring desired stake from the current promoters without triggering an open offer.
Making of ISMT Ltd
Read more
You must log in to read the rest of this article. Please log in or register as a subscriber