Pharma industry is growing very fast mainly through the inorganic route and given below are some major deals in last five years.
RanbaxySun
TOP PHARMA DEALS IN INDIA
Target
Acquirer
Deal Size

($bn)

Year
Ranbaxy
Daiichi
4.6
2008
Ranbaxy-Sun
4
2014
Piramal

(Domestic)

Abbott
3.7
2010
Agila Specialities
Mylan
1.8
2013
Gavis
Lupin
0.9
2015
M&A are Hot in Generics Globally
Allergan
Actavis
71
2014
Hospira
Plizer
17
2015
Par Pharma
Endo
8
2015
Pharma major Lupin Limited has acquired a US-based privately held research-oriented generic company Gavis Pharmaceuticals LLC and Novel Laboratories Inc. for $880 million. The deal is cash-free and debt-free, broadens Lupin's pipeline in dermatology, controlled substance products and other high-value and niche generics. Gavis brings to Lupin a highly skilled US-based R&D organization which would complement Lupin's R&D centre. Gavis New Jersey-based manufacturing facility will become Lupin's first manufacturing site in the US.
This is a Fifth Foreign acquisition in last 18 Months of Lupin's.
ABOUT LUPIN LIMITED
Headquartered in Mumbai, Lupin is an innovation driven transnational pharmaceutical company producing and developing a wide range of branded & generic formulations, APIs and biotechnology products. The Company is a significant player in the Cardiovascular, Diabetology, Asthma, Pediatric, CNS, GI, Anti-Infective and NSAID space and holds global leadership positions in the Anti-TB and Cephalosporin segment.
Lupin is the 7thlargest generic pharmaceutical company globally by market capitalization. The Company is also the fastest growing top 10 generic pharmaceutical players in Japan and South Africa (IMS).
Lupin's Consolidated turnover and Profit after Tax were 125,997 million (USD 2.06 billion) and 24,032 million (USD 393 million) respectively for the FY 2014-15.
Global Footprint

Acquisitions by Lupin

Year
Company
Country
Segment
2007
Kyowa Pharmaceutical
Japan
Generics
2008
Pharma Dynamics
South Africa
Cardiovascular
2008
Generic Health
Australia
Pain Management
2008
Hormosan Pharma
Germany
CNS
2009
Multicare Pharma
Philippines
Woman and Childcare
2011
I'rom Pharmaceutical
Japan
Injectable Drugs
2014
Grin Labs
Mexico
Ophthalmic
2014
Nanomi BV
Netherlands
Complex Injectables
2015
Medquimica
Brazil
Branded generics, pure generics, and OTC products
2015
Biocom
Russia
Antimicrobials for systemic use
LUPINS REVENUE BREAK UP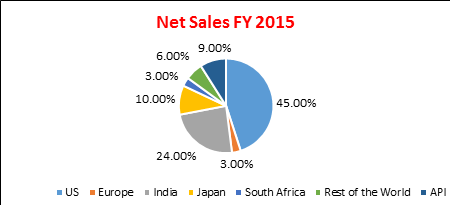 ABOUT GAVIS
GAVIS Pharmaceuticals, a U.S. private company, is a marketer, distributor, wholesaler and business customer specializing in customer service to the pharmaceutical industry. GAVIS works with other companies that are looking to develop drugs for production, marketing, distributing and warehousing.
New Jersey based GAVIS specializes in developing and marketing niche pharmaceutical products in a variety of dosage forms. Since its inception in 2007, GAVIS has compiled an impressive portfolio of niche marketed products and a formidable ANDA pipeline, along with a talented scientific, business and regulatory team comprised of some of the foremost professionals in the generic pharmaceutical industry. GAVIS has also acquired an extensive, state of the art facilities portfolio, which includes 45,000 square feet of R&D and manufacturing space with an additional 105,000 square feet of newly constructed space coming online by the end of 2015, complemented by 124,000 square feet of packaging and distribution operations.
Gavis recorded sales of $96 million in FY 2014 and its EBITDA is around $35 million and has over 250 New Jersey based employees. It has 66 ANDA filings pending approval with the US Food and Drug Administration (USFDA) and a pipeline of over 65 plus products under development.
KEY FACTS ABOUT THE DEAL
This is a pivotal acquisition for Lupin as it aligns with Company's goal to expand and deepen their US presence. GAVIS has a strong track record of delivering highly differentiated products in a short time and is poised for continued strong growth as it delivers on its existing pipeline.
Gavis brings a highly skilled US based R&D organisation which would complement Lupin's Coral Springs, Florida, inhalation R&D center. Gavis's New Jersey based manufacturing facility will become Lupin's first manufacturing site in the US.
Funding for the deal will be fully committed from J.P. Morgan Chase Bank.
Immediately accretive to first full year of earnings
RATIONALE
This acquisition will lead to a few main synergies as mentioned below:-
Strengthens presence in attractive US generics market:
Lupin currently marketed products in the U.S. of 81 increasing to 101
Adds portfolio of 20+ stable, high-margin generic products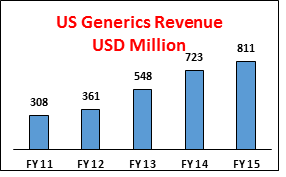 LUPIN's generic business grew by about 12%. Adding GAVIS into its portfolio will help LUPIN in growing US generics business.
U.S. platform for growth in high value niche generics:
Full portfolio of controlled substance products with 19 products filed
Leadership in niche areas such as colonoscopy prep
Products across other niche areas such as dermatology (22 filings)
Significantly enhances near term pipeline & R&D:
Robust pipeline of over 130 products including 66 ANDAs filed and 65+ in development
R&D team of 100 professionals based out of Somerset, NJ, capable of filing 20+ products per year.
US manufacturing infrastructure through Novel Laboratories Inc.
Provides access to U.S. government business.
Access to high barrier-to-entry U.S. controlled substance market.
High breadth of capabilities complements Lupin's existing infrastructure.
Strong cultural fit:
Key focus on enhancing value through strong internal R&D and formulation capabilities.
Culture of robust compliance and quality in manufacturing.
Robust financial profile:
High double-digit growth and strong operating margins
Revenue expected to expand >3x by FY2018
SIGNIFICANTLY INCREASES ANDA FILINGS IN THE US
FINANCIALS
INR in Lakhs
FY 2015
FY2016E
LUPIN
GAVIS
LUPIN
GAVIS
CONSOLIDATED
Revenue
12,77,001
60,480
14,55,780
74,400
15,30,180
EBITDA
3,85,930
21,773
4,78,553
29,610
508,163
EBIT %
26.82%
36%
33.20%
Lupin's revenue for the FY 2015 grew by about 14% and its EBITDA grew by about 24%. In case of GAVIS its revenue is growing at CAGR of 23% while EBIT is growing at CAGR of 36%. If we assumed that the same growth rate continues for FY 2016, Lupin's post transaction EBITDA margins will increased by about 6.38% to 33.20%.
VALUATION
Lupin acquired Gavis along With Novel Laboratories Inc.for $ 880 million which is 9 times its revenue and 25 times its net profit which looks expensive but considering as on date of announcement Lupin was trading at 8.5 times sale and 35 times profit , it may not look expensive.
CONCLUSION
Acquisition of Gravis by Lupin is beneficial to Lupin as
GAVIS's capabilities and pipeline are an excellent complement to Lupin. The acquisition accelerates Lupin's entry into niche areas like controlled substances and dermatology.

Lupin's commercialization capabilities, vertically integrated manufacturing operations and supply chain strengths will accelerate GAVIS's growth.
The acquisition is expected to be accretive to the earnings from the first full year of operations. In addition to the compelling strategic fit, there is a strong cultural fit between GAVIS and Lupin's entrepreneurial spirit and values.
However we should not forget the price paid that too in all cash deal which is bit expensive. It would have been acquisition by using its equity shares as currency than it will have created better value. So it may be ideal for Lupin to come out with QIP issue to finance this acquisition