Piramal Pharma Solutions, which is the contract development and manufacturing company of Piramal Enterprises, has acquired a solid oral dosage drug manufacturing facility of US-based G&W Laboratories for around $17.5 million. The deal — to acquire 100% equity stake in the entity that operates the facility and owns the related real estate — will help Piramal Pharma Solutions to expand product offerings by adding solid oral dosage capabilities in North America. Till now, solid oral dosage forms were all located in the UK and India, according to the company.
In fact, Piramal Pharma Solutions has operations in North America, Europe and Asia. It provides services such as drug discovery solutions, clinical trials, pharmaceutical development services and commercial supply of active pharmaceutical ingredients. The acquired plant at Sellersville in Pennsylvania covers 31.5 acres including dedicated manufacturing and packaging technologies for solid oral dosage forms, liquids and creams apart from quality control and microbiology infrastructure.
According to the company's release, the site employs a highly knowledgeable and experienced workforce of around 100, with an average of 19 years of service with the site. The site has received certifications from the Food and Drug Administration and European Medicines Agency.
Also, in another development in the group, Piramal Enterprises Limited (PEL) sold 20% stake in its pharmaceutical business to US-based private equity player Carlyle for Rs 3,700 crore. This was done to accumulate money for future strategic investments —both organic and inorganic. In fact, PEL's pharma business clocked revenue of Rs 5,419 crore in FY20, with earnings before interest, taxes, depreciation and amortisation (EBITDA) of over Rs 1,400 crore.
What makes the G&W Lab deal work for Piramal
Piramal Pharma Solutions expects to further grow the Sellersville's acquired plant to support development services as well as any Covid-19 management drug opportunities. In fact, many of Piramal Pharma Solution's customers were looking for US-based manufacturing partners to expand and support their pipeline. This acquisition will surely strengthen the company's ability to partner with them on best-in-class drug products, the company's CEO Peter DeYoung had said.
As the company's global footprint, Piramal Pharma Solutions now offers solid oral drug product development and commercial manufacturing in all its major geographies, which now addresses an unmet customer need.
As a part of the company's global expansion plans, in January this year, Piramal Pharma Solutions announced to expand its Aurora facility in Canada with the addition of a new state-of-the-art wing dedicated to manufacturing Active Pharmaceutical Ingredients (APIs). The total investment is Canadian dollar 25 million. The Aurora facility will enhance the company's offerings to customers with new addition that features 10,500 sq. ft. of new manufacturing space. The additional capacity will cater to increasing customer demand as well as support the facility's ability to provide APIs and HPAPIs. The plant will also include filtration and drying capabilities that will enhance service offered by the company.
Piramal's expansion in the U.S. comes as the U.S. government has made a big push to establish secure manufacturing and supply chains for pandemic-related drugs tied to Covid-19. The government in recent months has shelled out billions to help grow its national stockpile through targeted manufacturing deals, including helping flesh out supply of potential Covid-19 vaccines.
For Piramal Pharma Solutions, among its North American sites is an API facility in Riverview, Michigan. To expand its global presence, it acquired the company in 2016 for around $50 million and expanded it later by investing $10 million into new capacity for high-potency APIs. After the acquisition of the Michigan plant, the company invested $55 million in API capabilities worldwide.
Gain for G&W Laboratories
For G&W Laboratories, the deal will help it to get advanced technical know-how from Piramal Pharma Solutions to develop products and sell it in the North American region. G&W Laboratories will have to work closely with Piramal Pharma Solutions to sort out all the key issues and set the ball rolling for revamped production lines.
In fact, G&W Laboratories have good experience in terms of sell-off integration. In November 2018, Avista Capital Partners, a leading private equity firm focused on growth-oriented healthcare businesses, acquired G&W Laboratories' extended topicals and dermatology business unit. G&W Dermatology had a market-leading and diversified portfolio of approximately 35 self-labeled generic topical dermatology products that were marketed and sold in the U.S.
Piramal sells 20% in pharma business to Carlyle
In one of the largest private equity deals in the Indian pharmaceutical sector, Piramal Enterprises sold 20% of its pharma business to Carlyle at an enterprise value of $2.78 billion. For the records, about a decade ago, the group sold its domestic formulations business to US-based Abbott for $3.72 billion or Rs 17,000 crore. The company said that the strategic partnership with Carlyle in the times of Covid-19 was a reflection of the strength of Piramal's pharma business. Piramal Pharma includes Piramal Pharma Solutions, an end-to-end contract development and manufacturing organisation (CDMO) business and Piramal Critical Care, a complex hospital generics business selling specialised products across over 100 countries. It also includes consumer products division, and a consumer health care business selling over-the-counter products in the country.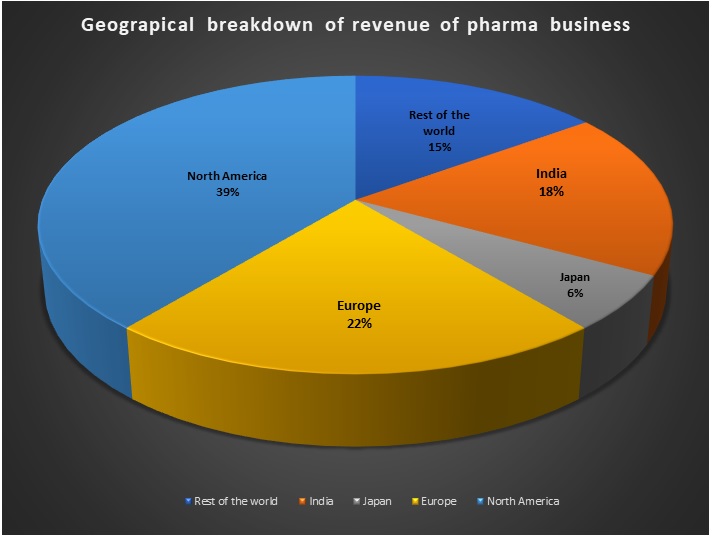 The group, in the medium-term, plans to deleverage the business, which will allow it to raise more funds. In fact, the group has raised Rs 14,500 crore through asset sales and other fundraising measures. The group sold its health care insights and analytics subsidiary Decision Resources Group (DRG) to US-based Clarivate Analytics for $950 million in January this year, and also raised Rs 3,650 crore through a right offer in February 2020. The group's pharma vertical has been growing at 15% CAGR over the last nine years. Carlyle has been buying stakes in pharmaceutical and healthcare businesses. In May, it acquired 74% stake in animal health-focused pharmaceutical company Sequent Scientific Ltd. for about Rs.1,580 crore.
Revenue mix of pharma business (Rs crore)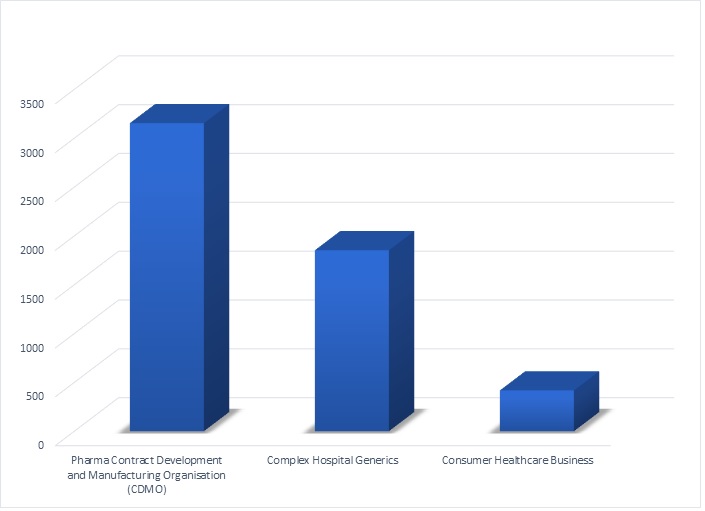 About Piramal Pharma Solutions
Piramal Pharma Solutions is a contract development and manufacturing organization. The company serves clients through a globally integrated network of facilities in North America, Europe and Asia. The company offers a comprehensive range of services including drug discovery solutions, process & pharmaceutical development services, clinical trial supplies, commercial supply of APIs and finished dosage forms. The company also offers specialised services like development and manufacture of highly potent APIs and antibody-drug conjugation. Within the pharma vertical, Piramal Pharma Solutions contributes over 50% of the revenues.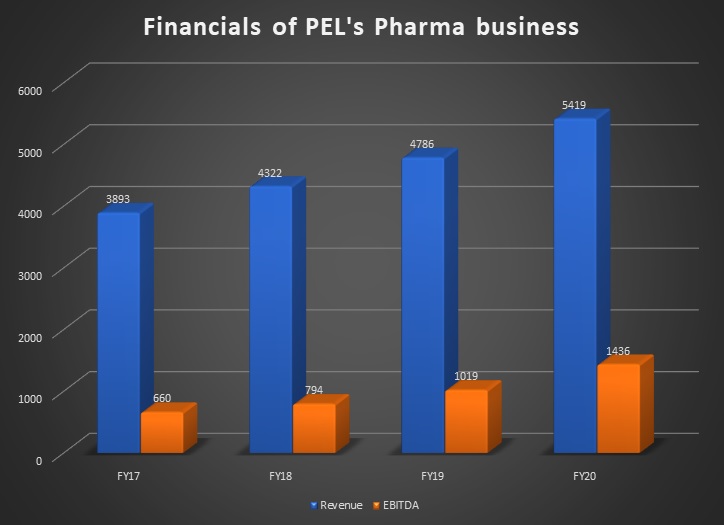 Note: Pharma revenue includes Pharma CDMO, Complex Hospital Generics and India Consumer Healthcare and Forex exchange loss
About Piramal Enterprises Limited
Piramal Enterprises Limited (PEL) is one of India's large diversified companies, with presence in Financial Services and Pharmaceuticals. Piramal Enterprises Limited's consolidated revenues were US$1.7 billion in FY20, with 34% of revenues generated from outside India. In financial services, PEL offers a complete suite of financial products in both wholesale and retail financing across sectors. The group also has long-standing partnerships with leading institutional investors such as CPPIB, APG, Ivanhoé Cambridge (subsidiary of CDPQ) and Bain Capital Credit. Piramal Enterprises Limited also has equity investments in the Shriram Group, a leading financial conglomerate in India.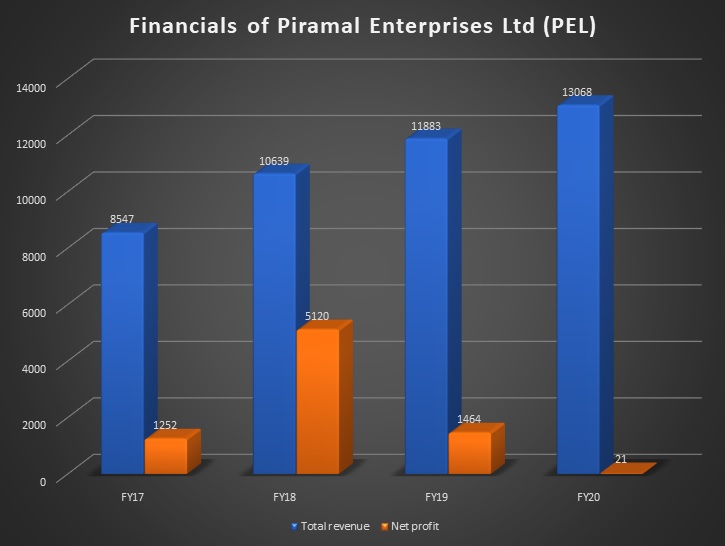 In pharmaceuticals, through end-to-end manufacturing capabilities across 13 global facilities and a large global distribution network to over 100 countries, Piramal Enterprises Limited sells a portfolio of niche differentiated pharma products and provides an entire pool of pharma services (including in the areas of injectable, HPAPI, etc.). The company is also strengthening its presence in the consumer product segment in India. PEL is listed on the BSE Limited and the National Stock Exchange of India Limited in India.
About G&W Laboratories
The company was formed by Carl Greenblatt in 1919 upon his return from military service as a pharmacist with US forces in World War I. Carl guided G&W Laboratories with an uncompromising commitment to product integrity and customer service. In 1945, Carl's son, Burton, also a registered pharmacist, returned from military service in World War II and joined the small but growing company.
During the post-war years, G&W Labs expanded its product line beyond suppositories, into creams, ointments, gels, liquids, and oral medicines. G&W Labs moved to a larger state-of-the-art laboratory and production facility, which now exceeds 180,000 square feet in South Plainfield, New Jersey. G&W Labs has since added two additional facilities which have tripled its manufacturing footprint.
It is a family-owned company that develops, manufactures and sells generic pharmaceutical products. The company is run by Aaron Greenblatt, Carl's great grandson since 2009. Aaron continues to uphold the family and company legacy through his commitment to the company's ethical standards, values, and patient focus through this significant growth journey.
Conclusion
As many customers of About Piramal Pharma Solutions are looking for US-based manufacturing partners, the deal is a great leap forward. The key to the success of the acquisition will depend on how quick the integration is done, and production picks up pace. Considering both transactions in quick succession, it looks like investments by Carlyle at an enterprise value of $2.78 billion was subject to the acquisition in USA.
Please feel free to share/retweet the article and as always you can write down in the comment box below for anything related to the article. We would love to answer.