Birla Corp acquired Jojobera and Conadih cement plant from Lafarge for an enterprise value of INR 5000 crores which have a connection to the global merger of Lafarge from France and Holcim from Swiss had announced in April 2014 the industry's biggest-ever such deal.
The CCI, approval for Indian Lafarge-Holcim combination was subject to divestiture of Lafarge's Jojobera plant located in Jharkhand with a cement grinding capacity of 4.6mtpa and Lafarge's integrated unit located at Sonadih in Chhattisgarh with a cement grinding capacity of 0.55mtpa and clinker capacity of 3.10mtpa.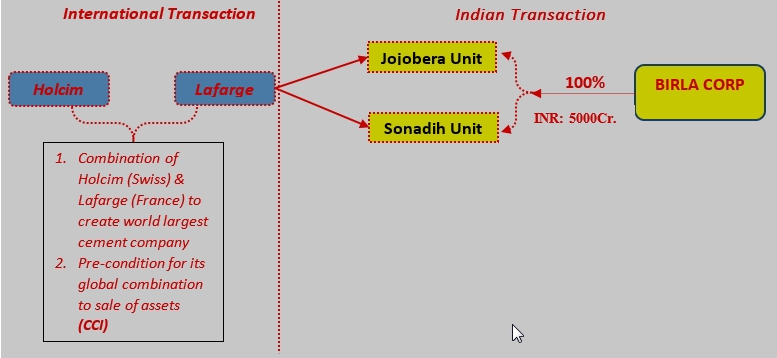 LAFARGE & HOLCIM
The combined group will be based in Switzerland and listed in Zurich and Paris.
Have a well-balanced presence in 90 countries and a focus on Cement, Aggregates and Concrete.
They are industry benchmark in R&D and serve from the individual homebuilder to the largest and most complex project with the widest range of value-adding products, innovative services, and comprehensive building solutions.
Swiss major Holcim and French entity Lafarge have a presence in India through their indirect subsidiaries. Lafarge entered in Indian market 1999, and currently, has 4 types of cement plants in India. In the recent years, it has significantly enlarged its operations across its three business divisions cements, Aggregates, and concrete.
The Jojobera Cement Plant was acquired from TISCO in the year 1999 for Rs. 550 crore with capacity 1.73 mtpa. Currently the plant has facilities of Cement Grinding unit with separate circuits for clinker and slag grinding and Vertical Cement Mill. And now it is Asia's largest Cement Grinding Unit with a capacity of 4.6 MTPA.
Lafarge announced in April 2015, that it has entered into an  agreement with Birla Corporation Limited subject to approval by the Competition Commission of India (CCI) for the divestment of certain of its assets in India as part of the merger of its legacy companies for an enterprise value of INR 50 billion. The proceeds from the sale of the divestment business will be used to further reduce debt. Following the divestment, the Group will have a cement capacity of around 68 million tonnes in India.
Why Divestment?
After the April 2014 global merger between France's Lafarge and Switzerland's Holcim, Lafarge India. divestment of units was driven by an anti-trust regulator. Lafarge-Holcim needs to divest some of their units in eastern India as per the Competition Commission of India's directions as otherwise, the combined entity would command a monopolistic market share in the region – 37% of the total capacity in the eastern region and 79% in Jharkhand.
Why this two divisions?
The two units being sold by Lafarge are among the most profitable cement plants in India, generating about Rs.700 crore in pre-tax profits a year even in the current depressed market. That is partly because of the availability of raw materials in close proximity to the plants.
The CCI approval to the merger within the country was subject to the divestment of units in eastern region. In fact, trade channels say, Lafarge's 'Concreto' brand is the highest and costliest selling brand in Bihar — commanding a premium of around Rs. 17 per bag.
Why divestment to BIRLA Corp. and not to other known players?
CCI directions said Lafarge should sell its assets 'to relatively smaller players, having an installed capacity of less than 5% of their total capacity in the relevant geographic market (i.e. Eastern region).
 Whether Leader in India Post Merger& Divestment?
The current capacity of Holcim is 57mpta and has the plan to increase to 65 mpta and Lafarge has 8 mpta capacity so the total combined capacity will be 73 mpta, but they have to divest 5.15mtpa so the combined post divestment will be 68mpta. Whereas the Ultratech has 67mpta capacity post acquisition of Jaypee's plant and has a plant to increase to 70 mpta. 
BIRLA CORP.:
Birla Corp is part of the MP Birla Group with presence across cement and jute; cement constitutes over 90% of the company's revenues. Currently, the company has 7 manufacturing units in Rajasthan, Madhya Pradesh,Uttar Pradesh and West Bengal.
The Birla Corp, either directly or through its wholly owned subsidiary, will acquire both the Jojobera and Sonadih cement businesses from Lafarge India. It will acquire the business, comprising an integrated cement unit at Sonadih (Chhattisgarh), a cement grinding unit at Jojobera (Jharkhand), along with Concreto and PSC brands and a management team. The total capacity of the acquired entities stood at 5.15 million tonnes per annum (mtpa) and mineral rights over adequate reserves of limestone. It will be funded through existing cash reserves and incremental debt and Post-acquisition, Birla Corp will have a total capacity of 15 mtpa. Upon completion of this transaction, Birla Corp will consolidate its position in the eastern India cement market.
Market Watch
Birla Corporation has rallied 9% to Rs 495 on the National Stock Exchange (NSE) on the announce date i.e. 17th August 2015 to acquire the Jojobera and Sonadih cement businesses from Lafarge India for an enterprise value of Rs 5,000 crore. The stock has hit a high of Rs 540 so far.
VALUATION
Lafarge's Concreto brand is the highest and costliest selling brand in Bihar — commanding a premium of around Rs. 17 per bag and Lafarge's Jojobera and Sonadih cement units with the combined capacity of 5.15 mtpa have an Ebitda per tonne in the bracket of Rs 1,600 to Rs 1,800, EBITDA of Rs. 927 crore  annually. The average replacement cost per tonne is Rs. 8900 whereas the current deal is at per tonne Rs. 9700, so Birla Corp has paid a premium which has also given him the advantage of premium brand and highest profitable plants in India.
According to Indian Bureau of Mines, India has total cement-grade limestone reserves of just under 9 billion tonne. Based on this, a Planning Commission working group on mine exploration and development for the 12th five year Plan between the years 2012 and 2017, said that no cement capacity addition would be possible beyond 2023-24 if the cement sector grew at a projected rate of 12%, given the environmental constraints over tapping cement-grade limestone resources, of which India has around 120 billion tonne. This is one reason why cement firms prefer to buy existing assets with limestone sources as opposed to investing in new plants.
For Lafarge the sale of Jojobera and Sonadih units might be forced sale due to its combination with Holcim to create a world largest cement company alliance of $44 billion but for the Birla Corporation Limited it is an acquisition transaction with Lafarge India Private Limited (Lafarge India), whereby Birla Corp, either directly or through its wholly owned subsidiary, will acquire both the Jojobera and Sonadih cement businesses for an Enterprise Value of Rs. 5,000 crores (INR 50billion).
Although driven by the antitrust regulator, the Competition Commission of India (CCI), the deal also reflects the perennially consolidating nature of the cement industry in India, which has seen 20 mt of production capacity change hands in seven deals worth a combined Rs.16,000 crore in the past two years. With some more cement assets on the block, industry experts expect more consolidation.
Birla Corporation's present market cap of around Rs 3500 crores (which includes Jute and others which are insignificant) is 30% less than the acquisition cost. It has enough net worth to take a loan to Rs 3500 crores to finance this acquisition. So while  it will be overleveraged as debt equity ratio is likely to be around 1.5 but considering cash flow of over Rs320 crore for FY 2015, it will be able to bring it down less than 1 within two years after capturing cash flow from the assets acquired. Considering present promoters' holding of approx. 63%, it is possible to dilute around 5% if the management is not comfortable with such a high debt-equity ratio.
However a deal may not go through if government restrict miles ownership transfer.