At a time when India is taking strident steps on the global stage, the Media and Entertainment (M&E) industry offers tremendous growth potential and exciting investment opportunities not only to domestic investors but also the international investors. According to estimates from FICCI-frames report 2015, the entertainment sector in India is poised for a compounded annual growth rate of 14% to reach Rs 1,964 billion by 2019 from Rs 1,026 billion at present. The growth rate of Indian M&E industry, the report underlines, is almost double that of the global M&E industry. Some of the key factors driving the growth of the industry in India are the favorable demographics, growing literacy and awareness, increasing affluence and disposable income, development of technology, government support and the growing interest in the Indian way of life.
The M&E industry in the country consists of different segments under its folds such as television, print, music, and films. It also includes smaller segments like radio, music, OOH, animation, gaming and visual effects (VFX) and digital advertising. The M&E industry has registered an impressive growth in last two decades making it one of the fastest growing industries in India. From a single state-owned channel, Doordarshan in the 1990s there is more than 400 active channels at present. Growing investments by the private sector, as well as foreign majors, have improved the entertainment infrastructure in the country to a great extent. Within media, the growth and rising popularity of digital media are very significant. In 2014, digital advertising grew 44.55 over 2013.
Segments of Media & Entertainment Industry:
Source:-IBEF Presentation
Key Highlights of sector:
One of the major highlights in 2014 was the announcement of Make in India, and Digital India by Prime Minister Narendra Modi. These two programs by the government seek to transform India into a digitally empowered society and knowledge economy and make India the hub of manufacturing activities.
With 161 million television households in 2013, India stood as the third largest television market with USD 15.7 billion revenue in 2013.
India has one of the largest broadcasting industries in the world with approximately 800 satellite television channels, 245 FM channels, and more than 100 operational community radio networks.
The number of cable & satellite subscribers reached to 139 million in 2013.The total subscriber base for Indian television industry is expected to increase to 173 million by 2016 from 95 million in 2009.
Total market size of the Indian entertainment industry stood at INR 918 Billion in 2013, growing by 11.8% over 2012. The industry is expected to register a CAGR of 14.2%, reaching INR 1785.8 Billion in 2018.
M&A in Food & Beverages Sector:
Particulars
2012
2013
2014
Nunber of deals
Domestic

30

30

34

Inbound

16

16

16

Outbound

4

5

3

Total
50
51
53
Deal Value (US$ million)
Domestic

587

12

1067

Inbound

288

64

27

Outbound

NA

7

NA

Total
875
83
1094
Source:- EY Presentation
Breakdown of M&A Activities among different segments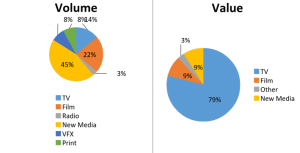 Source:- FICCI-KPMG Report
Key transaction in 2014:
Reliance Industries Limited acquired Network 18 Media and Investment Limited and TV18 Broadcast Limited for USD 167 million and USD 257 million, respectively.
Acquisition of Big Cinemas by Carnival Films Private Limited for USD 111 million.
Acquisition of Satyam Cineplexes Limited by Inox Leisure Limited.
Acquisition of Radio City by Dainik Jagaran group for USD 60 million .
Challenges:
Legal issues, especially the intellectual property rights protection, have become a big challenge for Indian entertainment industry. Anti-piracy and copyright infringement protection must be ensured by Indian entertainment industry to reach a global audience.
With the intense competition witnessing the sector, companies have to spend heavily on advertising and sales promotion to attract customers. Rapid changes in technology and preferences require continuous changes and innovations. Huge investments are required for different types of sets, costumes etc.
Foreign investment regulations, various indirect taxes, transfer pricing regulations, lack of human resources due to unattractive salaries at entry level and absence of clear career path are a few other issues which are currently faced by this industry.
Conclusion:
A lot of government initiatives and policies such as 'Make in India', 'Digital India' & implementation of GST will give a new dimension to this sector in India.
Implementation of GST will help streamline tax issues in media and entertainment industry. High entertainment tax is a major impediment to industry's growth. The overall tax implication is as high as 40-50% in states like Maharashtra, Uttar Pradesh, etc. However, post GST, the peak rate is likely to be below 20%, leading to significant cost reduction. Also, input tax credit will be available for set off against the output tax liability. GST implementation is likely to result in 200 basis points margin expansion.
Indians are likely to spend more on entertainment in the coming years with a steady growth in their disposable income. Digitisation is surely going to be a game changer for media & entertainment sector.
The increasing use of social networking services, online gaming, and mobile applications, fast growing internet user base in the country is helping the industry to grow with rapidly . In coming years we can expect to see a few major M&A deals in this sector.