Tube Investment of India Ltd (TIIL) is a flagship company of the Murugappa group, is engaged in multiple business broadly classified into the following category
Manufacturing of tubes, strips, tubular, components, bicycles (second largest bicycle producer in India) and fitness products, chains for automobiles sector and industrials applications, roll-formed sections, and other metal formed products, industrial gears, designing and manufacturing of dies. The other manufacturing business is also carried out through subsidiaries Shanthi Gears Limited (Industrial gears), TI Tsubamex Private Limited (designing and manufacturing of dies) and Sedis (Industrial Chains).
Financial service business through subsidiaries, joint ventures, associates viz Non-Banking Financial Business (through Cholamandalam Investment and Finance Company Limited), Insurance Business (Cholamandalam MS General Insurance Company Limited), Chola MS Risk Service Limited (JV of Murugappa group with Mitsui Sumitomo Insurance Group of Japan (5th largest group insurance group across globe).
During the year 2015-16 company has sold 14 % shareholding in the M/s Cholamandalam MS General Insurance Company Limited (CMSGICL) to its joint venture partner M/s Mitsui Sumitomo Insurance company Limited, Japan for consideration of Rs 882.67 Crores and out of which Rs 820.78 crores was recognised as gain in the book (excess of sales consideration over the average carrying amount of TIIL investment in CMSGICL), post stake sale TIIL still holds 60%.
Major subsidiaries and their percentage holding as on March 2017:
Table 1: Murugappa Group % Shareholding (All Fig. in Rs. Crores)
| | | | | |
| --- | --- | --- | --- | --- |
| Company | % Shareholding | Total Income | PAT | Market Cap |
| Shanthi Gears Limited (SGL)* | 70.10% | 215 | 22.5 | 1,150 |
| Cholamandalam Investment and Finance Company Limited (CIFCL)* | 46.20% | 4,692 | 798 | 17,300 |
| Cholamandalam MS Risk Services Limited (CMSRSL) | 49.50% | 36.6 | 1.7 | N.A. |
| Cholamandalam MS General Insurance Company Limited (CMSGICL) | 60% | 2,762 | 208 | N.A. |
*Listed entities, current market capitalization on approx. basis.
Murugappa holding in CIFCL is 53.08 % (including holding through TIIL) and balance is held by public & other investors. CMSRSL & CMSGICL is a JV between Murugappa group, India and Mitsui Sumitomo Insurance Group, Japan.
Tube Investment Financial Holdings Limited (TIFHL) is a wholly owned subsidiary of TIIL, no business operation is carried out presently.
Scheme (Transaction Overview)
Demerger of the manufacturing business undertaking of Tube Investments of India Limited (TIIL or Demerged Company) into TI Financial Holdings Limited (TIFHL or Resultant company) with appointed date 1st April 2016. Exchange ratio will be issue of 1 fully paid up Equity Share of Re. 1 each of TIFHIL for every 1 fully paid up equity share of Rs. 2 each held in the TIIL.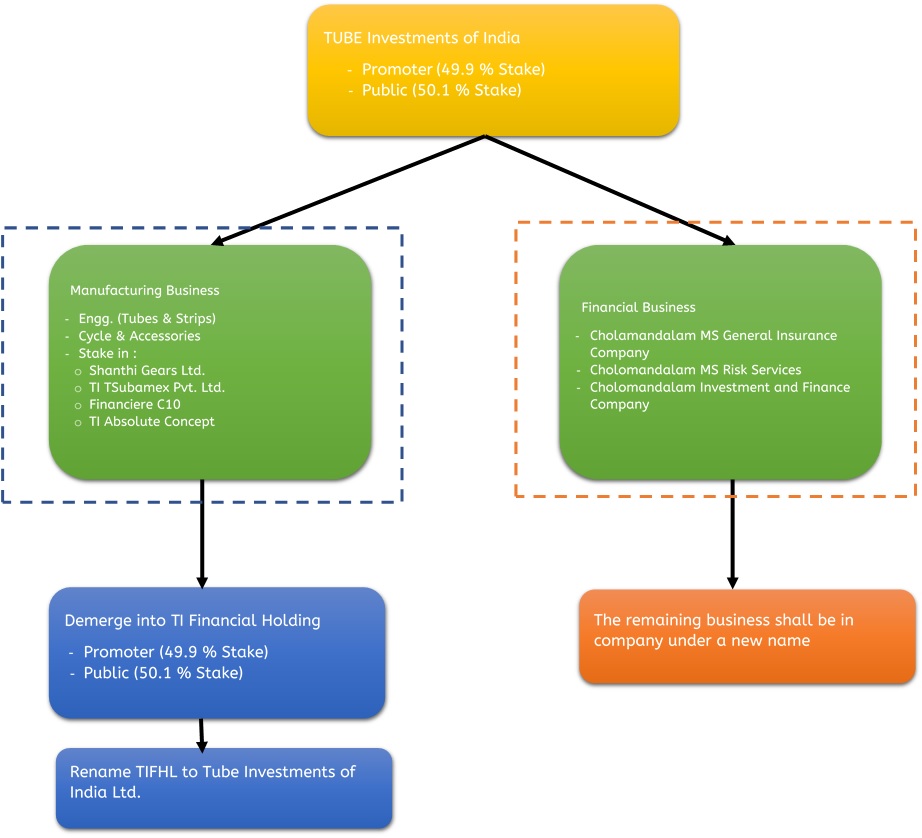 Existing shares of TIFHIL will be cancelled and shareholding of resultant company will be mirror image of TIIL. Equity shares of the TIFHIL will be listed on the stock exchange subject to the regulatory approval. GDR holders (not listed) of TIIL will be issued GDRs of TIFHL and such GDRs will not be listed on any stock exchange unless required by any regulation or laws.
Employees covered under ESOP will be issued one stock option by the TIFHL for every stock option held in the TIIL. Stock options granted by the demerged company under the relevant existing stock option scheme would continue to be held by the employees concerned (irrespective of whether they continue to be employees of the demerged company or become employees of the Resultant company)
Financial Overview
Subscribe to read the full Article.