Crompton Greaves Consumer Electricals Ltd. ("Crompton") has signed definitive agreements to acquire a controlling interest in Butterfly Gandhimathi Appliances Ltd. ("Butterfly"). Crompton was formed in 2016 because of the demerger of B2C Consumer Product Business of Crompton Greaves Limited which was later acquired by a Private Equity Advent International along with Temasek. Private Equities tried to give its Midas touch and was quite successful in turn around Crompton's core business but were unable to mark its presence in Kitchen Appliances Business. Will Butterfly's acquisition facilitate Crompton in establishing its footmark in the Appliances market?
Crompton is India's market leader in the category of fans and residential pumps. The company manufactures various products such as water heaters, anti-dust fans, antibacterial LED bulbs and a range of other categories like air coolers, food processors like mixer grinders, electric kettles and garment care like irons.
Butterfly Gandhimathi Appliances Ltd has emerged as the largest manufacturer of domestic kitchen and electrical appliances in India. Company's wide range of products marketed under the 'BUTTERFLY' brand includes LPG Stoves, Mixer Grinders, Tabletop Wet Grinders, Pressure Cookers, Stainless Steel Vacuum Flasks and Non-Stick Cookware. Other products comprise Juicers, Hand Blenders, Electric Irons, Power Hobs, Electric Rice Cookers, Water Heaters (Geysers), Air Coolers, Electric Water Kettle, Electric Sandwich Maker, Electric Bread Toaster, Fans and Washing Machine.
The Proposed Transaction
Crompton has entered into a share purchase agreement dated February 22, 2022 with the existing promoters of butterfly which entails Crompton to acquire (a) up to 55% stake from the existing promoters of Butterfly, aggregating up to INR 1,380 crore, and (b) certain Butterfly trademarks in allied and cognate classes from promoter group entities ("Trademarks") aggregating INR 30.38 crore.
Pursuant to the acquisition, Crompton will give the mandatory open offer to the public shareholders of Butterfly, for acquiring up to 26% stake in Butterfly, aggregating up to INR 666 crore. Thus, if open offer fully subscribed, Crompton will buy circa 81% stake in Butterfly for an aggregate total consideration of unto INR 2,076 crore.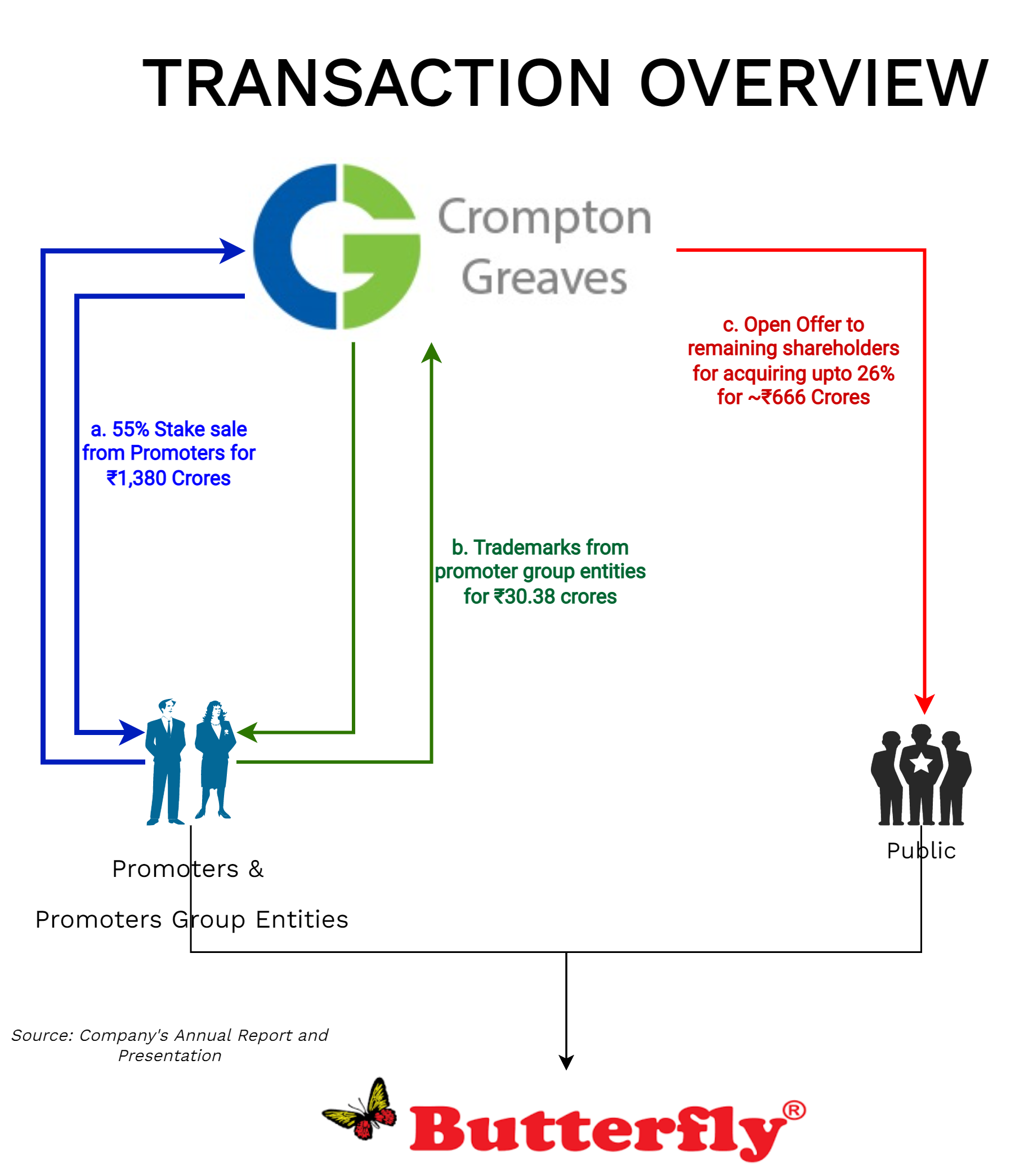 Post-transaction, the existing promoters of Butterfly will continue to hold 9.58% stake in the company. The stake may change slightly on account of various clauses such as liquidity shares, slippage shares etc in share purchase agreement. However, post-acquisition, the existing promoters will be classified as "public shareholders," they will ensure to hold lessor than 10% stake in Butterfly. As per the interview given by the existing shareholders of Butterfly, eventually, the existing promoters will completely exit Butterfly and will focus on some other export-oriented business.
Read more
You must log in to read the rest of this article. Please log in or register as a subscriber