Management of Kesoram Industries have been trying to optimize their Tyre Business Undertaking for quite some time. In 2016, it sold its Haridwar Tyre Manufacturing plant via slump sale of its WoS Cavendish Tyres Ltd to JK Tyre & Industries Ltd. To accelerate growth for its Tyre Business, in 2018, Kesoram Industries Limited demerged and separately listed its "Tyre Business" into Birla Tyrese Limited. To set up its PCR business, during demerger, Kesoram Industries Limited also transferred a significant amount (INR 400 crore+) to Birla Tyres Limited as a loan. However, these steps do not seem to be enough. Recently, Birla Tyres Limited board approved composited scheme of further demerger of Tyres business & arrangement with creditors. Let us analyze whether this step will facilitate the required growth for Birla Tyres?
Birla Tyres Limited (BTL or the demerged entity), part of India's BK Birla group, is engaged in manufacturing Tyres for commercial vehicles at its facility located at Balasore, Odisha. BTL is also in process of setting up a new plant for Passenger car Redial Tyres ("PCR Business") adjacent to its existing plant. The equity shares of BTL are listed on the nationwide exchanges.
Birla Tyres Radials Limited (BTRL or Resulting Company) has been incorporated as a wholly-owned subsidiary of BTL to facilitate the demerger of the PCR business. Post-transaction, PCR business will be demerged to BTRL.
Existing Financial Position of BTL:
The business of BTL has been severely impacted for the last few years which coupled with the ongoing pandemic has almost crippled its tyre business which has run into huge losses. The accumulated losses of BTL as of 30th November 2021 was INR 847 crore and share capital of BTL has stood fully eroded. The Company has defaulted in repayment of term loan, letter of credit, working capital facilities, and related interest payable to lenders aggregating to ₹ 436 Crore (as of 31st December 2021) and has not complied with certain financial debt covenants. Consequent to the non-availability of fund to meet the working capital requirements, the operations of the Company have been currently halted. The previously mentioned conditions indicate stress on liquidity and the existence of material uncertainties which cast significant doubt on the Company's ability to continue as a going concern.
"BTL is trying to settle its borrowings outside the Insolvency and Bankruptcy Code with a defined timeline which may usher in averting further value erosion for stakeholders, especially minority shareholders"
A substantial part of the debt availed by BTL is invested in the PCR business which is yet to commence operations. The PCR business further requires INR 200-225 crore of investment to commence the business.
Management has announced that the Company had received non-binding proposals from investors which had been discussed in the joint lenders meeting to enable the lenders to evaluate these proposals and facilitate further discussions/negotiations. The Company is also considering options to raise capital by way of equity through strategic and/or financial investors, which will enable the Company to commence its operations and meet the financial obligations.
The Proposed Transaction
The Company announced plans to restructure the business of Birla Tyres Limited by way of a Scheme of Compromise and Arrangement ('Scheme') involving –
(a) Demerger of the Passenger Car Radial Tyres (PCR) Business and allied activities of BTL into Birla Tyre Radials Limited (BTRL), on a going concern basis and
(b) compromise and arrangement with Creditors and Members of the Demerged Company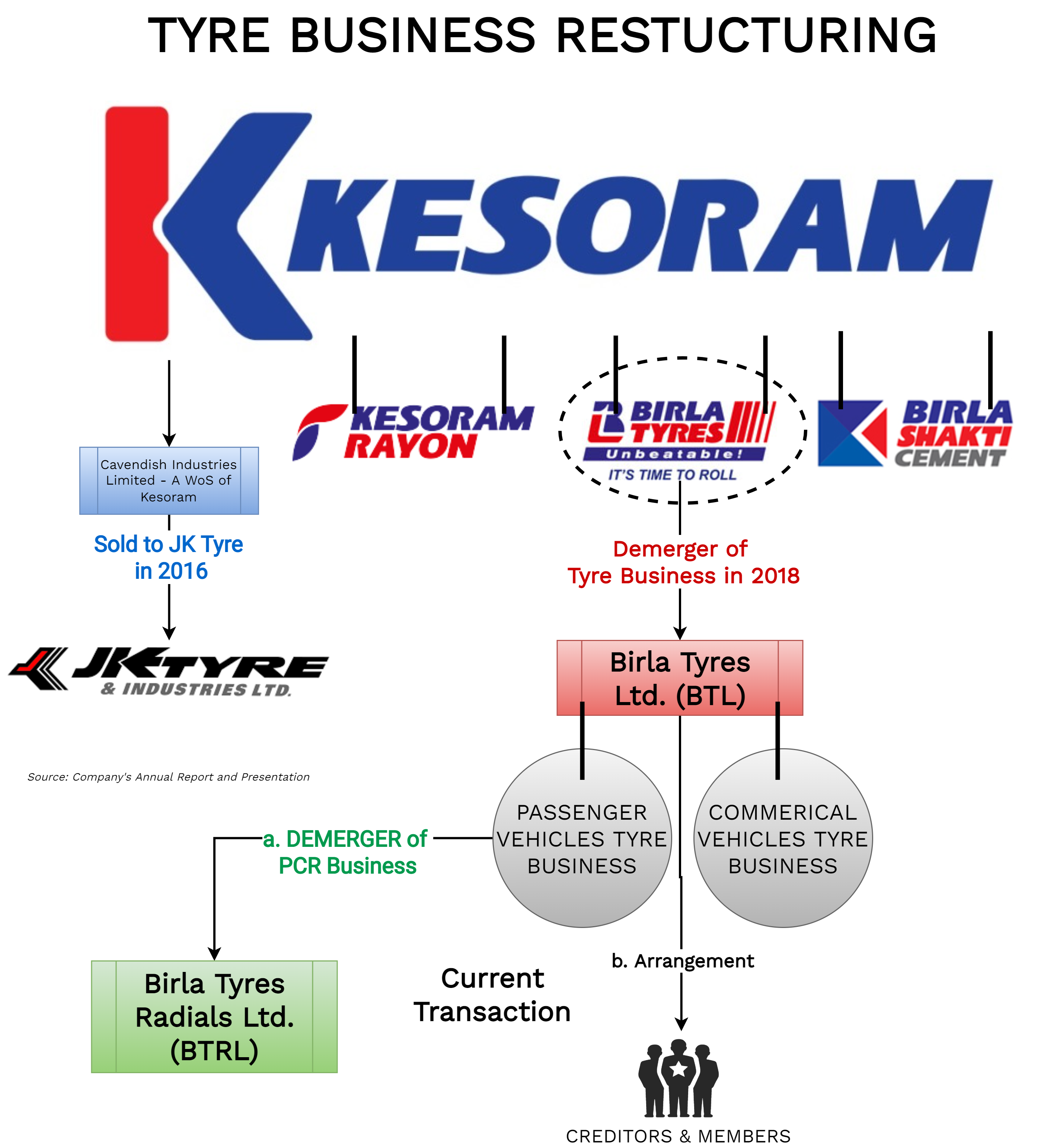 The Appointed Date for both steps will be December 1, 2021. This date will also be a cut-off date for the settlement of the dues of the secured creditors being the Lenders.
Read more
You must log in to read the rest of this article. Please log in or register as a subscriber