The Seller
Kesoram Industries Limited is a well-diversified entity in the fields of Cement, Tyre, Rayon Yarn, Transparent Paper, Spun Pipes and Heavy Chemicals with two core business segments i.e. Cement and Tyres. The major revenue for Kesoram industries was being generated from Tyres & tubes business.
The Target Company:
The Cavendish industries limited is a wholly owned subsidiary of Kesoram Industries which is a newly incorporated on 12th January 2015. Kesoram industries limited transferred its undertaking consisting of automotive tyre manufacturing situated in Haridwar to the company. The undertaking was transferred on slump sale basis at an enterprises value of Rs. 2195 to Cavendish industries LTD and kesoram industries booked an exceptional gain of Rs. 409.2 crores. The consideration was in a form of equity shares of Rs. 700 Crores. The subsidiary assumed debt of Rs.1495 crores in its books
The Acquirer
JK Group is one of the leading conglomerates in India with business interests in automotive tyres, cement, paper, auto-components and other businesses. The flagship company of the JK Group in the Tyres' Business, JK Tyre & Industries Limited is amongst the top three automotive tyre manufacturers in India with presence in truck, bus, passenger cars and other vehicles, having nine manufacturing plants all over the world, global dealer and distribution network and strong brands (JK Tyre, Vikrant, Tornel). JK Tyre is amongst the largest players in tyres in India and parts of Asia.
The Deal
Kesoram Industries a flagship of BK Birla group has signed a binding term sheet to sell 100 per cent equity in Cavendish industries limited its wholly owned subsidiary at an enterprise value of Rs. 2195 crore to JK Group. The deal stands completed as on 13th April, 2016.
How JK type funded for acquisition:
The consideration of Rs. 2195 crores shall be funded through combination of Debt and Internal accruals.
The combination will be of Rs 700 crore of internal accruals and Rs 1,495 crore of debt.
Maximum exposure of JK tyre will be Rs.450 crores which is raised through internal accruals.
Remaining Rs. 250 of Internal accrual & debt of 1495 crores will be raised by JK group associates and Cavendish industries.
---
Related Articles
---
Benefits for JK tyre:
This acquisition will give JK tyre access to well-rounded portfolio of product offerings, both for domestic as well as for international markets. It enables JK tyre a ready entry into the fast growing 2/3 wheeler tyre market and will get an additional capacity of Truck & Bus Radials, an important and high growth segment, where it is already the market leader.  The long-term vision is positive. The acquisition would close the gap in revenue between JK Tyre (currently the third-largest in the country) and Apollo Tyres Ltd (second-largest) although MRF Ltd is ahead as the leader with a wide margin.  The transaction is strategic, revenue accretive and synergetic with its existing business
This acquisition gives JK Tyre access to three factories of Cavendish located at Haridwar. The JK tyre will have 12 plants, including three in Mexico. The company will gain excise benefits in Uttrakhand.
Pre and Post-acquisition the tyre capacity of JK tyre shall be as follows: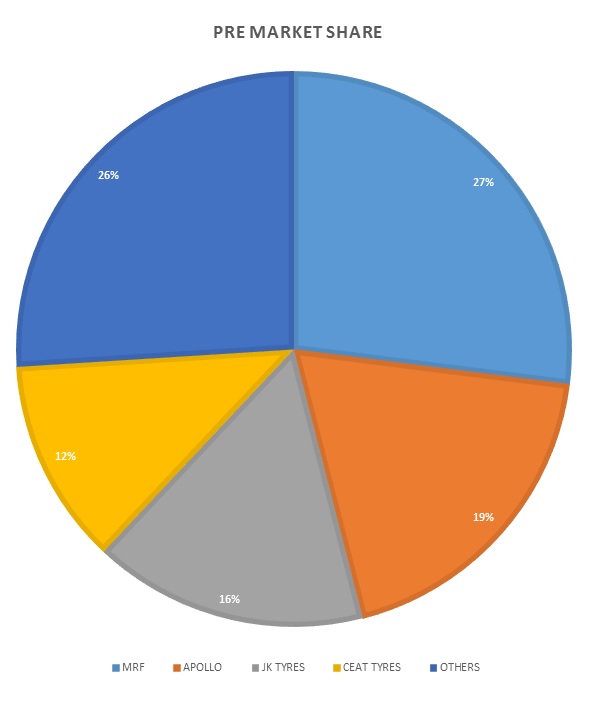 Strategy for sell:
The strategy behind selling Cavendish industries is to utilize the proceeds from monetization of assets to reduce the debt burden of the company which stands at Rs. 4497 crores (As per F.Y.15 balance sheet) and this transaction will strengthen the balance sheet of the company.
Conclusion:
The tyre companies had faced a slow growth trend for past few years due to huge imports of tyres from China which is threatening the domestic players and huge debt burden which was difficult for companies to turn around its loss making business. The major imports where truck and bus radials, which JK tyre is the leader, but by acquisition of Cavendish industries its tyre production capacity will get increased and bring in new manufacturing processes, induct new technologies, create a new work culture and improve productivity. This will help JK tyre also to increase its revenue, reap synergy benefits and help loss making Cavendish industries to turn around. The transaction is strategic, revenue accretive and synergetic with its existing business for JK Tyre. The  deal required CCI approval and it took very long time .so impact of the deal on JK Tyre financial will be visible only in FY 2017
Please feel free to share/retweet the article and as always you can write down in the comment box below for anything related to the article. We would love to answer.