HCL Technologies Ltd will acquire Australian information technology and business consulting company DWS Ltd. In a regulatory filing, the company said the total equity value pay-out will be 158.2 million Australian dollars (about Rs 850.33 crore) after considering a total number of shares at 131.83 million on a fully diluted basis. The shareholders of DWS will also get a dividend of 0.03 Australian dollars per share which was declared by the company in its recent announcement of Annual Corporate Earnings for FY20 (June-end). The filing noted that 100% shares will be acquired through a Scheme of Arrangement after approval by DWS shareholders. The acquisition is subject to regulatory approvals and is expected to complete by December this year.
The deal will augment HCL's capacity to service the growing demand for digital strategies in the Australian and New Zealand markets. HCL has invested in the region for over two decades — at present, it employs 1,600 people in major cities like Canberra, Sydney, Melbourne, Brisbane, and Perth – and is committed to enabling digitalisation and growing the local ecosystem. The acquisition brings in the marquee ANZ clientele and will provide the company linear growth opportunities such as geographical, client reach and cross-selling venues.
The acquisition comes two months after Roshni Nadar Malhotra, the daughter of founder Shiv Nadar, was appointed as the company's chairperson. Shiv Nadar, however, will hold the title of chief strategy officer. For Noida-based HCL Technologies, acquisitions will be a part of the growth strategy as it has chalked out digital transformation, cloud business and next-gen technologies as a focus area for growth. In fact, the company has been quite aggressive in acquiring companies and has struck a dozen deals in India and overseas since 2015. In May, HCL Technologies acquired products and services built on Cisco Systems Inc.'s network technology for $50 million in cash.
"The deal will augment HCL's capacity to service the growing demand for digital strategies in the Australian and New Zealand markets."
Hybrid cloud, digital workplace, networks, cyber-security are some of the strong service offerings from the company as these have become critical for any transformational plans. The company has underlined that it will look at acquisitions in the digital and product space to build innovative products and expand in some geographies.
Done deal
The acquisition will not only boost HCL's revenue and geographic presence, it will also lead to margin expansion because of higher offshoring. It is estimated that the acquisition will help to add around 1% to HCL's top line in FY22 as it will aid in expanding presence in Australia and New Zealand. The company will also be able to cross-sell and up-sell to existing clients of DWS. As revenues of DWS fell in two of the last five fiscal years and operating profitability softened, HCL's execution capabilities can help it improve profitability and extract better value. The acquisition will be done by HCL Australia Services Pty. Limited, a wholly-owned step-down subsidiary of HCL Technologies Ltd.
For HCL, the rationale for the acquisition is that DWS generates around 29% of revenues from banking & financials, 43% from government & defence, 6% from utilities and 7% from IT services and others 15%. As DWS has over 700 employees and offices in Melbourne, Sydney, Adelaide, Brisbane and Canberra and delivers business and technology innovation to large clients across a spectrum of verticals, it will help HCL to leapfrog and scale in terms of growth and presence in the region.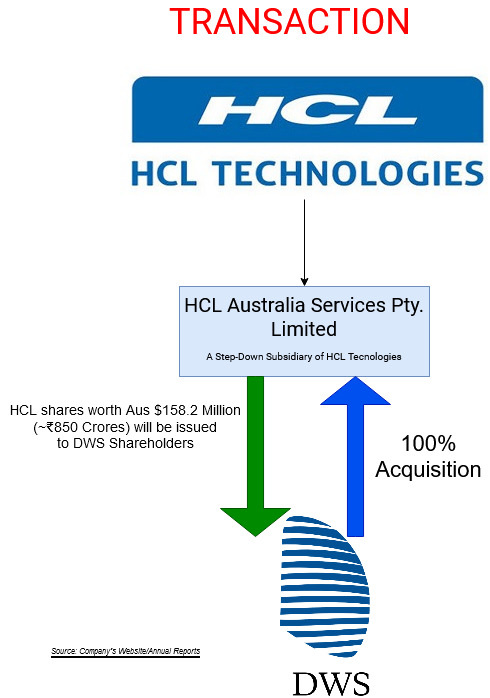 With the Covid-19 pandemic, there is urgency amongst clients for technology adoption and modernization of digital services. Financial services continue to be leader in terms of client demand followed by life sciences and healthcare, telecom and communication. As digital technologies transform business models around the globe, enterprises are increasing their technology spending. Investments in digital, analytics, cloud, internet of things (IoT), cybersecurity and other emerging technologies have been growing exponentially in nearly every large enterprise and that growth is likely to continue. In the initial phase of digitization, the early adoption was driven by front-office transformation.
Over the last few years, companies across the globe have also been investing in middle-office and back-office transformation. These initiatives are delivering significant value to the companies and are forming the core strategy for forward looking enterprises, helping them drive significant revenue growth, improved customer experience and reduction in cost. So, the acquisition of DWS will help HCL capture a higher share of the already expanding market in the digital services space.
HCL's growth strategy
The company's unique business model has helped it to achieve growth. It launched a new business unit called HCL Software, which provides modernised software products to help businesses transform their environment. It acquired select IBM products for security, marketing, commerce and digital solutions – AppScan, BigFix, Commerce, Connections, Digital Experience (Portal and Content Manager), Notes, Domino and Unica. The business made significant progress last year, onboarding over 2,000 partners and concluding over 13,000 sales transactions.

The company also added several other capabilities to its portfolio as it acquired Strong-Bridge Envision, a digital transformation consulting firm and expanded its preferred professional services partnership with Broadcom to include Symantec Enterprise Division. The company created a separate division called ERX within its Engineering and R&D business to drive an IP-led strategy in the segment and acquired Sankalp Semiconductor, an advanced technology design services provider in the semiconductor space.
About HCL Technologies
The company offers its services and products through three business units – IT and Business Services (ITBS), Engineering and R&D Services (ERS) and Products & Platforms (P&P). ITBS enables global enterprises to transform their businesses through offerings in areas of applications, infrastructure, digital process operations and next generational digital transformation solutions. ERS offers engineering services and solutions in all aspects of product development and platform engineering while under P&P, HCL provides modernised software products to global clients for their technology and industry-specific requirements. Through its cutting-edge co-innovation labs, global delivery capabilities and broad global network, HCL delivers holistic services in various industry verticals.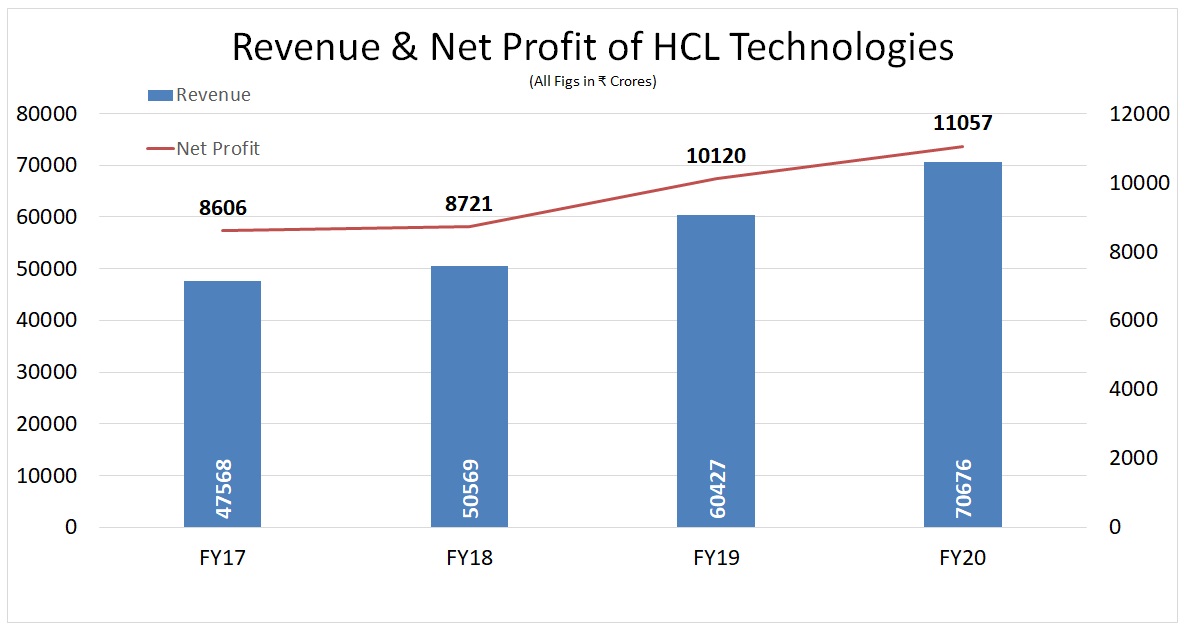 "All big IT companies are acquiring or doing a tie-up with small niche companies to create value for their present customers."
The company's revenue has increased from Rs 47,568 crore in FY17 to Rs 70,676 crore in FY20, with a compounded annual growth rate (CAGR) of 14.1% over the last three years. The company has over 1,50,000 employees across 49 countries, with women constituting 26% of its workforce. In FY20, the company's Mode 2 and Mode 3 revenue – that derived from next-generation technologies such as digital and analytics, IoT, cloud, and cybersecurity, as well as new products and platforms – accounted for one-third of the revenue.
About DWS Ltd
DWS is an ASX-listed Australian-based IT services company which provides a suite of integrated solutions, including consulting services, such as custom application development and project management and digital solutions, such as data automation and design services. DWS was established in 1991 by current CEO, Danny Wallis, and was listed on the Australian Stock Exchange (ASX) in June 2006. DWS is headquartered in Melbourne with Australian-based offices located in Sydney, Brisbane, Adelaide and Canberra and has over 700 employees. In FY20, the company had revenue of A$ 167.9 million.
Conclusion
To capture the benefits of new technology and give end to end services to the present customers, all big IT companies are acquiring small niche companies or tie-up with them to create value for their present customers. Given the growing opportunities in cloud consumption, cybersecurity, automation, app modernisation, the deal is positive for HCL Tech's revenue trajectory. To be sure, HCL Tech has established itself as digital transformation service provider in Australia and the DWS acquisition will enhance its capabilities and customer portfolio further as the company has a healthy mix across verticals and its customer base is diverse. These factors will help the company enhance its capabilities across verticals and diversify the customer base.
As the demand for digital technologies accelerates and cost savings create opportunities to replace traditional technologies, the market for large digital transformation deals and managed services is growing. Technology services companies are investing in software products and platforms that transform them into end-to-end solution providers. They are using mergers and acquisitions to acquire digital capabilities and access newer geographies. Now, HCL must complete the DWS integration process quickly to accelerate its growth curve. 
Please feel free to share/retweet the article and as always you can write down in the comment box below for anything related to the article. We would love to answer.