India Grid Infrastructure Investment Trust commonly known as IndiGrid InvIT which was the second InvIT to get listed in the Indian stock market now has added Esoteric II Pte Ltd, an affiliate of KKR & Co. Inc as a co-sponsor subject to its unitholders approval along with the existing sponsor Sterlite Power Grid Ventures Ltd (SGPVL). KKR via its affiliate on August 3, 2020, had terminated its contractual agreement with SGPVL regarding the purchase of 15% of issued and outstanding units of IndiGrid and also had withdrawn its intent to become a Sponsor of IndiGrid. But, on September 8, 2020, it proposed back to be designated as the sponsor of the trust.
InvITs are investment vehicles that are required to be set up as a trust that can be used to attract investment in the infrastructure sector, the regulations for which were notified by the SEBI in 2014. SEBI requires an InvIT to have a trustee, sponsors, an investment manager, and a project manager. Each of these constituents have a crucial role to play in the running of an InvIT.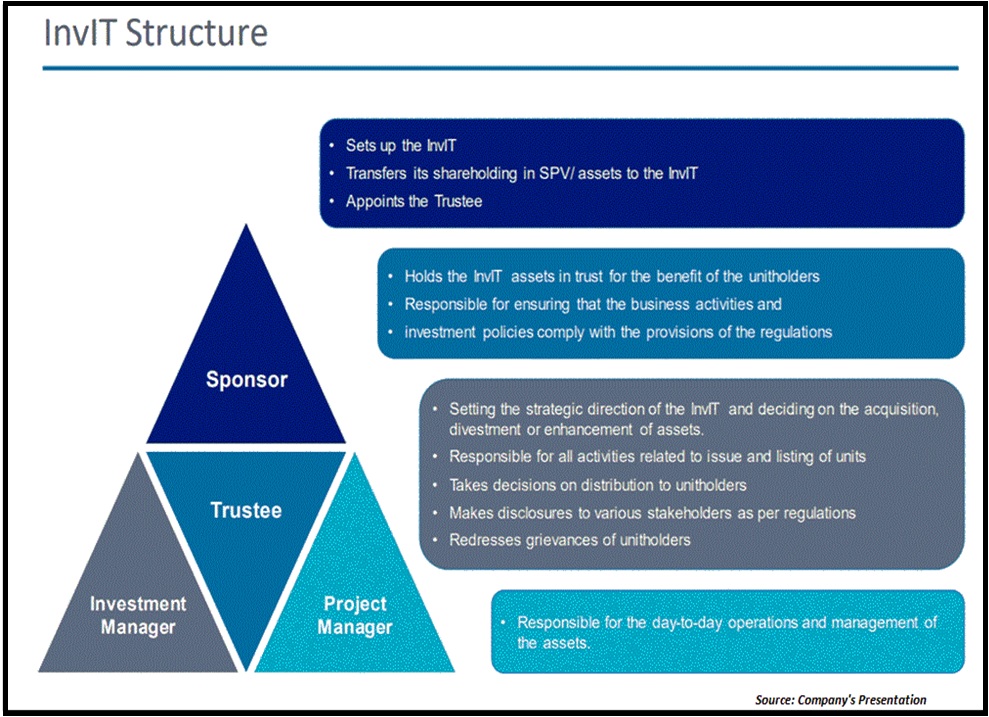 IndiGrid was established on October 21, 2016 by its sponsor Sterlite Power Grid Ventures Ltd (SPGVL), a Vedanta group company with an objective of providing stable and predictable returns to the unitholders by owning operational power transmission assets in India. SPGVL is a leading global developer of power transmission infrastructure with extensive experience in developing projects spanning across India and Brazil.
Recent acquisitions of Gurgaon Palwal Transmission Ltd (GPTL) from Sterlite Power and Jhajjar KT Transco Private Limited (JKTPL) at an enterprise value of ₹1080 crores and ~₹310 crores respectively. Its asset portfolio now consists of 11 operating projects with a total network of 28 power transmission lines and 9 substations extending over 6,180 circuit kilometres and 11,565 mega volt amperes (MVA) in 15 Indian states.
IndiGrid, SGPVL and KKR:
In May 2019,
IndiGrid had raised INR 25.1 billion of primary capital through Preferential Issue allotment of which KKR & Co. Inc and GIC (Singapore) subscribed INR 20.6 Billion giving KKR and its affiliates 22.1% stake in the InvIT.
KKR is a leading global investment firm with over 42 years of experience and a strong track record of performance who manages multiple asset classes including Private Equity ("PE"), Credit, Real Estate, Energy and Infrastructure, with strategic partners that manage Hedge Funds. In 2018, it established the Asia Pacific Infrastructure team to address the significant and growing infrastructure investment needs across the region.
SGPVL had entered into an agreement with KKR to sell controlling stake in Sterlite Investment Managers Ltd (SIML) which is the investment manager of the trust in three tranches up to 74% as follows: (a) 20% at the time of preferential allotment; (b) 40% based on regulator and unitholder approval (total ~60%); (c) 14% after 2 years from unitholder approval (total ~74%)
Also, KKR had intended to acquire additional 15% stake in IndiGrid from SGPVL post it being designated as a sponsor.
The unitholders approval for all the above transactions was obtained in an EGM in May 2019. This was a milestone deal in the history of Indian Infrastructure Transaction as it marked KKR's first infrastructure investment in Asia Pacific.
Current events:
An announcement by IndiGrid dated August 3, 2020 read – "The Investment Manager of IndiGrid had received a letter from Esoteric II Pte. Ltd. ("Esoteric II"), an affiliate of KKR & Co. Inc, on August 3, 2020 intimating termination of their contractual arrangement with SPGVL (Sponsor of IndiGrid) regarding purchase of 15% of issued and outstanding units of IndiGrid from SPGVL. In light of the same, Esoteric II had also withdrawn its intent to be designated as a Sponsor of IndiGrid."
KKR through its affiliate, already owned 23% stake in IndiGrid InvIT and 60% in its investment manager SIML and another 14% was to be acquired by May 2021. (total 74%). The shareholding pattern of the company as on June 30, 2020 was as follows: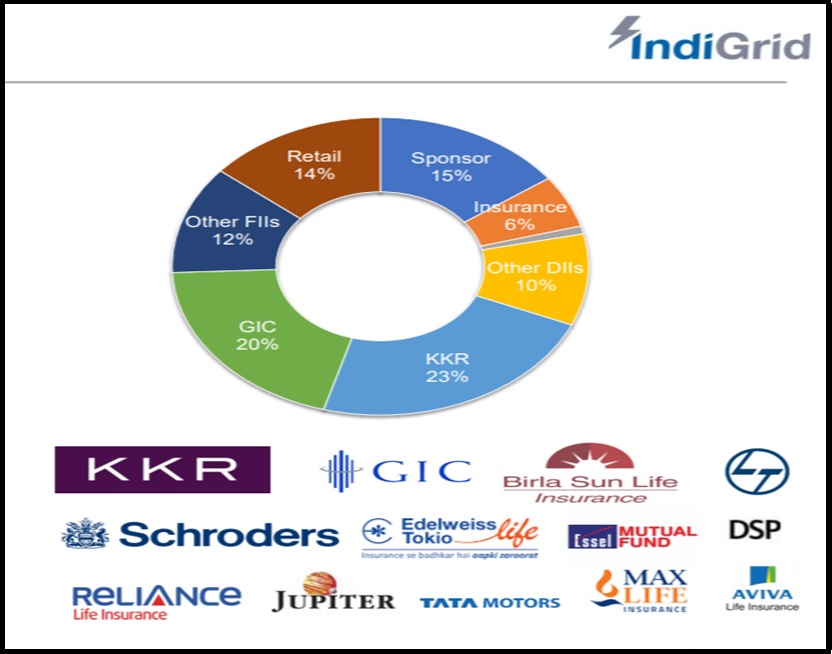 Source: Investor presentation Q1 FY21
Harsh Shah, the CEO of IndiGrid in its earnings call said that "This agreement got automatically expired in July 2020 on the long stop date as the transaction could not be consummated by that date."
The major reason for the cancellation of the agreement could be due to an issue over the purchase price of the units as the price fixed in the agreement was INR 83.89 which was approximately 30% lower than the July 31, 2020 closing price of INR 109.80.
SGPVL had pledged its units of IndiGrid and hence due to the cancellation of the agreement, it sold its 14.65% stake to institutional and high net worth individual investors for INR 840 crores at a unit price of INR 98 on August 14, 2020.
Larsen & Toubro was the leading buyer in this deal, acquiring 2,55,09,897 units (representing 4.37 per cent of total outstanding units). While, Danske Invest India Fund, Societe Generale and Morgan Stanley Asia Singapore acquired 30,75,408 units, 89,71,074 units and 38,17,044 units respectively.
Post this sale the structure of IndiGrid was as follows: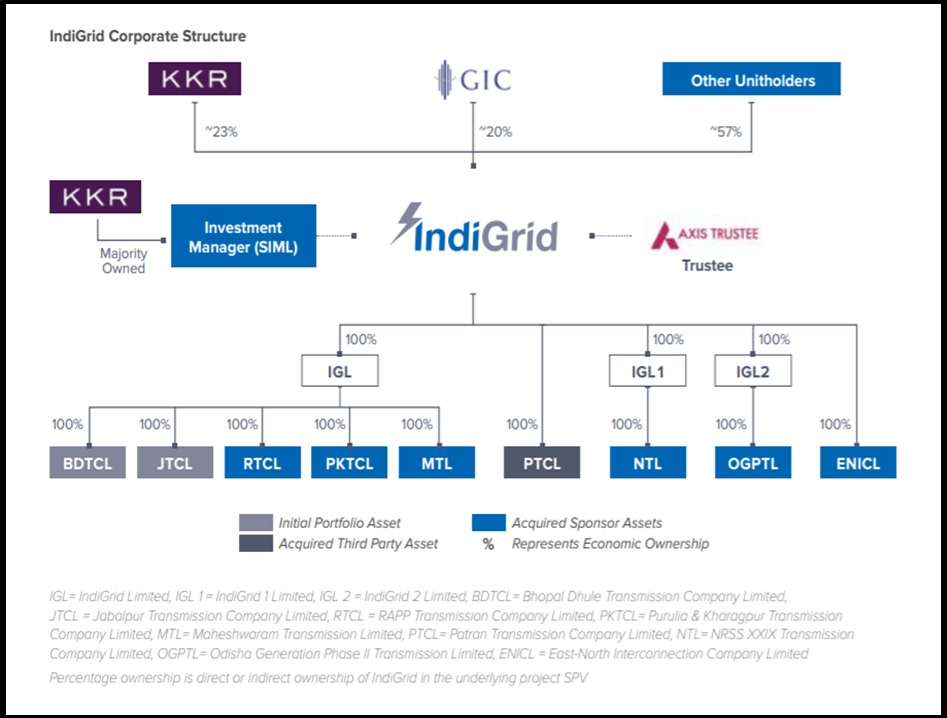 Source: Annual report 2019-20
Conclusion:
At the end it was a win-win situation for both SGPVL and KKR, as SGPVL was able to sell its stake at a higher price than the initial contracted price and KKR via its affiliate eventually became the co-sponsor of the trust.
About the author:
This article is written by Hardik Shah, who is currently doing his articleship while pursuing his Final CA. He is an avid reader and a fundamental analyst of listed companies and their transactions.
Please feel free to share/retweet the article and as always you can write down in the comment box below for anything related to the article. We would love to answer.