Shriram Group announced the long-awaited re-jig of its group structure. The proposed re-jig entails consolidation of finance business under one listed company and its other businesses (insurance) continues to be placed outside the listed entity.
Shriram Group is India's leading financial conglomerate with a dominant presence in commercial vehicle (CV) financing, retail financing, chit fund, equipment financing, housing finance, life insurance, general insurance, stockbroking, distribution of financial products, and wealth advisory services. Shriram Capital Limited (SCL) is the holding company for the Financial Services (Shriram City Union Finance Limited & Shriram Transport Finance Limited) and Insurance entities (Shriram General Insurance Company Limited & Shriram Life Insurance Company Limited) of the Shriram Group. Shriram Housing Finance Limited is a subsidiary of Shriram City Union Finance Limited.
Shriram Transport Finance Co Ltd. (STFCL) a part of the Shriram Group, is one of the largest asset financing Non-Banking Financial Companies in India. STFCL is a leader in the organized financing of pre-owned trucks.
Shriram City Union Finance Limited (SCUFL), a part of the Shriram Group, is one of India's leading non-banking finance companies focused on the rural and semi-urban sector. The Company is a leading Two-wheeler financier, provides loans to SMEs, Gold loans and has a Housing Finance Subsidiary, Shriram Housing Finance Ltd.
The Existing Structure of the group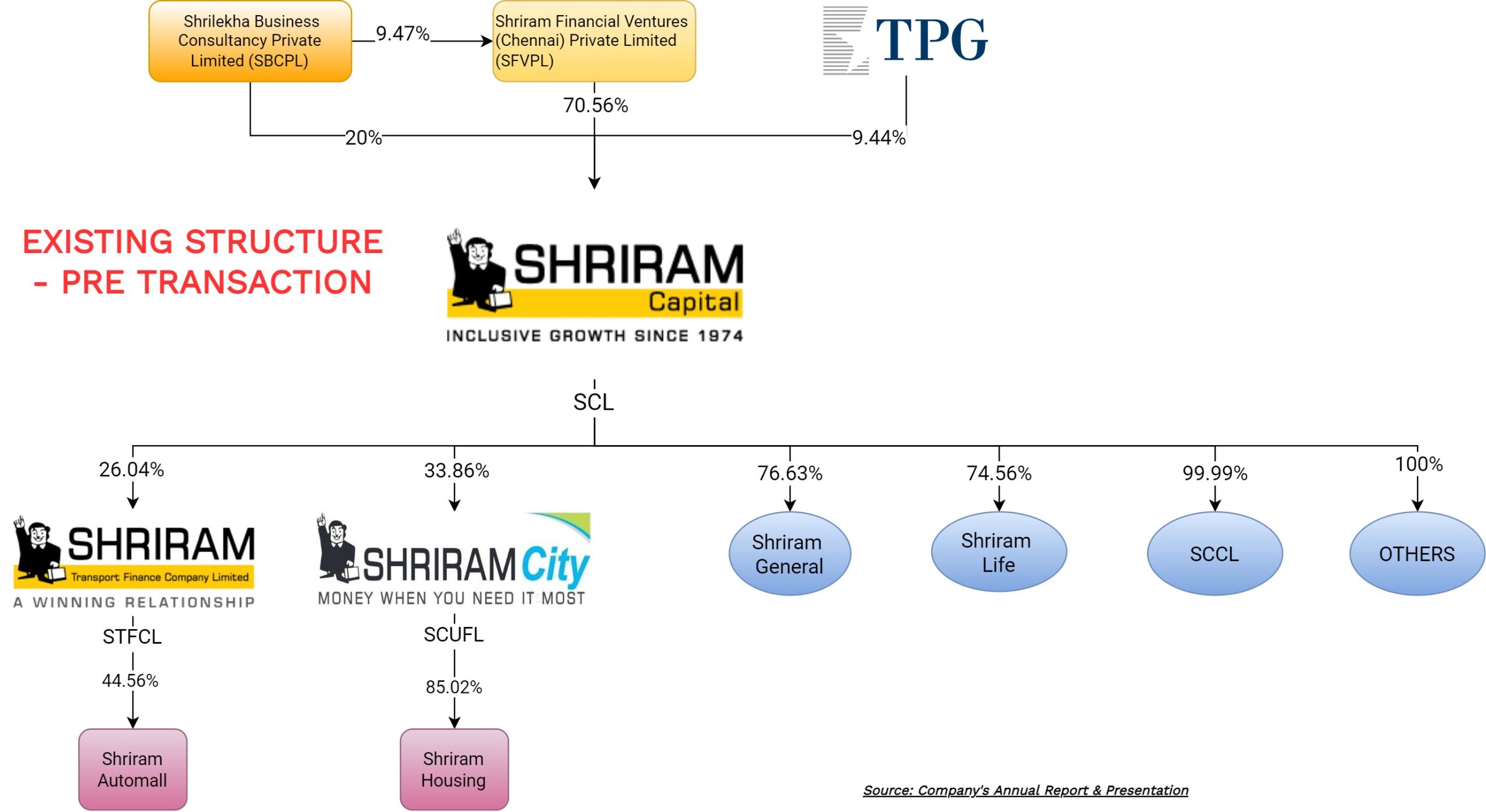 Currently, equity shares of Shriram Capital Limited are held by Shrilekha Business Consultancy Private Limited (SBCPL), Shriram Financial Ventures (Chennai) Private Limited (SFVPL) and TPG group.
"The proposed re-jig is structured in a way to not only streamline the group structure but also to give direct ownership to the financial investors like PEL.As a result, PEL can have smooth and tax efficient exist through stock exchange"
TPG Capital is a long-standing investor in Shriram Group. While, Piramal Enterprises Limited acquired ~10% equity stake in STFCL and later in 2014, acquired effective 20% equity stake (through SBCPL) in SCL and `10% equity stake in SCUFL. The total investment was pegged at around INR (India Rupees) 4440 crore. Mr. Ajay Piramal also appointed as a chairperson of SCL. Later in 2019, PEL offloaded its stake in STFCL. Apart from these two, South Africa based Sanlam Group also hold strategic investment in Shriram Group. Sanlam is also a joint venture partner in the two life and general insurance subsidiaries.
The Proposed Transaction
To streamline the group structure and facilitate exit to its investors, the proposed re-jig will be done in:
Amalgamation of SBCPL with SCL
Demerger of Insurance & Financial Services Undertakings into respective companies followed by merger of remaining SCL with STFCL
Amalgamation of SCUFL with STFCL
Other Salient Features of the Scheme includes:
Read more
You must log in to read the rest of this article. Please log in or register as a subscriber