Increasing use of Hydrogen Peroxide in versatile applications like pulp and paper industry, textile, water treatment, and its usage in the food and beverage industry is triggering the product's overall demand. The growing public awareness has compelled most paper manufacturers to invest heavily in greener technologies which are to be used in the paper manufacturing process where Hydrogen Peroxide finds its use.
Overview of the companies:
National Peroxide Limited (NPL) is a listed company and engaged in the business of
Manufacturing of peroxygen chemicals and
Making long term investments and corporate lending directly and/or through Wholly owned subsidiary Naperol Investment Limited (NIL).
NPL is a leader in the hydrogen peroxide market in India and is one of the pioneers in producing Peroxygen chemicals. The company is promoted by the Wadia group and holds investments in group companies like Bombay Dyeing & Manufacturing Company Limited and Bombay Burmah Trading Corporation Limited.
"Post Scheme Approval National Peroxide Limited will be changed to Naperol Investment Limited and name of NPL Chemical Limited will be changed to National Peroxide Limited"
NPL Chemical Limited (NCL) is a public company and engaged in the business of manufacturing, distributing, and selling peroxygen chemicals. It is a Wholly Owned Subsidiary of NPL and incorporated for the purpose of executing the proposed transaction.
Naperol Investment Limited (NIL) is an RBI registered NBFC and engaged in the business of long-term investment, and corporate lending. It is a wholly-owned subsidiary of NPL. It holds 0.20% shares of Bombay Dyeing & Mfg. Co. Ltd. and 6.13% of Bombay Burmah Trading Corp. Limited.
The Transaction:
The Board of directors in their meeting held in March 2021 approved a composited scheme of Arrangement which will result in:
Demerger of 'Chemical Business' of NPL into NCL and
Merger of NIL with NPL.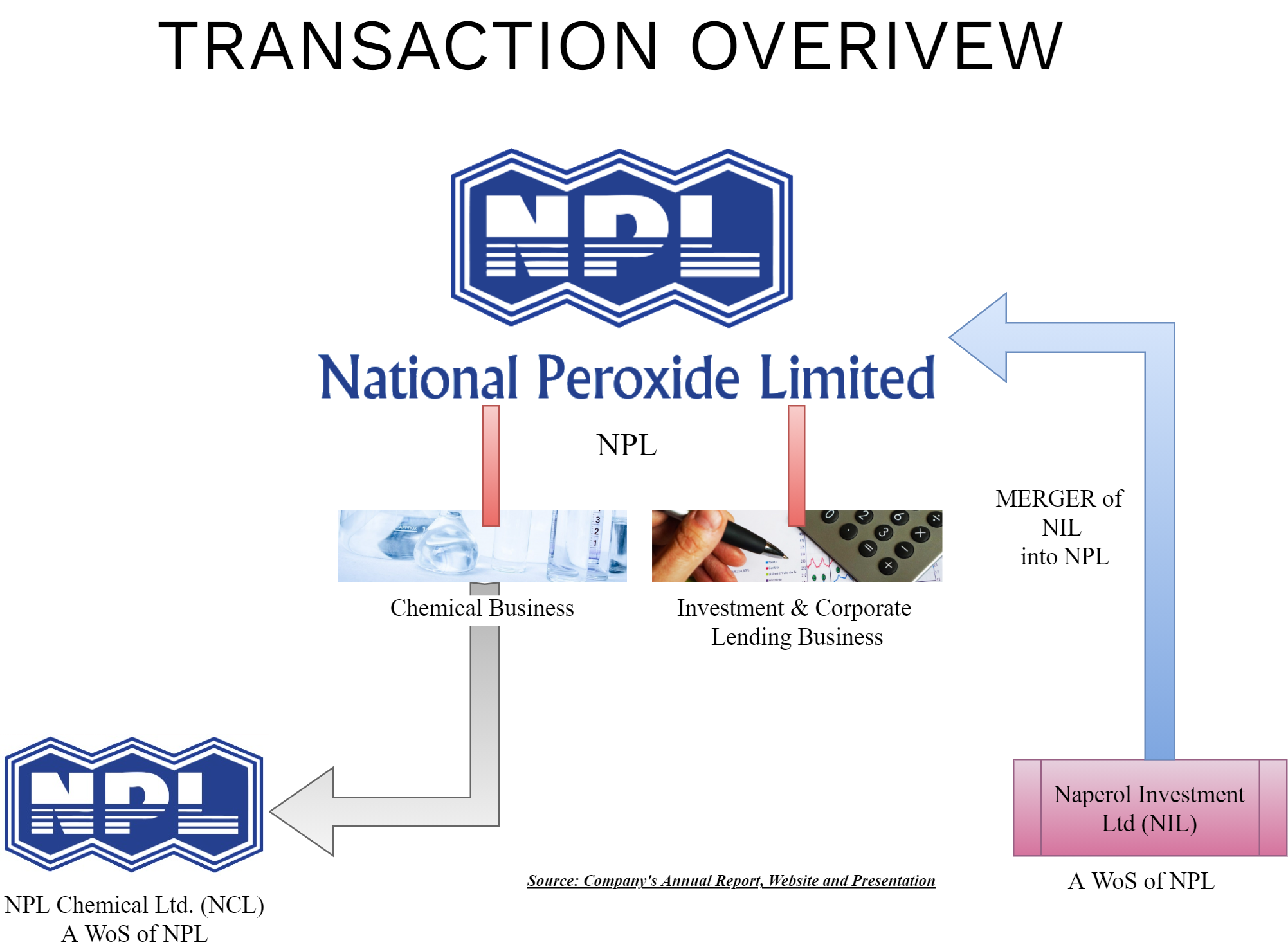 Appointed Date for the transaction is the opening of business hours of 1st October 2020.
Shareholding Pattern:
Read more
You must log in to read the rest of this article. Please log in or register as a subscriber