In June 2020, Board of Directors of Zuari Agro Chemicals Limited (ZACL), the agriculture vertical of the Adventz Group, announced their plan to sell off the company's fertilizer plant in Goa to unlisted joint venture company Paradeep Phosphates Limited (PPL).
Though prime facie, the announcement looks like a regular re-structuring activity, minority shareholders have come forward to oppose the transaction. In this article, we have tried to cover the key aspects of the present deal as well as past re-structuring and what will remain with ZACL if the deal sails-through.
Zuari Agro Chemicals Limited (erstwhile Zuari Holdings Limited) constitutes the fertiliser operations of the Adventz Group. It is also the holding company for the other agribusiness operations of the Adventz Group.
Mangalore Chemicals and Fertilizers Limited (MCF) is a subsidiary of Zuari Fertilisers and Chemicals Limited which holds 53.03% equity shares. MCF is the largest manufacturer of chemical fertilizers in the state of Karnataka.
Paradeep Phosphates Limited (PPL), manufactures DAP and NPK fertilisers, with its plant located at Paradeep, Orissa. PPL is a joint venture between Indian Government and Zuari Maroc Phosphates Private Limited (ZMPPL), a 50:50 partnership between Maroc Phosphore S.A., Morocco and Zuari Agro Chemicals Limited. The government of India holds 19.55% of shares while 80.45 % shares are held by Zuari Maroc Phosphates Pvt Ltd.
In 2002, ZIL acquired Paradeep Phosphates Ltd through a JV company, as part of the disinvestment process of GoI.
The current Structure of PPL is as follows: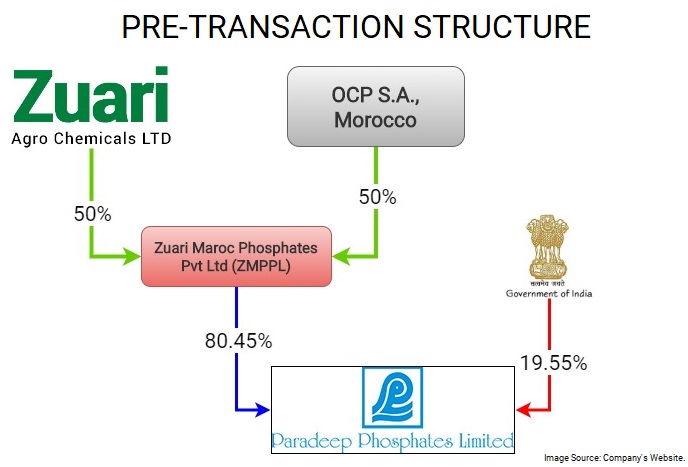 Current Transaction
On June 19th, 2020, the Board of Directors of ZACL announced board approval to the plan of sale of fertiliser plant of ZACL at Goa to PPL.
In October 2019, with a view to building a large fertiliser company with access to both Phosphate and Nitrogenous fertilisers, ZACL proposed and OCP group agreed to evaluate Company's Goa plant for a merger into a slump sale to PPL on both Strategic and Financial Grounds.
After detailed discussion, both parties have agreed to a valuation of US$280 million i.e. INR circa 2100 crores. The proceeds from the transaction will be used to repay ZACL's long term loans & other liabilities.
Sale of retail, Specialty nutrients business (SPN) & allied, Crop Protection & Care business (CPC), seeds and blended businesses
In October 2019, ZACL decided to incorporate another Company, under the name of Zuari FarmHub Limited (ZFHL), which will operate its Retail, Speciality Nutrients and the proposed FarmHub business, and further announced its plan for seeking investments from Strategic and /or Financial Investor's.
In November 2019, ZACL has signed a MOU with OCP Group in connection with such corporate reorganisation and leveraging on their existing partnerships.
In another MOU with OCP for a proposed strategic investment in ZFHL. ZFHL will take over ZACL's existing Retail, Specialty Nutrients, Crop Care, Seeds activities, as well as the manufacturing operations of Baramati Specialty Nutrients plant, and will also be spearheading the company's plans to set up Hubs across the country.
In February 2020, ZACL announced slump sale of retail, Specialty nutrients business (SPN) & allied, Crop Protection & Care business (CPC), seeds and blended businesses of the Company to Zuari Farmhub Limited (ZFHL) at a value of Rs.785.56 Crs.
Subsequent to this, OCP group has expressed an interest to make an investment in ZFHL of US$ 46.5 million. Further, in credit rating report issued by ICRA, the company plans to dilute its 30% stake in ZFHL.
| | |
| --- | --- |
| Particulars | Amount |
| Revenue (FY 20) | INR 307 crores |
| Loss (FY 20) | INR 3.36 crores |
| Net Assets (Actual Transferred) | INR 86.59 crores |
Consideration Breakup
Particulars
Amount
Total Consideration
INR 785. 56 crores
Net Assets
INR 86.59 crores
Gain
INR 698.97 crores
Consideration:

1. Issue of Compulsorily Convertible Debentures

2. Cash (to be paid in dec-20)
Earlier Re-Structuring's:
In 2015, Pursuant to the Scheme of Amalgamation among the Company and its erstwhile wholly owned subsidiary companies, namely Zuari Fertilizers and Chemicals Limited ("ZFCL"), Zuari Speciality Fertilisers Limited ("ZSFL") and Zuari Agri Sciences Limited ("ZASL"), [Transferor Companies] got merged with the company.
In April 2011, to transfer its fertiliser business, Zuari Global Limited (earlier known as Zuari Industries Limited (ZIL)) announced demerger of its fertiliser business into ZACL (Earlier known as Zuari Holdings Limited (ZHL)). The Bombay High Court (Goa bench) approved the demerger of fertiliser business, while the residual entity Zuari Global Limited retained the non-fertiliser business operations and investments. The demerger scheme was applicable w.e.f July 1, 2012.
Financials
Standalone financials for FY 2019
Particulars
ZACL
PPL
Revenue
5127
4358
EBITDA
167
422
BITDA %
3.3%
9.7%
PAT
-211
159
Networth
315
1482
Borrowings*
3270
3053
*Excluding payable in current year
The financials of ZACL for FY 2020
Particulars
Standalone
Consolidated
Revenue
2012
5017
EBITDA
-381
-167
EBITDA %
–
–
PAT
–
–
Networth
117
755
Borrowings*
1344
2824
*Excludes payable in current year
*Excludes payable in current year
Conclusion

:

The re-structuring apparently seems to be with an intention to consolidate the fertiliser operations of the group. However, in the process flagship company will become the holding company having no significant operating business. Minority shareholders have started opposing the deal as this may result is depleted valuations due to holding company discount and considering loss making operations, the holding company may not have any cashflow.

ZACL has continuously facing operational issues. Be it discontinuation of gas supply due to non-payment, unable to procure raw material due to lack of liquidity, legal battle with one of its JV partners and failed proposed right issue last year. Amidst of all these, positives are ZACL/promoters managed to re-start its operations and promoters bought down the pledge (shares of ZACL) significantly.

With the help of divestments, ZACL aims to transfer significant part of its debt to joint venture companies. Considering objections from minority shareholders, the structure should be selected which is acceptable to all stakeholders and also0 result in value creation for all the stakeholders. The details for the proposed transaction have not yet finalised between parties, and hence the parties may consider the structure which will be win-win for all.

Please feel free to share/retweet the article and as always you can write down in the comment box below for anything related to the article. We would love to answer.