Mukesh Ambani's Reliance Industries Ltd has announced the acquisition of Kishore Biyani's Future Group to expand its retail business and bolster e-commerce. However, the deal has run into legal trouble with global e-commerce giant Amazon which says the deal was a violation of a non-compete clause and a right-of-first-refusal pact it had signed with the Future Group earlier.
Reliance Retail Ventures Limited (RRVL) is a Reliance Industries Limited (RIL) subsidiary company and having a presence in the business of supply chain management for retail. RRVL is a holding company for the retail business of RIL.
"Logistics & Retail Business undertaking of Future Group shall be acquired by Reliance Retails via Slump Sale"
Reliance Retail and Fashion Lifestyle Limited (RRFLL) is Wholly owned subsidiary (WoS) of RRVL and is in the business of dealing in all kinds of goods and managing & operating stores and malls etc. The Company is incorporated for this transaction and will take over the entire retail business of Future group.
Future Group includes 20 companies of future group which are party to this transaction. These 20 companies include 6 listed companies namely Future Enterprise Limited (FEL), Future Consumer Limited (FCL), Future Lifestyle Fashions Limited (FLFL), Future Market Network Limited (FMNL), Future Supply Chain Solutions Limited (FSCSL) and Future Retail Limited (FRL). The remaining companies are wholly owned subsidiary of Future Bazaar India Limited (FBIL) which in turn is a wholly-owned subsidiary of FEL. These companies are engaged in FMCG, Fashion Products, clothing, wholesale, retail and logistic infrastructure and warehousing.
Reliance Retail Limited (RRL) is WoS of RRVL and the company is engaged in organized retail spanning across various consumption baskets primarily catering to Indian consumers. RIL's entire current retail business is carried through RRL.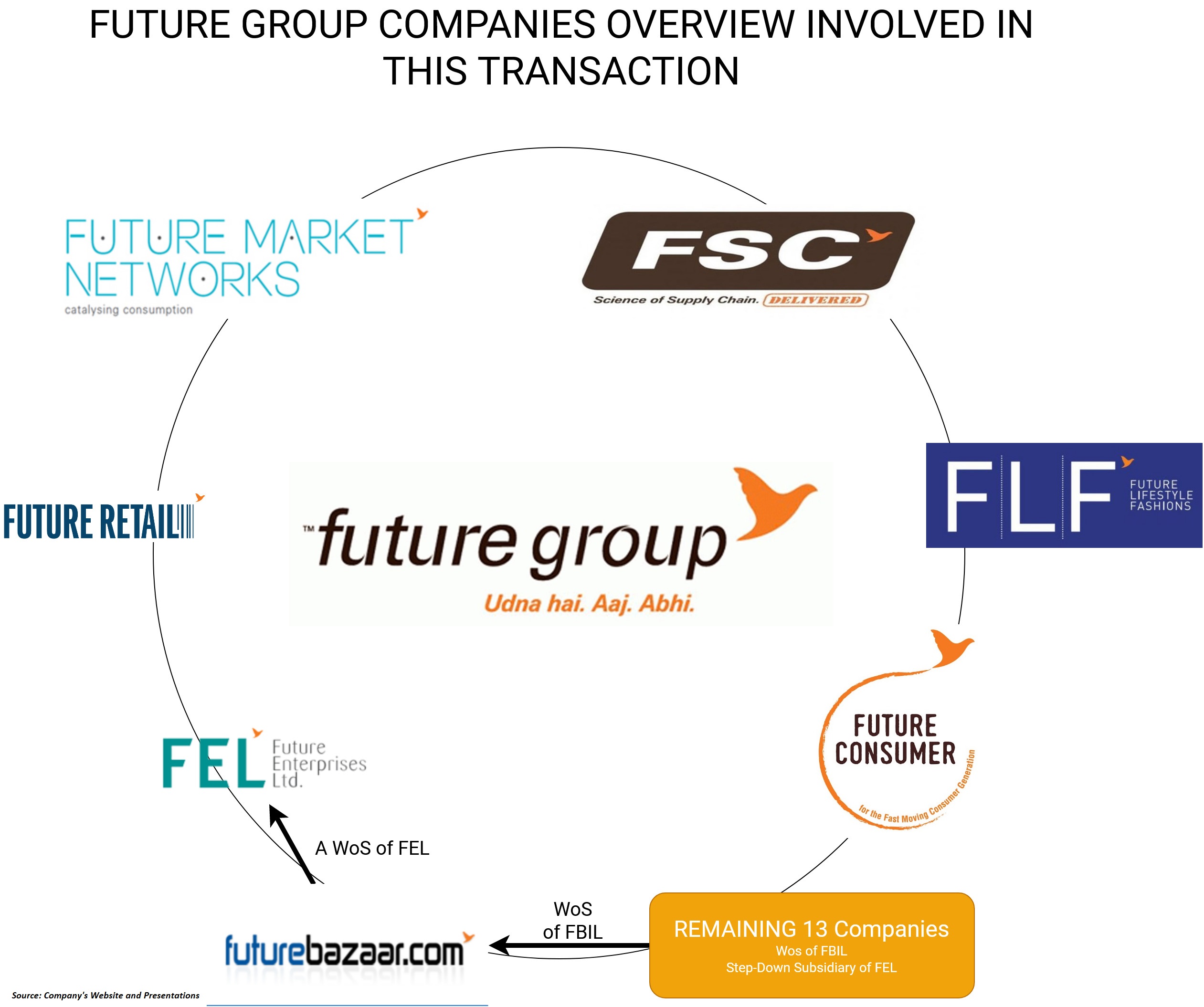 The Transaction
On 29th August 2020, RIL announced taking over the entire retail and logistic business of Future Group through Slump Sale. The transaction will be structured as:
Step 1: Consolidation of Retail & Logistic business of Future group to FEL
Step 2: Slump Sale of Retail & Logistic Undertaking of FEL (Post-Consolidation) to Reliance group.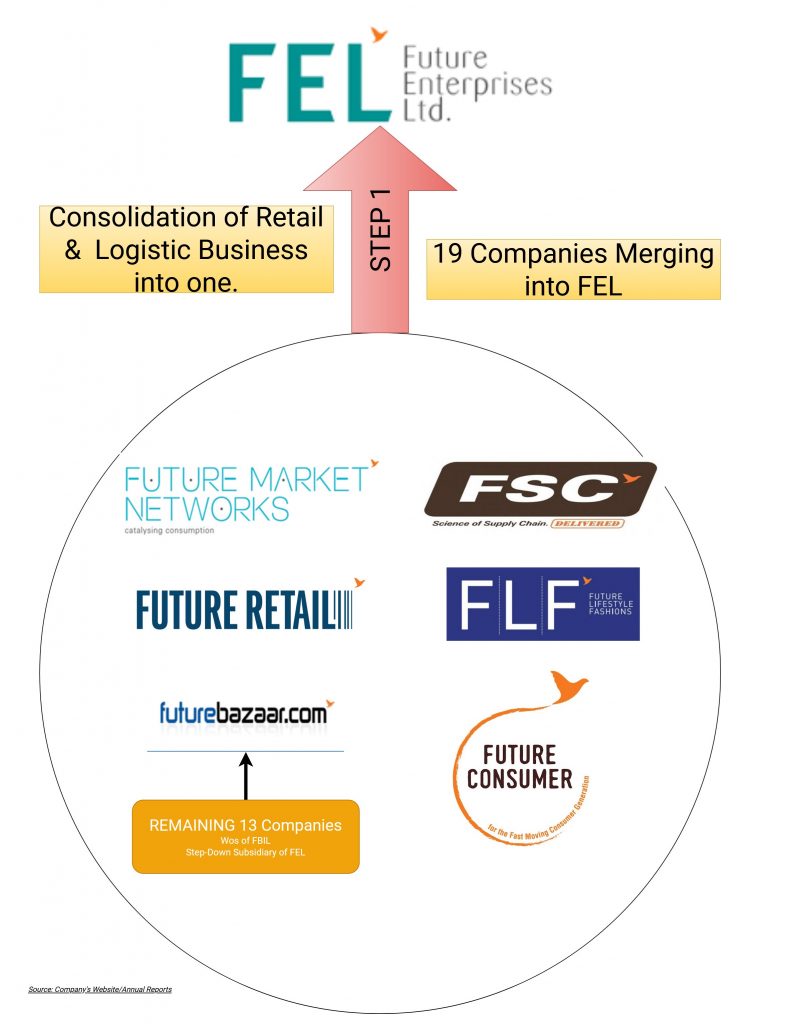 Interestingly, the purchase of business of Future Group will be done through 2 different slump sales:
Slump Sale of Logistic & Warehousing Undertaking in RRVL
Slump Sale of Retail & Wholesale Undertaking in RRFLL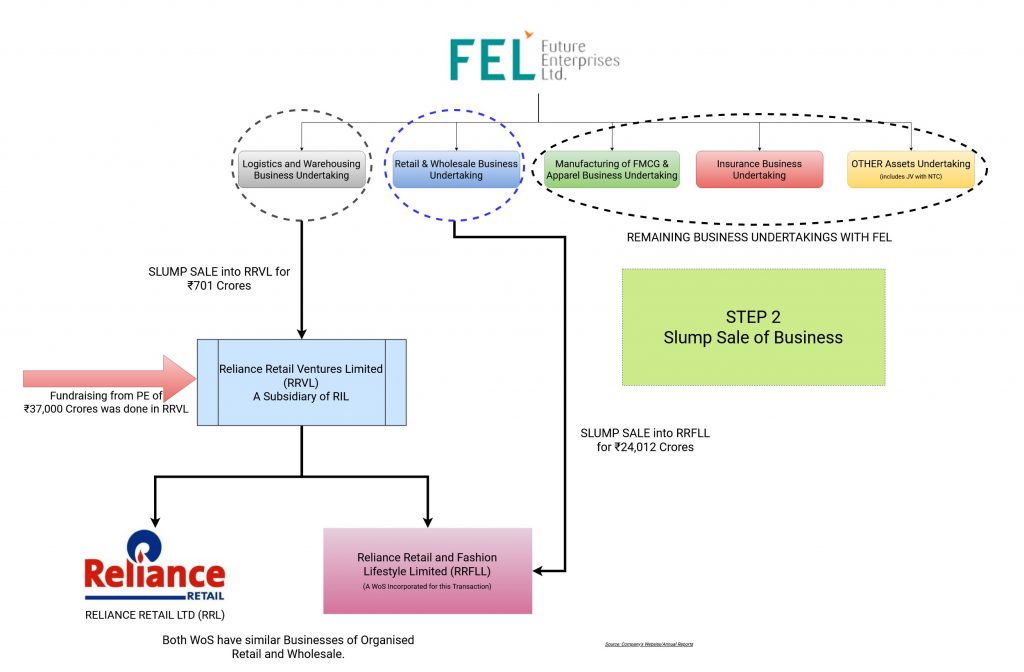 Appointed Date for the transaction (Step 1) will be effective date and for Slump Sale Transaction will be after the effectiveness of Step 1.
Retail & Logistic Business of Future group.
Logistics & Warehousing Business: means the entire logistics & warehousing businesses carried by Future group.
"Retail & Wholesale Business" means the retail & wholesale business of FEL, that consists of all the large format stores, premium supermarket format stores, small stores, convenience stores, cash and carry and wholesale stores, franchised, franchisee stores, consumer goods, food products, fashion products, apparel, general merchandise, consumer durables, electronics, IT products, brands etc. All intellectual property and intellectual property rights, brands, logos, designs, labels, tradenames, and trademarks relating to fast moving grocery and home and personal care consumer goods and apparel shall form part of the Retail & Wholesale Business.
Future Group remaining business after transaction
After completion of proposed transaction, Future group will remain with the manufacturing of FMCG products, Integrated garment designing, sourcing, and manufacturing business, Insurance business (partnership with Generali) and other assets like Joint venture with National Textile Corporation (NTC) with development rights in for Apollo Mills and Goldmohur Mills. Further, Praxis Home Retail Limited, one of the future group listed companies will be retained by Future group. The manufacturing of FMCG products & Garments may continue to supply to RRFLL.
Consideration
Table 1: Consideration Bifurcation (Figs in ₹Crores)
Slump Sale Consideration
S. No.
Particulars
Cash Consideration
Loan Repay
Total
1
Logistic and Warehousing Undertaking
25
676
701
2
Retail & Wholesale Undertaking
5,628
18,383
24,012
Total
5,654
19,059
24,713
Less: Deposit in Escrow Account for Direct Tax Liabilities
1000
Available for Distribution
4,654
Total no. of shares of FEL after issue of shares on the merger but before preferential issue to RRFLL will be 1071 crores. If future group decided to distribute the net cash consideration to its shareholders, the amount available for distribution per share will be Rs. 4.35 per share.
"Reason to not merge RIL's existing retail business with future group business could be to protect any future liabilities with respect to retail undertaking of FEL"
Consideration in the case of Retail & Wholesale Undertaking would be adjusted in the event of reduction in the overall number of store leases between the Reference Date and the Appointed Date. The quantum of reduction was decided through EBITDA multiple formula.
Other Key Terms in the Scheme:
Reliance group has also signed non-compete agreement with FEL and Kishor Biyani Family for a period of 15 (Fifteen) years from the Effective Date.
If the Effective Date does not occur on or before 31 March 2021 or such other date as may be determined by RRVL and/or RRFLL, this Scheme shall become null and void. Considering the recent legal challenges faced from Amazon, RRVL may extend the dates.
Further Reliance will also support by providing financial assistance by way of loan and other facilities to FEL during the scheme.
Existing businesses in Reliance Retail Limited:
| | |
| --- | --- |
| Segment | Brands |
| Food & Grocery | Reliance Fresh, Reliance Mart, Reliance Market Stores |
| Consumers Electronic | Reliance Digital, Reliance Digital Express Mini, Jio Stores |
| Fashions & Lifestyle | Reliance Trends, Trends Women, Trends Men's, Trends Junior, Project Eve, Reliance Jewels, Reliance Footprints, Ajio.com |
| Partners Brands | Diesel, Burberry, Gas, Hamleys, Giorgio, Armani, amongst Others. |
Synergies between existing products & FEL
There are ample synergies that Reliance Retail can reap from the proposed acquisition. Reliance is having presence across most of the segment's which it is acquiring from Future Group. Reliance's other verticals like Jio Mart can also be integrated with the retail business of Future Group. In all, this acquisition will strengthen the product portfolio, deeper penetration and significant cross-selling opportunities of Reliance.
Timing of the deal for Reliance & immediate funding:
On August 29, Reliance Retail Ventures Limited (RRVL) had announced a deal to acquire the entire retail, wholesale, logistics and warehousing businesses of the Future Group. Immediately after the announcement of this deal, RRVL raised over INR 37,000 crores from various investors.
The deal helped RRVL to increase its valuation significantly more than what it is paying to acquire retail & logistic business of Future group as "Synergies" must be included in the Valuations while offering stake. The increased product portfolio, No. of stores, deeper penetration etc. must have resulted in better valuation of RRVL while approaching investors.
Reasons for acquisition by Reliance
With a massive growth of E-commerce in India, Indian Retail sector is witnessing extreme competition which is paving way for consolidation. Earlier, Future Group did multiple restructuring to remain competitive in the market. However, despite multiple restructuring, Future Group is unable to compete with global players.
Reliance forayed into retail space long ago with multiple acquisitions it has managed to become India's largest retail player. With the help of sister concern, Reliance Jio, it has laid down plan to digitally transform its retail business, this acquisition will not only help reliance to strengthen numero uno position in Indian Retail sector with a consolidated turnover exceedingly circa 1.60 lakh crores but also enable them with wider product portfolio, deeper penetration, and multiple cross-selling opportunity. For debt-laden future group, the deal is essential for its survival.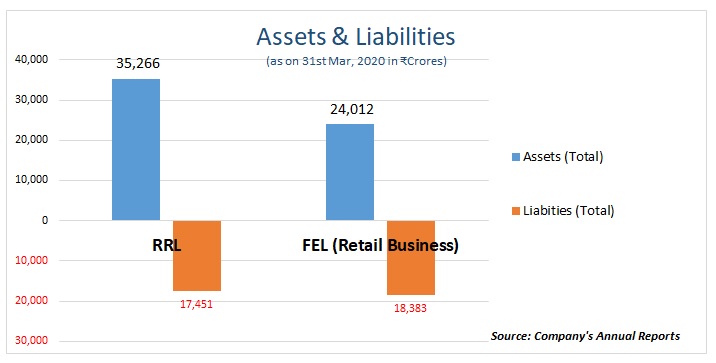 "Post Slump Sale, FEL would issue preference shares and convertible warrants to RRFLL against investment from Reliance group"
With the Future Retail acquisition, Reliance gets hold of large format stores like Big Bazaar, FoodHall, FBB (Fashion) and small format store like Easyday, Nilgiris, Central, and Brand Factory and WH Smith. Further, Reliance Retail registers 640 million footfalls in a year (as of FY20), and the Future Retail acquisition will add to that with Biyani's loyal customer base with 351 million footfalls – Big Bazaar alone saw annual footfalls of 244 million (as of FY19).
On Future Retail's acquisition, it will add about 1,700 large stores to RIL's 11,806 stores in its retail segment and increase its organized retail revenue market share by around 5 per cent.
Reasons for exit by the pioneer of retail Future Group:
Liquidity Constrain
Due to Covid-19 businesses were hampered as no one is coming out of home for buying things which gets a trap for retail business due to this liquidity issue arises before the businessman's as the rent and interest don't stop its meter and its continuously increasing which gives two option to businessmen's either infuse funds or sale its business to another person. So, the Future opts for selling and make arrangement accordingly.
Unable to compete with E-Commerce
As the whole retail sector is going through a massive digitalization, due to various reasons Future group didn't catch up the bus and thus struggling to compete with other players.
Pledge of Shares of Promotors of Future Group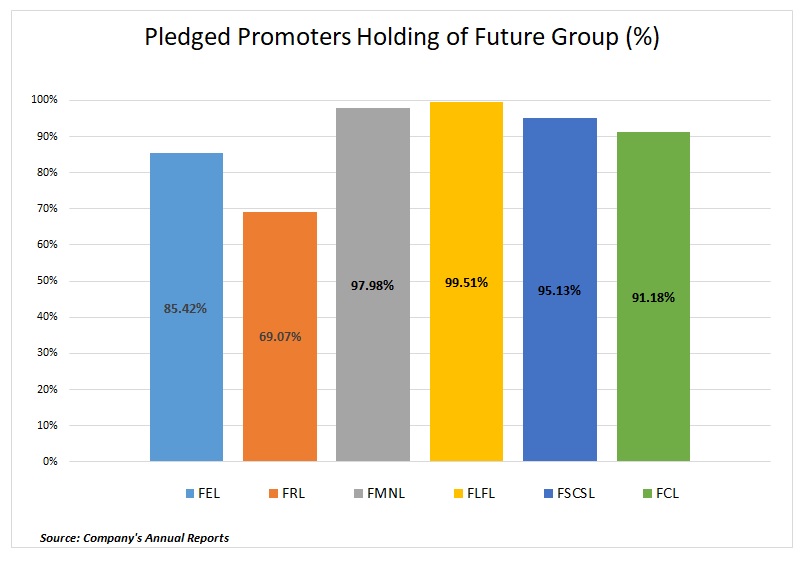 Some of Future group re-jig's in last 5 years
Future Group announced a 50.1% stake sale of its fashion chain Pantaloons to Aditya Birla Group in order to reduce its debt of around Rs. 8,000 crores.
On 21 November 2014, Future Consumer Enterprises Limited acquired 98% from Actis Capital and other promoters. With that, Nilgiris is a fully owned subsidiary of Future Consumer Enterprises Limited (FCEL).
Skechers entered India through a JV with Future Group in 2012. Sketchers ends joint venture with Future Group in February 2019 by buying 49% stakes
In 2015 Future Retail done share swap deal with Bharti Retail Limited (Bharti Retail).
Future Retail has acquired Hyper City In 2017 for a total consideration of Rs. 655 Crores (Hyper City).
Investment/Support by Reliance to FEL (Post-Slump Sale)
To become a part of manufacturing of FMCG products & garments, RRFLL will invest Rs. 1,200 crores by subscribing to equity shares of FEL, which will translate into a 6.1% stake. It will also initially invest Rs. 400 crores (25%) for subscribing convertible warrants. The entire value of warrants is Rs. 1600 crore and upon conversion, it will result in an additional stake of 7.1% in FEL.
Financials
Table 2: Financials of Future Group Companies for FY'19 (Figs in ₹Crores)
| | | | | | | | |
| --- | --- | --- | --- | --- | --- | --- | --- |
| Particulars | FEL | FMNL | FLFL | FRL | FSCSL | FCL | Total |
| Revenue | 6,065 | 126 | 5,766 | 20,356 | 1,234 | 3,912 | 37,459 |
| Finance Cost | 598 | 20 | 117 | 228 | 18 | 73 | 1,054 |
| Depreciation and Amortization | 816 | 26 | 207 | 104 | 45 | 53 | 1,252 |
| PBT | 154 | 12 | 189 | 727 | 64 | -7 | 1,139 |
| EBIT | 751 | 33 | 306 | 955 | 81 | 66 | 2,193 |
| Interest Coverage ratio | 4.89 | 2.64 | 1.62 | 1.31 | 1.28 | 9.23 | 2.51 |
| Net worth | 43 | 204 | 1,827 | 3,846 | 542 | 988 | 7,450 |
| Borrowings | 6,943 | 154 | 904 | 2,657 | 280 | 814 | 11,752 |
Table 3: FEL Balance Sheet Post Slump Sale and Preferential Issue (Figs in ₹Crores)
| | | | |
| --- | --- | --- | --- |
| Liabilities | Amount | Assets | Amount |
| Net Worth | 3290 | Net Block | 1045 |
| Net Borrowings | 2315 | Investment | 4000 |
| | | Net Current Assets | 560 |
| Total | 5605 | Total | 5605 |
Table 4: Revenue & EBITDA of FEL post slump sale (Figs in ₹Crores)
| | | |
| --- | --- | --- |
| Particulars | Revenue | EBITDA |
| FMCG | 4000 | 3% |
| Apparel | 3300 | 9% |
Latest issue with Amazon
Amazon holding 49% in one of the group company of Future Group, Future Coupon. As per the term of agreement, the prior approval of Amazon is to be taken by Future Group before raising money or selling stake to another company.
Whether award is enforceable in India?
Generally, awards in SIAC arbitrations would be enforceable outside Singapore. SIAC awards have been enforced in various jurisdictions including Indonesia, China, Hong Kong, India, Australia, USA, Malaysia, Thailand, Vietnam and Jordan.
Impact on Reliance Industries:
An award in favour of Amazon, putting on hold multi-million deal between Reliance and Future Group will definitely cause losses and affect future planning of JioMart of Reliance Conglomerate. The future plans of Reliance will be on hold because of this Award, also delay will directly affect the shareholders of both the companies. Future Group needs to come up with an arrangement for early execution of the deal.
Back door listing of Retail business & way ahead for R-Retail
To acquire the retail business of FEL, RRVL created a wholly-owned subsidiary company, RRFLL, and will park retail business in RRFFL. One of the reasons for not consolidating RIL's existing retail business with future group business could be to protect any future liabilities with respect to retail undertaking of FEL.
Further, after completion of this transaction, RRFLL may merge with RRL. The long-term aim of RRL to get listed can be achieved through direct listing of RRVL or either collapsing the structure & then get it listed.
Conclusion
The structuring is designed in such a way that whole retail and logistic business will become unlisted and enable Reliance to raise funds from private equity in holding company at huge valuation before listing its retail business and logistic business. Though currently the deal is stuck because of legal challenges from Amazon, FEL and Reliance are likely to find a way to sail through this deal.
It is god sent opportunity to Reliance group to acquire FRL, one of the oldest and largest retail conglomerates with footprints all over India.
Post-acquisition Reliance will be able to execute hybrid strategy of physical stores along with robust e-tailing presence like all global retailers.
Please feel free to share/retweet the article and as always you can write down in the comment box below for anything related to the article. We would love to answer.